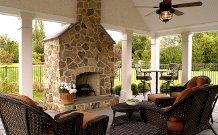 Big or small, day or night, the modern backyard is a place for entertaining
Story: Georgia Harper, MAILDM
With each passing year we're seeing more and more people getting added value from their homes by extending their living spaces into the outdoors. Of course, Australians have always loved to entertain under the sun or stars, but these days that can mean anything from a simple barbecue to the full outdoor experience.
Rather than move house, many people are opting to create more space in their existing properties — and that space is outdoors. When you consider the costs of buying a bigger home and moving, the appeal of creating a modern outdoor entertaining area that adds valuable entertaining and leisure space is clear.
Of course, now that our outdoor spaces are an extension of our indoor living spaces, backyard design has become about much more than a barbecue, some cricket stumps, and a clothesline. Alfresco entertaining spaces are all about creating a place to relax and get away from the hurly burly of modern life. They're about recreating that feeling we get when we're on holiday, and they're about providing a place where you can host a casual family lunch or a big social event. Sounds good, right? So where to start?
Every outdoor entertaining area needs to have a dedicated space and this can be anything from a pergola attached to the house, a timber deck with an umbrella or a Balinese hut with thatched roof, right through to a fully lined and lit structure with all the bells and whistles. In essence, the structure is the key to the success of the total design.
What you end up choosing really depends on a few fundamentals:
Style: What kind of feel are you after? Asian, Mediterranean, modern Australian, cottage and desert gardens are all strong design themes, and each may work best with a particular style of structure (or none at all).
Budget: What proportion of your total budget do you want to devote to the structure?
Space: How much space can you give this idea, and how will it connect with your house and work with the current people movement patterns?
All of these things will affect the type of structure you choose, and once you have that right, the rest of the elements should fall into place around it.
To make the task easier (or harder!) than before, there are now myriad products available to enhance the outdoor entertaining and dining experience. A plethora of sophisticated kitchen, heating, lighting, audio-visual and cooking appliances are available which can be used to make your new entertaining area highly functional, easy to use and extremely stylish.
Barbecues can range from the humble small electric balcony model, right through to state-of-the art stainless steel six-burner gas barbecues with rotisserie and wok burners. In some entertaining areas, fully equipped outdoor kitchens include pizza ovens or full gas stoves.
Kitchen units, from the mobile trolley complete with sink and chopping area through to the CaesarStone full kitchen bench with dual sinks and integrated dishwasher, are available. And don't forget the fridge and wine cooler.
An outdoor kitchen should be designed with how you wish to use it in mind, much as you would with your main indoor kitchen, but of course the thing to remember is that an outdoor kitchen should be designed with the elements in mind.
To get year-round use of the area, consider installing a fireplace. It will create a cosy environment and provide a great focal point. Some people prefer the smell and crackle of wood, while others like the convenience of simply switching on an instant gas fireplace for instant heat.
Lighting is an increasing popular way to create a mood outdoors. By lighting key features outside the entertainment area you can create a sense of extra depth at night, and the clever use of dimmers in the entertaining area can soften the look to suit different times and situations.
The trend towards outdoor cinemas and sound systems is also growing. Once again there is a huge range of options available, which is a direct reflection of the escalating demand for the ultimate in outdoor living. Plasma and LCD screens as well as projectors are making more of an impact on the way we live outdoors. In fact, it's getting so there's little need to go inside at all!
Once again, you need to work out whether or not you will get full use of such a feature – in cooler climates you may not get enough use out of a video unit (unless you have a fireplace!) – and you have to account for the elements when incorporating such a delicate piece of equipment into the design of an outdoor structure.
Sound is always a great addition to any outdoor area, and the system you choose doesn't have to be expensive. Do it yourself kits are available, although for more sophisticated set-ups, especially those linked to a home entertainment system, you will probably need professional assistance. Sound is especially useful in areas where you want to distract guests from neighbourhood sounds, such as traffic.
People are coming to realise that it's often more cost effective to design a brilliant entertaining space in conjunction with the main house — a well-designed space will be an asset to your life as well as an addition to your total investment.
Remember, the best way to get maximum impact and use of your investment is to consider: what do you think such an area is worth to you and your lifestyle versus what are you really prepared to spend; what kind of feel are you after; and how much space can you give this idea?
Once you have sorted out your priorities, you can then plan accordingly. For example, if you are going to build in stages and plan to install a fireplace or kitchen some time in the future, make sure that the gas is plumbed in at the start — then you can connect at any time without disruption.
Obviously, depending on your requirements, a fully equipped outdoor entertaining space can represent a significant investment so it's important to really think through what you need versus what you'd like. This will help you to get the best possible value and an effective design, especially if you need to keep the area to a certain size. To make sure you get it just right, you may want to consult a professional garden designer to help you to get all of these ideas working together in a cohesive way.
About the author: Georgia Harper is an award-winning Melbourne garden designer and founder of Georgia Harper Garden Design.