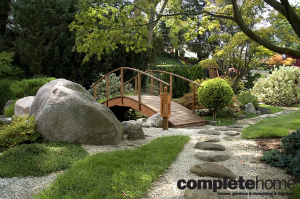 Tucked away in the suburbs of Brisbane, Taman Air is a tropical Bali-inspired oasis
Story: Catherine Stewart
Photos: Glenn Weiss
For more than 10 years, Rene and Carolyn Hundscheidt have been building a piece of paradise. A 1370-square-metre block has been transformed into a Balinese oasis, filled with the sound of splashing water, the vivid colours of tropical foliage and pools of sunlight surrounded by deeply shaded gardens.
Tropical gardens rely on a strong feeling of enclosure, where the busy outside is totally excluded, creating a separate world. Beginning with semi-mature golden cane palms (Chrysalidocarpus lutescens) Rene started the all-important canopy on which the densely layered understorey of the tropical garden depends. Investing in large plants at this
stage Rene felt was essential, so he could really enjoy the garden "in his lifetime".
Palms such as red-neck palms (Dypsis leptacheilos), kentias (Howea forsteriana) and the spectacular flame-thrower palm (Chambeyronia macrocarpa) now join with the golden cane palms to screen off neighbours and give shade, their structural similarity creating harmony and their individual colours and frond style bringing variety. Rene also originally used clumping bamboo but found it grew too wide and dropped too many leaves for his liking.
Water is the key theme of Taman Air (which means "water garden" in Balinese), with nine water features bringing a variety of sound into different parts of the garden. From a simple pouring water jar to rushing cascades, all the water features are remote controlled and many feature beautiful statues and wall plaques brought home from Bali, which Rene regularly visits seeking wares for his retail business Island Imports.
Water is also used in a fogging system, which brings a feeling of mystery especially in the evening.
Garden beds form long sinuous shapes against an emerald green lawn and free-form swimming pool. Planting is about foliage rather than flowers and dominated by large-textured plants, many showing colourful leaves. The densely planted understorey features cordyline, dwarf umbrella tree, ginger, croton, dracaena, pleomeles, philodendron and many types of bromeliad.
Although the mix of plants is very informal, the garden still has an orderly feel about it from the defined open spaces and strong containing borders of rhoeo and stone edging. Once established, the layered planting becomes self-sustaining, requiring very little maintenance and becoming quite drought-tolerant. A huge 35,000-litre pond fed by rainwater run-off supplies all the water for both water features and plants when necessary.
Although the more obvious elements in a garden give us that all-important first impression, it's often the quality of the finish and the small details that separate out the best gardens. Rene's attention to detail shows everywhere in this lush garden — from the laying pattern in the sandstone entrance paving to the tiny decorative touches on statue plinths and the authenticity of the Balinese-style construction.
Balinese gardens are not just for looking at. A core part of their design is always to make places for people to be in the garden, strolling along boardwalks among the lush plants or just relaxing with a long, cool drink. Apart from the strong connections between the garden and the house, which is being remodelled and decorated to complement the Balinese theme, several authentic bale (Balinese thatched pavilions) invite all out into the garden.
At night, Taman Air is transformed by more than 300 lights into another garden again. By carefully placing his low-voltage lights, Rene can create new focal points with up-lights, silhouettes and shadows. Colour recedes in the half-light, bringing shapes and textures to the fore. Subtlety is essential, says Rene, who creates small, gentle pools of light and never uses harsh floodlights, coloured lights or tries to light too much at once.
Sophisticated remote-control systems enable Rene to change his lighting effects and make the night garden his favourite.
One of Rene's most recent projects was a huge new five-car garage with its roof slab supporting a guest house and rooftop garden. Difficult challenges of soil weight and drainage have been overcome with careful planning and clever engineering so that guests, while close to the street, are separated from the outside world by lush foliage.
Like all good gardens, even one with such a finished look, Taman Air will see some changes over the next year. Lava stone edging from Bali will refurbish the swimming pool coping and some new (but very strongly contained) clumping bamboo will be planted to hide a neighbour's extension.