Creating an amazing first impression is important to GJ Gardner Homes Sunshine Coast, and this is clearly evident in this fabulous design.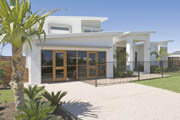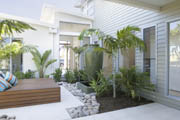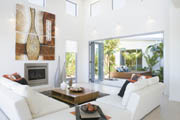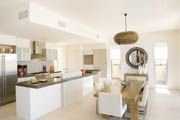 Custom made, the large cedar pivot entry door ensures a stylish entrance while the high ceiling in the portico and foyer offers a feeling of spatial generosity.
Walking through the front entry, visitors can see straight into the inviting courtyard and out to the day bed and water feature. Natural light streams through and allows a wonderful merger between inside and out. On further inspection you can see through to the tastefully decorated living room. Full advantage has been taken of the water views, while the pool has the air of a luxury resort.
Louvre windows on the study capture the heart of Queensland living and aid ventilation. In the courtyard area, just outside the study there is a fascinating water urn so whichever way you look you can benefit from the calming effect of water.
On the right of the foyer lies the guest suite with an expansive bedroom and ensuite. The entertainment area is on the left side of the passage, offering a separate area from the main living zones ideal for watching movies or chatting with family and friends.
Leading into the main living area, the passage provides access to the dining, kitchen and living rooms and then flows on to the al fresco area. Large bi-fold doors open out to further enhance the indoor and outdoor environment. Upstairs there are three bedrooms forming a living zone away from the main hub of the house for peace and quiet. If location is everything, the master suite is the place to be with bi-fold doors opening onto a private balcony with views to the pool and across the waterway.
Designed to enhance the waterfront property, this home is perfect for the Sunshine Coast's balmy temperature. This is just one of the new innovative designs on offer from GJ Gardner Homes.