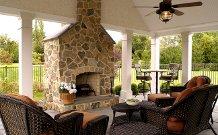 Here, we present 10 top tips for planning a successful backyard makeover
Story: Lisa Strudwick
Photos: Red Dog Design & Pardalote
All too often, building work to interior spaces exhausts the budget before the backyard has even been taken into account. The result is that many homeowners are left to do their own backyard makeover. A good design service will at least make some attempt to include the 'transition space' (decks, steps or in-between areas) and allocation of general planting areas.
Following is a general guide to improving outdoor spaces, with some basic principles for designing your backyard makeover.
1. Know your climate
Familiarise yourself with the climatic conditions of your backyard throughout the seasons. Make a mud map of where the sunny spots are and where the wind comes from. This will not be difficult to do if you read the weekend papers in the backyard — just take note of where you are shifting to catch the sun. Also consider where you need to screen the neighbours' view to prevent them looking into your yard.
2. Consider function
Consider the best location for functional items such as the barbecue and outdoor setting; usually this is close to and on the same level as the house for easy access to existing indoor amenities such as the kitchen and bathroom. Ideally, the outdoor entertainment area will be a flat surface; if the house is on the ground this area can be paved, or if the floor level is above-ground a timber deck leading from the house may be more suitable.
3. Entertaining spaces
In-built sinks, barbecues and fridges are now popular with people who do a lot of outdoor entertaining. A shelter over the entertainment area will also make it more flexible, providing protection from the sun, wind and rain.
4. Leave what works
Once you have your mud map, think about what you enjoy most about your backyard and what needs to be improved. Then decide what to keep and what needs to go.
The inner-city terrace (pictured left and below) had existing concrete pavers, exposed brick and concrete walls, and very damp bush rock stepping-stones. The brick walls were left. The concrete walls were partially obscured with the new timber seating area and pergola structure. The bush rock areas were removed and new deck/platform spaces were inserted.
The new blackbutt timber seating, decking and pergola now act as a unifying element for the whole backyard, while existing elements that looked a little tired now appear to be rejuvenated (the old pavers and brick walls were cleaned with a high-pressure hose). The result is an insertion of new elements with the structural bones of the original garden left underneath. This works well, contrasting the old with the new.
5. Recycle & reuse
Some things that have been retained can be reused or recycled in different forms. The seat from our inner-city terrace example reuses the timber lintel from above the doorway that was left over from the renovation of the house. The lintel has been housed in new timber supports to create the seat. Many of the pots are gathered from garage sales or council rubbish collections and given a clean to reuse in a new setting.
6. Maximise flexibility
Ensure you maximise the opportunities for design elements to be flexible and have multiple uses. Timber platforms can double as seats, sun lounges, storage areas and plant or pond retainers. A timber pergola can act as plant trellis, lighting frame, shade structure, clothesline (with more plant covering or grass matting inserted).
Screens can be very useful as dividers between neighbours to enhance visual and acoustic privacy in the backyard. Other than having a utilitarian use, they can be quite beautiful as growing walls. Plants can be trained to follow stainless-steel cables or structures, creating interest as the wall changes with the seasons or as the plant grows. Screens can also be made into features by choosing a good combination of materials and/or colour.
7. Include a feature
A 'feature' does not have to be an extroverted 'statement' — sometimes subtle features work best. A feature can be as simple as choosing a pot plant that is in season and placing it on the centre of the table.
Water features are great solutions because the sound of running water is very relaxing and can often drown out background white noise, such as traffic. Ponds can be housed under timber decking by cutting an opening in the decking with supporting structure underneath.
8. Sense of structure
A good backyard design is a single thing, as well as a collection of many, and to make the design work requires a conceptual leap form the individual components to the vision as a whole. Your design 'choices' will represent ways of assembling the parts. Good design usually has an overlaid organising structure with other elements acting as infill elements within the broader structure.
9. Plant selection
Plants can be both focus and filler elements. In-built garden beds can be filled with plants of varying sizes, shapes, colours and textures. When matching plants, think about the colour of the foliage, where the leaves are going to hang and the eventual size of the plant.
Pot plants can be clustered in various forms to either provide relief as an infill element or to act as a feature. Pot plants can also be moved around to mix and match different foliages and be moved into the sunlight and act as features at different times when their foliage looks its best.
10. Outdoor lighting
Lighting, like planting, can be a focus or a feature. Soft light and strong lighting should be matched to the task — a combination of strong and softer lighting usually works well. Consider the use of fairy lights perhaps to emphasise a structural element in your backyard or other soft lighting such as candles or garden lights.
Remember, when any design decisions arise, always ask yourself what is the purpose of your backyard design, where people are going to sit and how are they going to use the space. Think of your garden design in its purest form. Design is first and foremost a functional art.
About the author: Lisa Strudwick is a Sydney-based architect and co-founder, along with Mel Zugai, of Zugai Strudwick Architects Pty Ltd. The projects shown on these pages were all designed by Zugai Strudwick Architects.