Collecting French antiques is a passion and not necessarily an expensive pastime.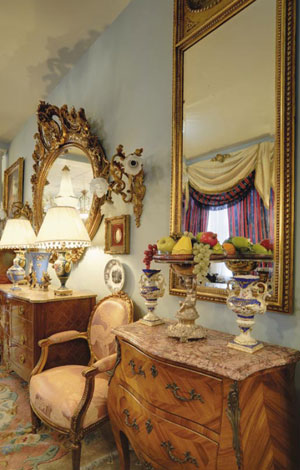 Unlike expensive hobbies where money spent can never be recouped, French antiques generally hold their value and some can even turn a profit.
Today, the world is going through huge financial turmoil. Share prices have plummeted and many people have lost money in commodities. Perhaps they should have invested in antiques? Investing in antiques is a medium- to long-term venture. However, unlike shares you can enjoy your investment while it appreciates in value.
As with most collections, antiques go through periods of fashion. A few years ago Victoriana was all the rage but today it has fallen out of favour. People are now living in smaller houses and apartments and Victorian furniture can be too cumbersome, dark and impractical to move around small spaces.
On the other hand, French antiques have never fallen out of fashion. Why? Perhaps because French antique furniture is generally compact, light, elegant, easy to move around and mixes well with modern décor. French furniture is opulent, charming, graceful, beautiful, sumptuous and luxurious but, above all, timeless. This is something that can't be said about any other furniture style. The French didn't create furniture, they created art that would stand the test of time. 
French antiques are synonymous with style and can be elegant additions that can easily mix with the most modern décor. Or you could decorate the entire room in French antiques, creating a glamorous atmosphere.
The key to buying antique furniture without the fear of it going out of fashion is to stick to ageless charm — and the safest way to achieve this is by doing it the French way!
French antiques and furniture are highly sought-after because of their romantic, old-world style and grace. The rich upholstery complemented by ornate woodcarvings and regal designs are just some of the characteristics of the Parisian furniture style that was once produced for French royalty. If you want elegance in your own home, you should consider decorating with French antiques and furniture Ever since Louis XIV, France became the centre of the best furniture styles and influenced the world with its designs, techniques and superb craftsmanship. France gave the world all of Louis's styles — empire and art nouveau through to art deco. All these different styles are very much in demand today and prices have increased all over the world in recent years.
From Renaissance-style to art deco, French furniture has always been avant-garde, admired and desired by the whole world. The French have always stamped their creations with timeless elegance. A baroque mirror, a rococo bed or a neo-classical armoire are just as beautiful and sought-after today as they were centuries ago.
In today's market it is almost impossible to buy authentic 18th century French furniture not only because it is scarce but also because it commands huge prices. However, those pieces made during the 19th century are more affordable and more accessible to most people.
When you buy a fine French antique piece you can be confident that it will continue to be fashionable and that the value will only increase over time. Not to mention that it will also give you lots of pleasure for years to come.
Unfortunately, fake antique furniture and reproductions abound. Ironically, in some cases these poorer-quality pieces can be more expensive than a true antique piece. However, they will not prove to be as good an investment as genuine antiques, having a poor resale value.
 
It's important to do some homework and look for a reputable antique dealer who specialises in French antiques, whether they are ornate Paris apartment-style or more rustic provincial farmhouse pieces. Both styles have their place in the modern or country home.
The term "Provincial" usually relates to pieces made in the provinces of France rather than in Paris. Generally, the French provincial style is more robust and rustic made from hardy available woods such as oak or fruitwood, and usually with much simpler lines. 
The Parisian furniture was made with exotic woods, such as rare ebonised woods decorated with red tortoiseshell veneers and bronze in the Charles Boulle manner. Gilded wood was also very popular. Some pieces were decorated with exquisite marqueterie or sometimes intricate patterns of parqueterie and ormolu (gilded bronze).
Collecting French antiques is a broad genre ranging from furniture to the decorative arts. Many collectors choose to specialise in a particular area such as clocks, paintings, porcelain, tapestries, glassware, chandeliers, architectural elements or Aubusson tapestries.
Prices will vary widely depending on quality and the period of the piece, so one really needs to do some research before investing large amounts of money. It is also important to get acquainted with the different French periods and styles. Until recently, in Australia an antique piece of the 19th century was normally described as "mid-19th century France", ignoring the different styles. I have endeavoured to educate people on the different French 19th century styles, as indicated on the chart below. A few years ago, very few people knew anything about the Louis Philippe style in Australia, not to mention the fact that there was no furniture of this style to be found here.
Most people think, of course, that true antiques are totally beyond their budget, but that's not necessarily the case. You could look for smaller pieces just to add some French flair to your home.
 
Beware of furniture sometimes described as antique when it's actually a more modern reproduction from the 1920-1950s. These can be more difficult to spot; you'll need to have some experience and seeing and examining the piece in front of you will help.
Collecting antiques can be a fascinating and rewarding life-long hobby. Whether you buy antiques as an investment or for a collection, always buy the best quality you can afford and buy what you are interested in. Have fun shopping around to select the right piece as this is half the fun! Happy hunting.
Mario Gorga is an expert in fine French antiques and the proprietor of L'imperiale in Armadale, Victoria. For further details visit: www.imperiale.net.au