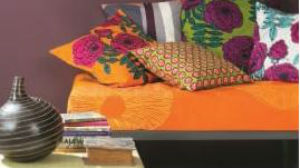 Colours are key to creating a welcoming outdoor space you'll want to use all year round

By Catherine Stewart
Colouring in
Colour arouses emotion, turning the more mundane world of shapes and textures into a place that really engages us. Interestingly, in good design it's usually a last priority, coming after the shaping of appropriate spaces, making a balance of mass and voids, creating feelings of enclosure and using repetition or contrasts of light, dark and texture. However, colour leaps out when we first see an outdoor room, bringing us to quick decisions about whether we like something or not. Although that response is highly individual — one person's warm chartreuse is another's cacky green — there are general principles you can use to build a colour palette that works with your house, your garden and, most importantly, with you.
Colours are not absolute, which means that every colour, even a strong primary one, will look different depending on its context and the amount of light that hits it. Colour context can work to your advantage, allowing you to alter the apparent colour of something, even a building. Cool colours can be made to look warmer by juxtaposition with an even colder colour, or hot colours cooled down using other warm tones nearby.
For example, a 1960s texture brick house will look more orange if you trim it with bright white or a traditional turquoise, but take on a quieter, brownish hue when teamed with warm maroon and a yellowish cream. This means you need to choose your colours as a palette, not independently, as each will change the apparent hue of the other.
Base colours
To begin putting together a colour palette for your outdoor room, have a closer look at the colours you can't or don't want to change, such as your house bricks, pre-coloured render or stained timber. Although many houses are a relatively neutral colour, there'll usually be an undertone that you need to recognise, as this can become a lot more obvious with other colours alongside.
Dark brown bricks may have purple notes, beige and cream neutrals also show yellow, green or pink, while greys have undertones of blue, green or purple. Those secondary colour elements may not be obvious until you start working other colours in around them. Suddenly, what you thought was an easy neutral starts to look decidedly different.
Most people prefer the look of the warmer version of a colour when it's seen in isolation, such as a neutral with pink rather than green undertones. Unfortunately, as many homeowners find, pinkish beige looks more pink than beige when it's on a wall surrounded by yellow-orange tones, such as lacquered timber or terracotta pots.
Combining colours
Once you've established what your base house colours are, you can begin to choose others to work with them. Apart from where they sit on the warm or cool part of the colour wheel, most house colours are slightly "muddy". They're not clear, highly saturated colours, but dirtier versions. This means the colours that work best with them will have a similar saturation, such as burnt rather than vivid orange, denim blue instead of sapphire, puce not imperial purple and forest rather than emerald green.
The outdoor rooms we like the best have a balance of warm and cool colours. Too many cold colours feels spacious but uninviting, while all warm colours seems too busy and oppressive. When you're including plants in those pictures, you've already got lots of cool greens, so you'll need to add some warmth. That's why natural materials like cane, sandstone and timber work so well in a garden, as they look and feel warm among the greens. Balance also needs to be applied to the amount of light versus dark. Although you might worry about making an area feel dark and closed in, don't get too wishy-washy. Colours lose their intensity in bright sunshine, so always go several shades darker than your first instinct.
Outdoor room flooring
When you're choosing outdoor room flooring such as pavers or decking, neutrals are safe but you'll need to decide whether a warm or cool neutral will work better. If you're not sure about a colour's undertones, have some plain pieces of white paper as well as pale pink, green and buff yellow with you for comparison.
Remember that sunlight bleaches out apparent colour and distance overcomes detail, so the light coloured paver with a pretty speckle that looks great underneath your feet will become stark and white in distant sunshine. Any contrasting banding or patterning will also make a new colour context for your neutral. Outdoor lights can also make colours look very different, depending on their colour temperature.
Wall colours
Wall colours pull a space together, providing a unified backdrop. In an outdoor room, your walls might be the house walls, a screen, a leafy green hedge or a timber or metal fence. Those can be hard to unify, but you can attach paintable waterproof board to vertical surfaces or use cladding. To keep a good colour balance if you're favouring lots of stained timber in decking or furniture, set it off against a cooler backdrop. If you're into silvery metals and weathered greys, use warmer tones for a lift. The most appealing balance is a greater area of cool colours compared to warm tones.
Colour trends
Fashion trends this coming year are also favouring the "colour punch", where a strong contrast colour on one wall really gives the picture some zing. If you're not into contrasts, you can use a darker tone of a related colour, such as a deep, denim blue teamed with a pale citrus green.
By now your outdoor room colour palette probably has some background neutrals and one or two stronger colours. Although you still need some accent contrasts, be restrained, as fewer colours will always look better and more deliberately co-ordinated. Rather than introduce too many different colours, use tone-on-tone of the same colour, from washed-out through to deeper and more intense shades.
Using fabrics
Fabrics are a great way to experiment and really pep it up on cushions, throws, wall hangings and tablecloths. Keep colours under control by using a variety of different patterns in the same colour range, mixing and matching spots, stripes, plaids and florals.
Design tips

– Cool colours (blue, purple, green, grey) yymake a space seem larger; objects smaller and lighter.
– Warm colours (red, pink, orange, yellow) yymake a space seem smaller; objects larger and heavier.
– Dark colours give depth to a small space yyand create an invisible background.
– Less is more: use similar colours to expand yya space and eliminate visual clutter.
– Inject some vitality into spaces where yypeople gather with a splash of vivid colour.
– You can have too much of a good thing: yyusing only one colour makes a garden bland.