Anyone can buy furniture which caters to the physical needs of the room's occupants, but to feel truly comfortable you need to reach in to your very core and cater to your likes and dislikes.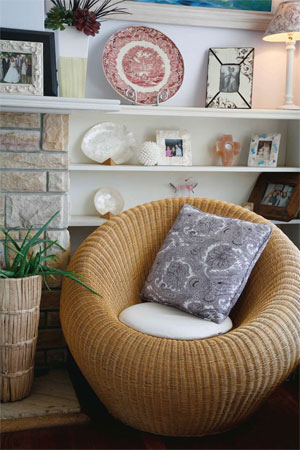 "Comfort was allowed to come to them. Rare, welcome, unsought: a gift like joy." (Ursula K le Guin)
As caring homemakers we all strive to create comfortable living spaces, but just how do we do that? Comfort, after all, can be somewhat of an elusive concept. We have addressed the issue of physical comfort here before; it's generally about comfortable couches, seating proportionate to your body shape, rugs for warmth underfoot and lashings of cushions, although it can greatly differ from one individual to another. However there is more to creating a comfortable living space than catering to one's physical comfort. Anyone can buy furniture which caters to the physical needs of the room's occupants, but to feel truly comfortable you need to reach in to your very core and cater to your likes and dislikes. Therein lies the trick; it's about finding what makes your heart sing.
The interesting thing is you can add this comfort layer to your living room regardless of its style, your budget or the period of your home. It's far more about revealing something of the occupants' lives and less about the physical constraints of your room. All the rooms we feature here are comfortable for their owners. They include the items they enjoy looking at and enjoy being around. And that's the fascinating part; that will alter for each of us. So if you were after a shopping list you could take with you to buy all the things you need to make your living space comfortable, I'm sorry to disappoint. I cannot possibly know what it is you need to feel comfortable.
The items that add comfort and soul to our rooms can be immensely personal. They can be favourite books, a favoured collection, a chair handed down by a beloved relative, or special window treatments that make you smile whenever you stand gazing out the window. One thing seems to be true for all country decorators: our rooms are a little like onions, you peel back the layers and more of ourselves are exposed.
If you're a little unsure of where to start, perhaps you could go through some old magazines and make a note of the things you are continually attracted to. You might find all the rooms you like have a neutral palette or that they all have checks somewhere in them. You may find the rooms that inspire you all have a feeling of serenity or, in complete contrast, they may be busy, eclectic rooms with lots to take in.
A simple test you can carry out in your own home is to keep a check of how much time you spend in that room. If you barely go in there, chances are it isn't offering an atmosphere you feel particularly comfortable in. On the other hand, if it's the room you constantly find yourself heading to with a cuppa, or when you have five minutes to yourself, then you are probably very comfortable there.
So do include that off-beat wine table you bought on your last antiquing weekend just because you love looking at it, or that cane chair that once sat on your grandmother's verandah just because it makes you feel near to her.
If these elements stand out like sore thumbs, simply counterbalance them with lovely accents in the style and mood of your room. A couple of obviously "indoor" cushions and a vase of flowers will help your grandmother's chair make the move from outdoors to in. Some favourite books on a coffee table near your favourite chair could turn that part of the room into somewhere you'd like to spend time.
It may be just a matter of regrouping furnishings, or those intriguing personal treasures you have collected, or finding the right cushions or colour scheme to pull the room together. Take some time this weekend to give your living space a personal comfort test and then take steps to rectify what isn't working for you, because if you haven't got it right, it's a bit like wearing someone else's shoes: you can get by in them but they won't put a smile on your face like your own comfy ones.