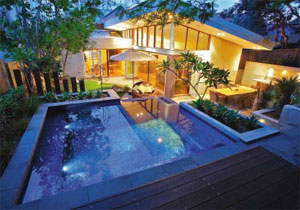 Peter Glass, managing director and principal landscape architect at Peter Glass & Associates — Landscape Architects and Pool Designers, shares his insights into the popular rise of compact pools and spas in modern pool design
Water has fascinated us for many thousands of years. Water is life! Water is also quenching, cooling, reactive and fun. Water is an essential element that is deeply connected to all human senses, with the potential to provide endless pleasure, entertainment and exercise. It is, therefore, no surprise to us that swimming pools continue to increase in popularity as an integral lifestyle component of private residences and resorts.
Residential swimming pools have come a long way from their early days. They are no longer just simple structures designed for the containing of water to allow people to cool off on hot days and exercise and play when the weather is warm. Residential swimming pools are now often sophisticated recreational facilities, designed as much to be stunningly attractive water features that enable you to swim and exercise in and entertain near. Today's well-designed swimming pools are being recognised more and more as adding substantially to owners' lifestyles as well as to the value of their property.
As land values and, accordingly, property prices throughout Australia continue to increase over time, and particularly so in coastal regions, the average property size has correspondingly decreased, making available space an even more valuable commodity for outdoor living and entertaining purposes. To a lesser extent, changing lifestyles (such as longer working hours and, therefore, less time and desire for maintaining large backyards) have also driven the change to smaller land sizes.
Long gone are the days of the average suburban block size being the old quarter acre (or just over 1000m²), where a large swimming pool could be installed without a great deal of planning and there would still be plenty of space left for substantial lawn and garden areas. While many people are still lucky to own such large (or larger) blocks of land, many new homes are designed on substantially smaller pieces of land, with great skill and care taken to make the absolute best use of the limited outdoor space available.
Swimming pools themselves are generally becoming more compact in size and more flexible in shape to enable their integration into the often-restricted spaces that are available — spaces that previously would not have been considered suitable for the incorporation of a swimming pool. These locations include narrow side passages, the rooftops of garages or residences, as well as steeply sloping areas and small courtyard areas — even in basement areas and under houses. In addition, the smaller size of many of these pools makes it much more affordable to heat them, especially during the winter months, thus providing the opportunity for year-round usage.
As a result of this trend, swimming pool design is becoming more innovative, more technical and more precise. Swimming pools are now frequently being designed by specialist landscape architects and swimming pool designers, who are often involved with the structural design of the pool and its structural integration into the complete project, as well as the specification of finishes and equipment. The adage "if you fail to plan, you plan to fail" very much applies here, because there is, literally, no room for mistakes.
As a specialist landscape architect and swimming pool designer, I find these types of challenging projects to be exciting and rewarding, as the opportunities for creative, innovative design solutions (for what others may consider to be "problem sites") are endless. It is a great opportunity for us to turn a client's liability into an asset and, in so doing, add substantial value to their project.
The range of space-efficient swimming pools designed by Peter Glass & Associates for incorporation into some of the many restricted spaces requested is endless. These have included:
Small Plunge Pools, some of which have incorporated extensive passive recreation facilities such as underwater lounging areas and shallow water-play areas, plus in-pool seating niches. As long as the pool is a minimum of around four metres in any direction, swim jets can also be incorporated to allow the active swimmer to hop in the pool and swim for half an hour or so against an adjustable current of water. This aquatic experience could be likened to running on a treadmill — but with much less impact on your body. Swim jets also provide great exercise opportunities with regard to aquaaerobics, plus great play opportunities for children (with or without boogie boards).

A compact swimming pool on a site that was so steep that we were able to incorporate a steam room, kitchenette, filter room, rainwater harvesting tank plus a bathroom and shower (with a glass window between the steam room and pool) into the area beneath the adjacent paved poolside area — and still avoid a subterranean feel.

A long and narrow (10m × 1.5m) swimming pool plus spa constructed in the narrow side passage of a small property, with the side wall of the pool extended up to form the boundary wall and a portion of the brick wall of the adjacent section of the house removed and replaced with a large glass window to enable the magnificent water feature to be viewed from within the residence. In addition, the end of the pool extended out into the front garden, where the water cascaded over the edge of the pool and into a pond below, from where it recirculated back into the pool, creating a beautiful uplit focal point at the front of the house.

Dramatic pools with water cascading down to entertaining areas beneath to unify the areas and maximise the aesthetic benefits of the pool. Glass panels were incorporated into the floor of the pool to allow light to penetrate into the room beneath.

Space-saving pools for steep sites — pools that can be constructed to extend out from under the residence, with glass walling included in the pool to provide dramatic views both to and from it.

Indoor pools that utilise a sub-floor space that would otherwise be unused, sometimes with a 1200mm high glass or masonry wall incorporated along the outer side of the pool to also serve as the safety barrier.
When designing a pool for a restricted space, the main emphasis is on designing a pool that satisfies the client's wish list and creating a beautiful visual feature within the confines of the space available. To achieve this it is critical to have a very sound understanding of associated factors specific to each particular site, including the existing or proposed residence, plus topographic, geotechnical, stormwater, privacy, access and other requirements, including the very important matter of a construction budget. On some small sites the pool area is designed as an outdoor room, separate to but viewed from the adjoining rooms, and almost appearing as an extension of the house itself.
 In addition to the visual benefits, the location of a small swimming pool in close proximity to the residence provides the additional benefit of a more pleasant microclimate during the warmer months, as a result of the cooling effect created as air moves over the surface of the pool. Also, a pool located to the northern side of the residence has a gentle warming effect during the cooler months as the sun is reflected off the surface of the pool and into the adjacent residence — not to mention the beautiful visual effect of the ripples from the pool surface reflected onto the ceiling of the adjacent rooms.
It is also very important for landscape architects and pool designers to recognise that our services are being engaged by our clients to come up with the very best design solution possible for them and for their specific project. On a large, level block, the distance of the pool or the shade pavilion from the boundary, or the height of the pool out of ground, are not usually big concerns. However, the smaller, steeper, more compact and more inaccessible the site is, the more challenging the issues that need to be addressed.
More often than not, even the smallest or steepest property can still have a stunning swimming pool, often serving as a magnificent water feature at the same time. Although compact in size, swimming pools designed for restricted or challenging spaces can still offer most of the standard functions and stylish features of a larger pool, becoming a very attractive and valuable asset as well as a great source of fun, leisure and exercise.