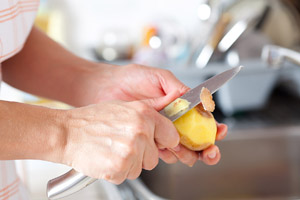 Q:  What inspired your decision to become a chef?
A:  It was accidental. My education suggested science but my heart suggested food. Perhaps it was the good food that came out of my mothers' kitchen and I thought everyone should know how good it could be.
Q:  What is your fondest memory in the kitchen?
A: Cooking for my daughter Suzanne's wedding! I had to stop her washing the potatoes to get her to the church on time!
Q:  What is the one appliance you can't live without?
A: That's easy. I just love my St George double oven- and so does my daughter Suzanne, my niece and several friends who have seen first hand what a difference St George has made to my life and now their lives. They couldn't wait to get their own St George.
Q:  What do you think has been the most significant change in the Australian cooking industry over the years?
A: The design of modern cookware and appliances to cope with today's busy lifestyle. Machines to make cakes and bread; machines to beat, slice, chop, mix, blend and juice; machines to wash dishes; thermostatically controlled ovens with a variety of models to grill roast, bake, toast and also to clean themselves! All this lets us cook in a healthy and variety of ways- no worry about soufflés, tricky biscuits, pates, and creamy soups.
Q: You have won the hearts of many Australians, why do you think you have been able to achieve such success?
A: Could it be because I love and care about what I do? I am happy in my kitchen. I enjoy cooking for family and friends, then sharing time with them in the best possible way over a good meal or simply a cup of tea and a freshly baked treat.
Q: What does the future hold for Margaret Fulton?
A: More of the same. Another book has gone to China to be printed for Mother's Day. Lined up are fund raising talks and dinners for organisations like National Trust to Heritage Fleet, Quest for Life Foundation, I'll celebrate my contribution to publishing at the National Library in Canberra and that's not half of it!

Roast Turkey with Pork, Apple and Pistachio Stuffing
(serves 8 – 10)
Ingredients
1 x 3.5–4kg whole turkey
1 quantity pork, apple and pistachio stuffing
1 quantity of parsley and lemon stuffing
2 tablespoons butter
Freshly ground pepper
Pork, Apple and Pistachio Stuffing
½ cup apple juice or cider
4 slices white bread, cubed
500g pork mince
3 stalks celery, finely chopped
2 apples, peeled, cored and diced
1 small onion, chopped
1 tablespoon chopped parsley
2 teaspoons chopped thyme
½ cup shelled unsalted pistachios
1 egg, beaten
Salt and freshly ground pepper
Method:
Pour the apple juice or cider over bread cubes and allow to stand for 30 minutes. Mix together pork mince, celery, apples, onion, herbs and pistachios with the soaked bread. Blend well with egg and season well with salt and pepper. Use to stuff the crop (breast) of turkey.
If frozen, thaw turkey completely by leaving on a large plate, still in the wrapper, in the refrigerator for at least 2 days (the slower the better). Remove giblets from cavity. Wipe thoroughly dry with paper towels. Spoon the pork stuffing inside the crop (breast) and press outside of breast to mould to a good shape. Bring neck flap over to the back and secure it with a poultry pin or small skewer.
Preheat the oven to 160-degrees C. Shape bird nicely with both hands. Place turkey on its back, legs facing you. Place centre of piece of string below breast at neck end, bring ends down over wings then down underneath the bird. Cross string underneath, then bring it forward and up, to tie ends of drumsticks and parson's nose together.
Wipe bird with a paper towel and spread the two tablespoons butter over, being sure to cover breast and legs well. Season with a little pepper. Place on a rack in a large baking dish, propping up legs with crumpled foil if necessary. Cover pan with a tent of greased foil.
Roast until done – about 2-2½ hours. Baste every 25 minutes with juices in dish and remove foil for last 30 minutes to allow turkey to brown. Remove the turkey to a heated serving platter or carving board and allow to rest in a warm place for 20-30 minutes while finishing off vegetables and gravy.