Creating a kitchen worthy of a professional chef is all about selecting the right cooking appliances.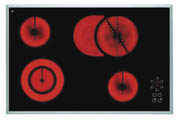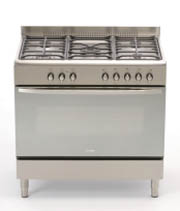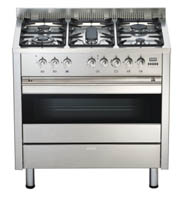 Made from the finest in European quality with the latest design trends, Euro Appliances' sleek range of electric cooktops delivers modern aesthetics with all the practicality and function of commercial appliances.
Leading the pack is the 77cm ETC770S Ceran® Glass Cooktop. Boasting six hi-lite elements and stainless-steal trim, this cooktop uses a modern state-of-the-art touch electronic control system, which includes child lock.
If you are looking for sleek Ceran® glass with bevelled edge design then the VE77VACAF model is ready for your kitchen.
The large selection of electric cooktops from Euro Appliances also includes the Maxi 60cm Ceran® Glass Cooktop with four hi-lite elements and 60cm Ceran® Glass Cooktop Touch Control.
With all Euro Ceran® models the high-grade glass cooktop surface ensures easy cleaning.
Constant innovation and eye-catching design combined with advanced technology make these cooktops a must-have kitchen purchase. And best of all, they come with a two-year warranty.
FRESH IDEAS FROM EURO FREESTANDING COOKERS
Euro Appliances, a family-owned Australian company based in Adelaide, has a complete range of quality European freestanding cookers manufactured and imported from their associate factories in Italy, built to suit any kitchen design and budget.
The Elegance freestanding cooker features a five-burner gas cooktop with one-touch electric ignition, flame failure device, and fish and wok burner (LPG kit included). The oven is multifunction and includes a digital programmable clock and Cavity Cooling System. With its elegant contemporary design, which includes a chic stainless-steel kicker plate and height-adjustable legs, the Elegance is crafted to the highest standards.
To suit a wide variety of kitchen designs you may wish to review their Nova freestanding cooker range, available in 90cm or 60cm widths. Through its multifunction oven, the Nova series delivers excellent cooking results.
Manufactured in an 18/10 grade stainless-steel finish, these freestanding cookers are extremely easy to clean and feature a cavity-cooling system backed by an internal cooling fan. This ensures control knobs are cool and protects surrounding cupboards.
If you are a serial entertainer on a budget, the Maxi series freestanding cooker is built to suit your needs. Through its uncluttered layout, this multifunction oven with five-burner gas cooktop, central wok and cast-iron trivets will be sure to impress. No problem with large-batch cooking as this freestanding cooker has a 105L net capacity oven and warmer drawer. With height-adjustable stainless-steel legs, this cooker has been built to cater for all kitchen designs.
Euro Appliances has a cooker to satisfy the most discerning of customers, no matter the requirement, size, budget or style.