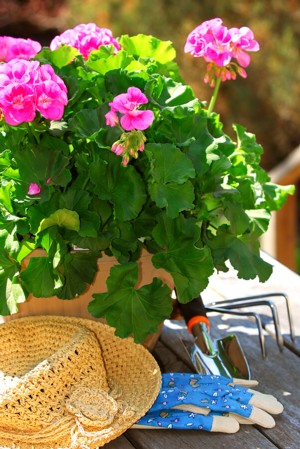 This country cottage-style garden in the suburbs of Melbourne is a head turner
Story: Wendy Clarke, MAILDM
Photos: Patrick Redmond
After a well-integrated carport was added to this Californian bungalow, the owner decided to seek some advice about planning the garden. The home had wonderful character, with an owner who loved cottage gardens and potted annuals. A low-maintenance garden was important while still keeping the country cottage feel.
The builder was onsite and starting the deck at the back, so some quick changes were made to utilise broader wrap-around steps that would double as extra seating for parties and open up the transition to the garden. The new pergola extension was left uncovered to allow for a natural shade curtain in the form of Virginia creeper (Parthenocissus tricuspidata), accompanied by Papi Delbard pillar roses up the posts.
In the back garden, the owner wanted a quirky water feature with character, reduced lawn size with a drought-tolerant species, relocation of the clothesline and a quick screen to disguise it, and a planting scheme that would thrive under the existing trees. And all of this needed to complement the gorgeous weatherboard garden shed, which added even more charm to the picture.
A country cottage-style garden needs plenty of year-round flowers to evoke a feeling of romance, but they also need soil with good water retention to keep them flowering. Hydrocell and compost were worked into the existing soil, which reduced watering needs by 50 per cent. Plants were established quickly as a result and able to thrive on twice-weekly drip watering.
The clothesline was screened using a sheet of non-galvanised reinforcing mesh secured between cypress pine posts, quickly covered with Hardenbergia 'Free 'n' Easy', a white-flowering version of the native sarsaparilla. Delbard and David Austin roses, Penstemons, Liriopes and Salvias work happily with Osmanthus heterophylla purpurea, Michelias, Metrosideros and Chaenomeles to cover a year in flowers. Beautifully framed by all this exuberance is the water feature by Cinnamon's Art, an old copper converted to an opening flower with dragonflies hovering above.
Level changes in the front garden allowed for some creative, old, red-brick paving directing a circular flow through the entry. Existing skimpy steps were replaced with generous sweeping semi-circular layers, integrating the carport and a pedestrian entrance to the front door. Spirals of paving were highlighted with a header course of bricks and feature mosaics (created by Davia Designs) in the centre of the spirals.
The artistic intent of this home is announced in the centre garden bed, with a magnificent three-metre-high steel teepee commissioned from Cinnamon's Art — rusty swirls of steel link organically through themselves, stretching into the sky and finishing with whimsical curlicues. At its base, Gaura 'Whirling Butterflies' flowers prolifically, prettily and without apology, while Bluebell creeper (Sollya heterophylla) twines up its coils.
Radiating from the teepee, another garden bed screens the street. Standard 'Seduction' roses, a favourite of the homeowner, give height and a long period of flowering. Facing the street, four Malus 'Strawberry Parfait' provide flowers with a burgundy background and gorgeous deep pink flowers in spring. Under-planting includes Heucheras, Aquilegia and Liriopes, edged with more Gaura 'Whirling Butterflies' and 'Passionate Pink'.
Finally, tucked in front of the window, a pausing spot and home to the much-loved pots is nestled among Hydrangea quercifolia. This extremely drought-hardy Hydrangea has wonderful, cone-shaped, white flowers that eventually fade to pink then rust through winter. Even though it sits in the front garden, it is a private spot to soak in the artistry and exuberance of this beautiful cottage garden.
Cottage gardens have traditionally been thought of as high-maintenance, yet the planning of this garden has meant that the owners can holiday at length without being met by a weed infestation when they return. Deep mulching every year, soil support with Hydrocell, drip-watering and drought-tolerant species have made this a sustainable garden that reinvents our old notion of cottage gardens. Its presence in the street gives much joy to visitors and neighbours, along with unspoken permission to allow a softer cottage look back where it belongs among old Californian bungalows.
About the author: Wendy Clarke is a Melbourne-based landscape designer and director of Dirtscape Dreaming and Gift Wrapped Gardens.