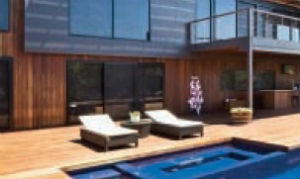 For a natural flooring solution that will look warm and inviting day or night, choose timber
Words: Rachel Falzon
Timber flooring in outdoor rooms continues to be a popular choice for those looking for a natural alternative to concrete and paving; it can also be the more cost-effective solution. No matter whether you have a small or large area to floor, or if you lay the timber slats vertically or horizontally, timber has a striking aesthetic.
One of the most popular ways that timber flooring is introduced into the outdoor environment is by way of a deck. Outdoor decks are strong, weather-resistant, durable and require little maintenance. Well-planned decks can extend your living area into your backyard, making them perfect for an outdoor room. Build an outdoor room next to your indoor living area and, by using bi-folding doors, you can create an entertainment area that can be used throughout the year. Some people like to incorporate a spa into their decking by reinforcing it to support the weight of the water or setting the tub up on a concrete slab and building the deck around it. Even trees can be grown within a timber decking — but be sure to leave room for the tree to grow when drawing up the initial plans.
Timber flooring is a great option for those who prefer to do their own jobs rather than employ someone to do it for them. You can opt to do the whole job yourself or buy click-in systems, which can ensure you have a beautiful deck with just a weekend's work.
One of the reasons that timber is so popular in outdoor environments is that it's such a versatile flooring material; there are many different colours, finishes and varieties of wood, which means there's something to suit every setting. And, due to timber's natural ability to absorb and release water, it's perfect for outdoor application.
Whatever the colour scheme of your outdoor living area, there's sure to be a stain to suit — you can even leave it unfinished to create a natural, weathered look, which is appealing in country and rustic settings. Timber looks great in many of the different types of rooms available, too — eg thatched or shingled gazebos, freestanding buildings and pergolas.
The best timbers to choose are hardwoods, as they are more durable, have a natural resistance to insects and are suited to the outdoors. Softwood, while less expensive, can still be used but it's best to have it properly treated to withstand weather conditions.
If you have wooden floorboards inside the home, incorporating them into your outdoor room can be a great way to build the transition between the interior and exterior living spaces. Try to find a timber that looks the same for your outdoor floor, as this will blur the line between each space, creating one larger entertaining area.
Many home owners and landscape designers enjoy working with timber due to its natural aesthetic. In fact, the flooring can become a feature at night with some lighting strategically installed either within the timber itself (such as in a deck or stairs) or above it, highlighting it and accentuating the boards at night.
In a natural setting such as bushland, people might avoid using timber products in their outdoor room due to their fire risk. However, they need not dismiss wooden decking entirely, as Australia has a large number of high-density timbers that provide natural protection from bushfire. These fire-resistant timbers are solid, dense hardwoods that have performed very well in extensive fire testing and include blackbutt, kwila (merbau), red ironbark, red river gum, silvertop ash, spotted gum and serpentine.
For the eco-conscious backyard renovator, opt for an Australian species that comes from a sustainable source and be sure to check on the origin of any imported timbers. Look for timber decking that has Forest Stewardship Council (FSC) or Australian Forestry Standard (AFC) certification, as this will ensure that your flooring project will have a lighter footprint.
After going to all the effort to install your timber floor, you'll want keep it looking its best, which requires a little maintenance.
Check it regularly for any loose boards and replace them when necessary. Also, hammer in any nails or fix screws that are sticking out to keep toes and paws safe.
Sweep the deck clear of any residual garden matter and dust and then clean the deck with a specialist deck-cleaning product. Follow this by giving the timber a light sand in the direction of the timber's grain.
Once cleaned and prepped, reseal the decking timber with your choice of finish. You can choose from stains, oils, paints or varnish, depending on the result you want to achieve — read the instructions on your chosen product for information on whether it needs another coat and how long to steer clear of walking on it. It's a good idea to cover any plants and furniture surrounding your deck in case they are hit by the sealant.
If you're looking for a natural material that looks like wood but isn't (because technically it's a grass), consider bamboo flooring and decking. Bamboo flooring is available in a selection of colours, from pale blond to dark coffee. Because bamboo flooring is made from bonded layers of shrink-resistant, rot-proof bamboo, it is very strong and therefore rated as a "hard" floor. It's easy to install and can be laid over concrete or hardwood or directly onto joists.
House of Bamboo, for example, recently released a bamboo decking product ideal for outdoor rooms. The strand-woven, carbonised bamboo decking is very dense, extremely strong and treated with insect retardants, impregnated with natural decking oil and has a grooved surface, making it non-slip.
For a natural look and timeless appeal, there's nothing quite like warmth and durability of timber (or bamboo) flooring.