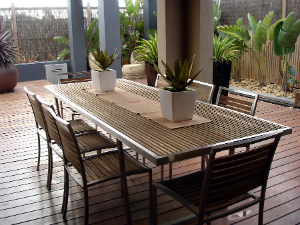 Story: Catherine Stewart, FAILDM FAIH
Choosing a deck for your outdoor space can be a cost-effective and environmentally sound solution. Although a paved courtyard can have a pleasing solidity about it, a deck can float above sloping ground, give you access to views you might otherwise miss out on and 'walk more lightly' on the land. Without the cut, fill and retaining walls usually required for paving, a deck will usually cost less as well as preserve more of the natural topography of your land.
Basics of deck design
Decks have specific design issues. Unlike open paving, points of entry and exit are limited to doors or stairs, so their positioning immediately dictates pedestrian flow across the space, as well as where there can be a 'quieter' zone for seating. If the deck also gives access to the rest of your garden, make sure there is a quick route down by having doors and stairs lined up, but to one side. Although you may like the symmetry, unless the deck is very large, centring the deck on the back door with stairs down opposite will greatly reduce its usefulness. Avoid at all costs having to squeeze past outdoor furniture.
Look at using more unusual shapes and incorporating rather than removing trees as part of the design. Details such as pebble and glass inserts, mixed materials, coloured borders and water rills lift an otherwise plain 'floor'.
If your block is quite steep, a single high deck can feel alienated from the rest of the garden so consider a series of cascading platforms to make a strong link. In hilly areas, decks can make great seating and entertaining platforms if located in other areas of the garden rather than extending from the rear of the house.
Is approval needed?
Many councils allow low (300mm off the ground) and small decks (up to 10m2) without a development application, but otherwise you'll need approved plans. Poorly constructed decks are extremely dangerous, so specifications must comply with the Building Code of Australia and any relevant Australian Standards. In some council areas, decks are deemed hard surface area for your maximum site coverage, others will allow for a percentage permeability.
Quality construction 
Whatever materials you choose, the quality of the construction will have just as much effect on the usefulness, longevity and safety of your deck. Ask about fixings (galvanised or stainless steel), how the joins are held, joist spacing (usually 450mm), whether boards will be hand- or gun-nailed and check for sealing of cut surfaces and proper curing of concrete footings.
Your material choices
Timber: The timber used needs to be low-shrinkage and the appropriate rating, which shows both its stress grade (stiffness and load-bearing capacity) and also its durability grade (resistance to termites and rot). Timber decks can be supported by timber or steel posts, bearers and joists. Boards run in the same direction as the bearers and are best running along the length of the deck, rather than across it. Allow for a 25mm step down from the house and board spacing of 3mm-5mm.
Check the timber source, such as local or imported, plantation, recycled or sustainably managed forests as your choices do make an environmental difference.
Timber decks may not be suitable (or allowed) in bushfire-prone areas and be wary of staining them too dark as they will get very hot. Refinish your boards yearly with either clear coatings or oils, which are relatively transparent, heavier-bodied stains or paint for many years of service, and check for nails sitting proud.
•Hardwood timber: Hardwoods have a rich, natural colour. Selecting a single species will give more even colour. Popular hardwoods are eucalypts such as spotted gum, blackbutt, iron bark, jarrah, tallowwood and forest red gum as well as imported kwila (merbau). Many hardwoods 'bleed' for several months, which can stain paving below. Some hardwood boards have a special profile for joining and fastening down without any visible nails. 
•Softwood timber: Treated radiata pine makes an inexpensive deck but is quite soft and can be dented by heels. Don't use it over galvanised or powder-coated steel as leaching acids can damage the metal finish. Cypress pine is hard-wearing and has good termite resistance.
•Composite wood: Made from recycled plastics and wood fibres, composite wood boards have a pressed-in-woodgrain profile to replicate real timber. Some are twin-sided so can show either a reeded or a smooth grain face and they are designed to be laid with concealed fixings, giving a smooth but non-slip surface. Useful near saltwater and with good termite resistance, composite wood is low-maintenance but needs regularly cleaning in moist areas to prevent mould growth. 
•Metal: Originally made for industrial and commercial sites, metal decking is appearing more in residential situations. With its very open structure, expanded metal mesh or grating allows you to grow plants right under your deck, making them an integral part of the design. Either in galvanised or powder-coated steel or aluminium, many were designed to be non-slip, so check how harsh they feel to bare feet, although some newer products have been designed with that in mind.
•Glass: For something really different, a glass deck can really give you the sensation of floating above your land. Beautiful for low decks over water features or intricate planting, the glass has tiny dots, lines or patterns to make it non-slip and can be used over steel or timber structural support.
If you want to fake it
If you've got an old concrete patio or verandah that you'd like to spruce into a classy timber deck, you can buy imported hardwood tiles (50cm square or 1m x 50cm) that come with interlocking supporting joiners to make an 'instant' deck makeover or composite wood boards can be laid over 50mm battens. You get the look you want without the construction costs and the disruption of building a deck from scratch.
Safety first
According to Archicentre, the building advisory service of the Royal Australian Institute of Architects, all owners of raised timber decks should regularly check support beams and posts for rot and metal fittings for signs of rust or corrosion. 
Says General Manager of Archicentre, David Hallett: "Apart from the possible injury or death to family members or friends, home owners would be foolish to ignore the legal liability and damages claims that could arise from a collapsing deck that is proven to be in poor repair."
Homes in coastal areas, where decks are subject to harsher weather and metal fittings prone to salt damage, are most at risk he says. He also urges people whose decks were built in the 1960s or '70s to take particular care as many were illegally built using incorrect timber.
Mr Hallett urged everyone with a raised timber deck to regularly inspect it for soft spots on timber, unstable hand rails and balustrades, rusting bolts and brackets or rust stains.
Spring cleaning
Warmer days and shorter nights mean it is time to tidy up the yard and prepare your home's outdoor areas for spring and summer use. Caring for timber decks should be a regular part of the spring cleaning checklist. Routine maintenance, such as cleaning surfaces of dirt and other debris and protecting wood from mould and mildew, can be done easily in a weekend. A broom, a garden sprayer, a little bleach and a hose are all you need. 
•Cleaning the deck: Start with the deck. Inspect it for build-ups of dirt that may have accumulated during the winter. Begin by sweeping the deck to remove debris, taking special care to clean between the planks and boards of horizontal surfaces. This will help spring rainfall drain from horizontal surfaces and allow air to flow between the boards. Reducing standing water and increasing airflow will limit the amount of moisture that can collect and stay on the surface of the plank.
•Get rid of mould and mildew: Killing mould and mildew that may have grown during winter is another important piece of deck maintenance, particularly for materials that have rough textures such as composite decks. Try a simple solution of three parts water and one part oxygenated bleach to be applied with a garden sprayer. Rinsing the treated areas with clean water once the solution is applied should eliminate mould and mildew.
•Skip pressure washing: Do not pressure-wash timber as it can disrupt the timber's natural moisture resistance by forcibly pushing water into the timber. 
•Elevate planters: Many outdoor living spaces are decorated with planter pots and boxes, but setting and leaving planters directly on wooden surfaces can stain. It is recommended that you elevate planters from deck surfaces so moisture can more easily evaporate from timber planks.