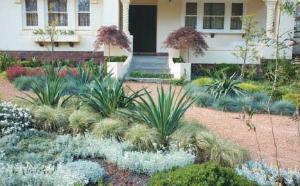 An engaging low-maintenance, no-mow, drought-tolerant garden of unique design
By Carrol Baker
The designer of this delightful contemporary garden in the Melbourne suburb of Murrumbeena has shown there's no need to sacrifice style over design when creating a water-efficient garden.
In addition to a water-wise landscape, the owners also wanted a garden that required minimal maintenance, with no lawn to mow, and a garden offering an eye-catching array of colour and texture. Note the effective use of small trees, ground covers, shrubs and foliage plants — a blend of native and exotic species.
A clever design feature that adds a quirky twist to the modern Australian look is the inclusion of feature garden beds nestled within other garden beds.
"Even with the curves and irregular shapes, the garden has a sense of symmetry and balance," says designer Mandy Marshman from Homebush Gardens. "The mixture of height in the trees and dense underplanting help to soften the look of the house and it feels really cheerful when you are in the space."
A grove of weeping silver birch (Betula pendula "Youngii") adds a graceful ornamental element while Snow-in-Summer (Cerastium tomentosum), with its silver leaves and profusion of tiny white flowers, is a pretty, drought-tolerant addition to the garden. Adding to the plant palette is Senecio serpens (a succulent), beautiful Bush Pearl kangaroo paws and Metrosideros 'Tahiti'.
As you stroll through the garden there are so many colourful contrasts. Ornamental Carex comans 'Frosted Curls' with their curved pale green leaves and curled tips are a design feature. Weeping yucca (Yucca recurvifolia) adds bold architectural form with its striking upright leaves.
Being a water-wise garden, plants featured have a low water requirement. To further reduce water wastage, a drip irrigation timer was installed. Soil-wetting and water-storing agents were also included when planting, and all of the gardens were well mulched to retain moisture.
The designer has incorporated several other sustainable elements into the landscape design. Permeable surfaces were included throughout the garden and driveway area. Pale pink and brown Tuscan Topping mix was used to replace lawn, further decreasing water requirements. Road base was placed under the mix and it was compacted on completion.
"Recycled metal edging (obtained from a paper factory) was used to delineate the Tuscan Topping paths from the garden beds," says Mandy.
Mandy says when she's planning a landscape design, plant selection is based on two core elements. "Plants will only be included if I feel they are suited to the location and microclimate and also suited to the ability of the client to maintain them," she says.
And, of course, underpinning this is creating the right look, with all of the design elements working together to create a beautiful garden the homeowners can enjoy.