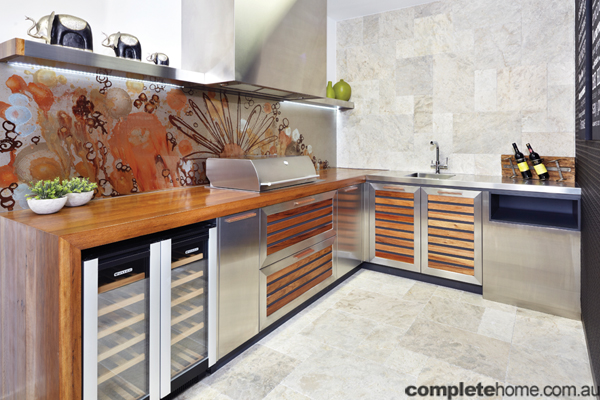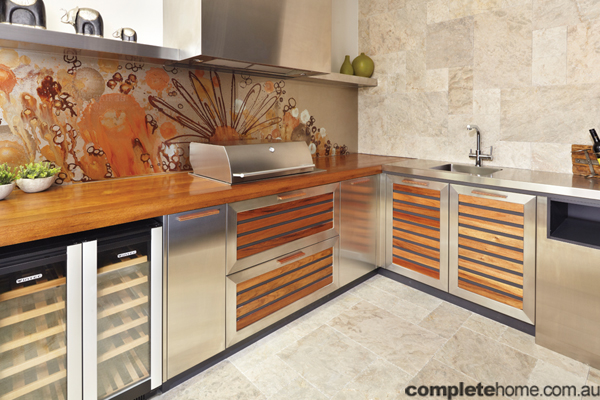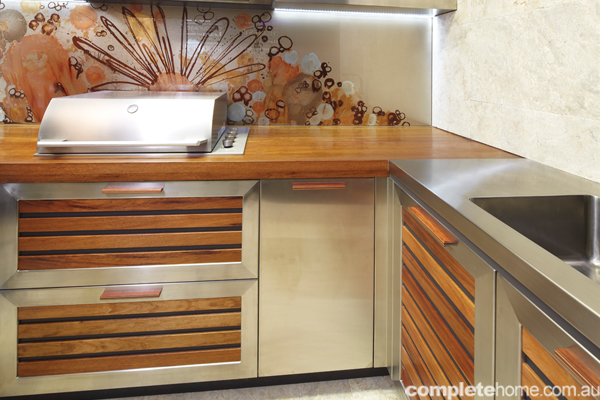 Australia is blessed with one of the best climates in the world. With our long summers and relatively warm temperatures all year round, outdoor entertaining is an absolute pleasure. There's nothing more quintessentially Australian than a backyard barbecue, but the humble barbecue has come a long way in the past few years. Gone are the days of a grill chocked up on a few bricks; they have been replaced by deluxe versions and full outdoor kitchens. In order to demonstrate just what can be done in any outdoor space, Susan Garsden from Garsden & Clarke designed this impressive outdoor display kitchen. "We do so much outdoor entertaining, so why not have a great facility to do it?" Susan asks.
The centrepiece of the area is a Qasair barbecue, which is equipped to handle all your outdoor cooking. Hard-wearing and easy-to-clean stainless steel makes up the food preparation area, and the sink is integrated into the stainless steel for easy maintenance. Timber handles are a nice touch and the benchtop also features recycled hardwood. All the appliances are integrated to keep the area clean and clutter-free, and the Vintec wine fridge is on-hand to hold all your cold drinks. The unique glass splashback has been individually designed by Voodoo Glass, while the French sandstone wall and floor are easy on the eye. "This is making the outdoor area more glamorous and helps it blend into the home," Susan says. Not only that, it's perfectly set up to take advantage of a long Aussie summer.
Designer: Garsden & Clarke
WE LOVE: The Vintec wine fridge!
Doors Stainless-steel frame, timber and charcoal shadow line, timber and stainless steel
Internal hardware Blum
Handles Timber
Benchtop Recycled hardwood and stainless steel
Splashback Custom-designed by Voodoo Glass
Kickboards Stainless steel
Floor French sandstone
Walls French sandstone
Cooktop Qasair barbecue
Rangehood/canopy Qasair canopy
Refrigerator Vintec wine fridge
SinkIntegrated into stainless steel


Shop the Garsden & Clarke showroom
36 Smith Street, Capalaba Qld 4157
(07) 3823 3977