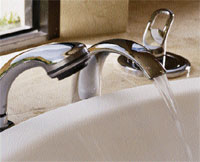 Tips and tricks to get water efficient
Living in a metropolitan area, it's a bit hard to be too worried about how much water we are using. After all, if we need any water we just go to a tap, turn it on and it comes gushing out. Sure, every night on the news there are reports of just how much of Australia is currently classified as being drought stricken but when water is so easily accessible it's all too easy to be complacent about where the next glassful is coming from.
Australia's country residents, on the other hand, know all too well how precious a resource water is. When your livelihood, quite literally, depends on the next rainfall you tend to be much more aware of exactly how much water you are using.
But the drought is not the only reason we should all be working harder to conserve water. Water is a natural, and limited, resource. Australians live in one of the driest and hottest continents on earth, yet we are consuming water at such a rate that our supplies are ever dwindling and never becoming fully restocked. Technologically we have made huge leaps in product development over the last five years and this means a whole host of new products and practices are available to assist in our attempts to save more water.
Paul Weller is Chairman of the National Farmer's Federation Water Taskforce and a dairy farmer from Lockington in Victoria. The NFF Water Taskforce includes representatives from all states in Australia and is responsible for developing and recommending water policies to the National Farmer's Federation Council who then lobby for these policies to be adopted at state and federal government level. Weller knows first hand the extent of the drought and the extreme conditions that many farmers are battling. "Last year on the Goulburn system we only received 57% of our water rights, " he says. "We had to bring in a lot of grain to feed the herd. This was the first year that our family company has made a loss since 1963."
Weller firmly believes that there needs to be more importance placed on long term planning for how water is used in major cities. "On the farm we've been into reuse of water for a long time. We need to look at any new developments so there is a water supply, sewerage line and reuse line for watering gardens etc…" Ongoing education and support, particularly from relevant government departments as well as industry, is important to ensure that all members of metropolitan and rural communities are more aware of their options and how to be more effective with their water use. "The National Farmer's Federation would be supportive of the government running education programmes. We have always worked with the likes of the Department of Primary Industry to educate farmers on more effective and sustainable ways of using water," Weller says.
Today's consumers tend to be very environmentally conscious and receptive to new technologies, making it much easier to introduce new products and systems. Rick Roberts from Energy & Water Solutions in Sydney, specialises in products designed to conserve our water use. "Most consumers have a phobia about water efficient showers," he laughs. "Many of us have stayed in caravan parks with tiny showers but the fact is that over the past four to five years the development of water efficient showers has dramatically improved."
As well as saving water, most water conservation products can also save on electricity bills simply by saving on the amount of hot water we use. Roberts says " Almost forty percent of energy used in the home is for heating hot water and about twenty three percent of all water is used in the shower."
Think about this – a typical (non water saving) shower head uses twenty litres of water per minute and most adults average a ten minute shower. In summer the approximate mix of cold and hot water is 70/30 and the reverse in winter. A AAA rated shower head will use less than ten litres per minute meaning a huge 50% saving in both energy and water.
Most energy efficient products or smart shower systems you buy will pay for themselves with your first energy and water bills.
Roberts cautions consumers to do their research before buying every product in the store. For example, he says, some gravity fed hot water systems are already so efficient they do not need any additional products. Highly trained staff with an excellent knowledge of their products can assist consumers to purchase the right item for the required result.
Energy & Water Solutions, established in 1996, sell retail energy efficient and water saving products as well as audit both business premises and private homes. His most popular products include a water restricting aerator, a cistern converter to give single-flush toilets a half-flush option and a rain tap with an outlet valve that diverts rainwater from the downpipe straight into the pool or garden so not a drop is wasted. An added benefit is that the Rain Tap is Australian made.
Many local water authorities have also joined the push towards more water efficient products and will either sell products directly or be able to recommend consumers to retail outlets. Andre Boerema is in charge of Residential Programmes for Sydney Water which includes the 'Every Drop Counts' programme. "We have had a long standing programme since 1999 which is our residential retrofit programme," he says. "It has proved to be a very popular programme with over 225,000 households in Sydney being serviced." The programme offers a subsidised service to Sydney Water customers to retrofit a water efficient showerhead and install other water efficient devices on kitchen and bathroom taps. Added Boerema "We also carry out a general water audit to pinpoint any other existing plumbing problems. Because it is subsidised it only costs $22 for a plumber to attend and carry out the work". Boerema reports that the net result has been an average saving of just under 21,000 litres per house per year which equates to a 12% reduction in internal house water usage.
Sydney Water, and many other water authorities in other states, also offer rebates on rain water tank purchases. Sydney Water's programme has been in place since October 2002. Boerema said that many homeowners are surprised when they learn that the average home ideally would need a 3000 to 4000 litre tank to be of significant benefit to any water conservation efforts. Rainwater tanks can then be attached to a toilet or washing machine to ensure that two of the three highest water consuming appliances (showers are the other) draw their water from the tank first.
These types of programmes and strategies are not limited to Sydney or NSW. Water authorities and local councils in all states will have a variety of subsidised programmes to encourage their customers' awareness of water conservation issues. Why, you might ask, would a water authority, which makes more money the more water you use, wish to reduce your expenditure? Boerema has the answer. "We are responsible for managing water over the long term and it's not an endless resource. We look at these subsidised programmes as a risk management exercise as well as a regulatory need. Our operating licence comes with very tough conservation orders and our progress towards these targets will become a significant issue over time," he says.
The ability to conserve and preserve one of our limited natural resources is something we all have. It comes down to choice, whether we, as consumers, are willing to put in the (albeit small) effort required.