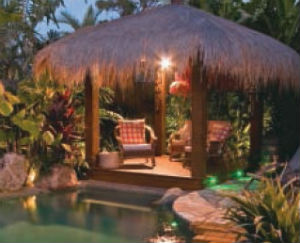 For a rustic or relaxed tropical resort-style outdoor setting, look to thatch roofing
Words: Carrol Baker
There's nothing like a tropical island holiday for the ultimate escape. Lazing on a plush daybed under the shade of a thatched roof hut, frozen margarita in hand, surrounded by fragrant blooms sounds wonderfully decadent, doesn't it? Well, by adding a few touches to your garden you don't have to leave home to experience that resort-like feel … you can create your own, totally unique hideaway.
One of the key design elements in a tropical inspired garden is a thatched roof. These can cover a spa, pool area, hut or pavilion. For an instant tropical effect, you can also add a thatched umbrella to an alfresco dining area.
The timeless appeal and rustic earthy feel of a thatched outdoor structure complements an exotic garden landscape. But it's not all about appearances, says Brooke Marle, manager of African Thatch in Western Australia.
"Thatched roofs protect you from the harsh summer's sun and rain, and allow breezes to freely circulate throughout. In the evening when temperatures start to fall, air trapped within the layers of thatching keeps you warm," she says. It is the amazing insulating properties of thatch — under the shelter of a thatched roof the temperatures can be five to 10 degrees cooler or warmer than outside — that has made it such a popular material with Australian homeowners.
Thatching, which is imported into Australia, tends to be more shower-proof than fully waterproof, although a denser weave and the right roof pitch can keep you dry during summer rain. It is treated with a fire retardant and is pest-free as it has to pass though quarantine. If you're looking for additions to your garden that are maintenance-free, thatching is a great option.
Thatched roofs are made primarily from three different types of materials: alang alang grass from Bali, African cape reed thatch or synthetic PVC.
Contemporary Balinese alang alang grass thatched roof pavilions and huts come in many styles. Most are a small square shape, with four posts and a thatched roof, while larger rectangular thatched pavilions traditionally have up to 12 posts. The thatching sheets that cover the roofs are strips of around 2.4m long and .9 to 1.2m wide. The grass is woven around bamboo sticks and securely fastened. "Balinese roofs can last up to 15 years and they will lighten and change colour in the sun," says Willem Swanepeol, manager of Exotic Thatch in Sydney.
While alang alang thatch remains popular, in the last decade we've seen the emergence of African style reed thatching for roofs and shade structures. African thatching gives your outdoor living spaces a distinctive, stylish and structured look. Because of the clean, formal lines, it's ideal for contemporary homes. African reed thatch tiles are generally 800mm x 450mm, weigh 4.4kg and they're set in a two-part resin. Life expectancy of the product is around 10 to 15 years, says Brooke. "Your African reed thatch will gradually change over time as it's exposed to the elements, from brown to shades of grey, which many find appealing," she adds.
Both of these types of thatching are eco-friendly as they're produced from renewable all-natural products.
If you're looking for thatching that's durable and won't change colour, synthetic PVC fibre thatching is another option and is available from companies such as Oz Thatch. Inspired by nature, it looks like the real deal and typically comes with a 20 year warranty. Artificial strands of thatching material are made from hard wearing UV-stabilised PVC in different lengths. However, it is marginally more expensive than natural thatching products.
Thatched outdoor structures come in many different shapes and sizes. When selecting your style of thatched pavilion or hut, think about what you plan to use it for, suggests Matthew Cantwell, landscape designer and managing director of Secret Gardens of Sydney.
"Most of the time people choose options that are too small for their needs," he says. "If you entertain, think about the size of your table and the size of the crowd. Then think about everyone sitting at the table and pushing their chairs back after they've eaten — you need enough room," he says.
If you don't have enough space for a large thatched pavilion or you want to create your own private hideaway, consider a thatched hut placed in a quiet corner of your garden. "Add a couple of comfy chairs and a coffee table and you have a snug, stylish setting," says Matthew.
If you like the idea of a contemporary twist on a traditional style, opt for square rather than round poles on your hut or pavilion. "It will give your thatched structure a more modern Australian look that won't date as easily," adds Matthew.
Thatching can be supplied for the DIY enthusiast, often in kit form, or individually designed and installed. If you're opting to go the DIY route, everything you need is usually contained in the kit, from measured and precut timber to brackets, nuts, bolts and, of course, the instruction manual.
Bali thatched strips and African reed thatching are prefabricated, so are generally quick and easy to install. "If you are handy with a few tools, you won't have a problem," says Willem. "But if you plan on using synthetic thatching, this is best left to the professionals to install."
After you've added your thatched pavilion, hut or shade structure, complete your new look with a revamp of your garden. Thinking about a tropical look to complement your hut or gazebo? Create luxurious outdoor garden rooms linked by stepping stones or discreet pathways. Add calm, cool ambience with a water feature and install up-lighting to showcase your feature plants.
Matthew suggests that plant selection could include foliage plants, flowering evergreens and palms. Create a subtle backdrop of hedge planting including varieties of lilly pilly, taller foliage plants like giant bird of paradise and palms including kentia, bungalow and clumping golden cane. For splashes of colour, add varieties of cordylines, native gingers and spider lily.
You also need to decorate the interior of your new thatched structure. Choose materials and décor that have a natural feel, such as privacy screens of bamboo, earthenware pots, timber or rattan furniture. And make sure you don't obscure the beauty of the thatch itself. The stitched/ribbed effect underside of a traditional Balinese alang alang roof is a focal point all on its own — just add a ceiling fan and you're ready for summer entertaining.