Masterton brings excellence in building standards and customer service to each and every home we build which is proven by continually winning industry awards – we are Australia's most awarded builder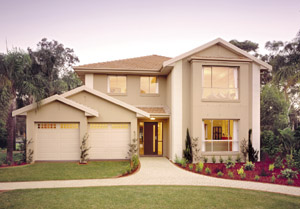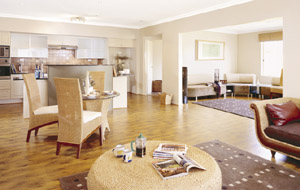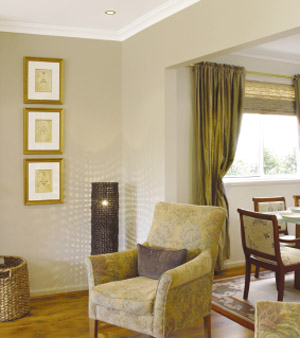 The four-bedroom Santorini has three bathrooms, expansive living areas and a double garage. The design boasts distinctive external lines with a full double-storey bay window section encompassing the living room and the master bedroom with a Georgian façade, a two-door double garage and a slightly setback entrance.
The interior is an impressive size and the Santorini also makes constructive use of outdoor areas, with an optional large deck. An innovative feature of the Santorini is a purpose-designed home office, which has an adjoining bathroom and storage cupboard for linen or office materials.
The main entrance becomes a hallway that connects to the garage and leads to the large family room and kitchen area. This hall also provides access to the stairs and downstairs bathroom. The large family room incorporates an open-plan kitchen, which features an island work space with sink, benchtop space and cupboards. Off the kitchen is a large laundry with internal and external access.
Adjacent to the kitchen and family room is the more formal dining area, which flows through to a large living room at the front of the home.
Masterton Homes' chairman Jim Masterton AM said the Santorini is the perfect home for families of all sizes. "There's enough room for adults to enjoy some solitude at the front of the home and the children can enjoy their own space in the rumpus room at the back. The rumpus room opens onto the deck, so it's a perfect informal area."
The second storey of the Santorini consists of four bedrooms, two bathrooms and a lounge room. The master bedroom at the front of the home features a massive walk-in wardrobe and ensuite bathroom complete with a corner-set sunken bath.
The entrances to the other three bedrooms are at the top of the stairs. They have built-in wardrobes and easy access to the upstairs lounge.
Price: From $210,000 to $223,800.
Façades: Eight façade options are available.
Size: From 306.45 to 354.31 square metres.