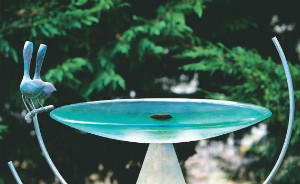 Add a new dimension to your garden with a beautifully hand-sculpted birdbath
With changing climatic conditions and a growing interest in encouraging biodiversity, more and more people are seeking creative ways to provide water for bird life in their gardens. At the fore of this trend is the creative team of Folko Kooper and Maureen Craig, founders of renowned sculpture studio Kooper Tasmania, who have designed a range of contemporary birdbaths that are practical as well as sculptural.
The birdbaths come with a choice of bases — sandstone, mild steel with a rusted finish or stainless steel — while the bowl that holds the water can be glass or bronze. Topped with beautifully sculpted bronze wrens, parrots or kookaburras, the birdbaths are at home in cottage gardens, native gardens and even contemporary courtyard gardens.
"Gardeners are far more adventurous than other people are when it comes to owning sculpture, so it was inevitable that we should be drawn to the garden market as an outlet for our creativity," says Maureen Craig.
"We work in sandstone, bronze, steel and glass to make birdbaths, fountains and sculptural forms. Our work becomes an anchor in the garden that provides a focal point from which the garden can evolve."
Sculpture, especially in the form of a birdbath or a water feature, adds another dimension to a garden. It encourages people to walk around and explore; it also attracts birds, which add life to a garden and give you a greater sense of connection with nature.
To achieve such stunning results Kooper Tasmania, which specialises in limited ranges and one-off pieces, forges a close working relationship with each of its clients. "Because we are a design team of two, we are able to communicate directly with our customers," says Maureen. "This enables us to incorporate their ideas as well as our own, so the sculpture becomes unique to their garden."
To see more of their work, you can visit the website or browse their annual exhibit at the prestigious Melbourne International Flower & Garden Show.
Having selected or commissioned your birdbath, fountain or sculpture, Kooper Tasmania can arrange to have it freighted anywhere around Australia or overseas.