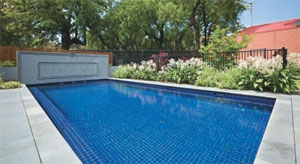 This family-friendly Melbourne garden fuses formal styling with modern functionality  
By the time Ian and his team became involved in the project, the concrete shell of the pool had already been positioned. Luckily, it was in a position that provided the opportunity to create a somewhat secluded "breathing space".
"Given that the owners have two daughters I felt that it was important to create a lounging area by the pool and make it feel as secluded as we could," says Ian.
The pool, which is surrounded by a combination of frameless glass and simple black metal fencing, boasts a decorative feature wall behind which the pool accessories are stored. Functioning as a focal point of the garden, the wall features a pattern inspired by decorative motifs within the house and a trio of simple water spouts.
The main paving material is Ian's favourite: sawn bluestone. A formal pathway of sawn bluestone leads straight down the yard towards the pool as well as the garage. It is stoically guarded by four cone-shaped topiarised lilly pilly (Syzygium australe 'Elegance'). Interwoven into the largely formal design are some surprises, including some welcome sustainable elements. A small veggie garden has been positioned on the south side of the garden; this allows the vegies to take full advantage of the morning sun yet enjoy protection from the afternoon heat that the house affords. A chicken enclosure with a cubby-house style "chicken palace" has been tucked to one side of the garden. It is fully fenced and roomy enough to accommodate several well-protected and productive lemon trees.
The chickens eat the family's kitchen scraps and produce manure which is dynamite for the garden and fresh eggs which are a real treat for the family. The family can also avail themselves of fresh, aromatic rosemary sprigs any time they like thanks to the rosemary hedging around the veggie garden and along the fence of the chicken coop.
"To add to the sustainability of this design, a 40,000-litre water tank has been buried underneath the back lawn and is connected to both the irrigation system and pool top-up system," explains Ian. "The position of the tank means all the storm water is gravity fed from the house into the tank, maximising the amount of water collected."
This garden is a testament to the fact that even formal or traditional landscape styles can encompass an eco-friendly and sustainable ethos without compromising on design or plant selection. In this instance, Ian chose mainly hardy plants which may not be routinely found in a traditional formal garden but nonetheless completely look the part — and require less care and attention, leaving more time for the family to simply enjoy their garden.