Mark offers a wide range of possible planning solutions for modern architectural projects, alternating chic atmospheres and urban mood spaces. Countless combinations allow for the utmost creative freedom in contemporary shopping centres, hospitality or wellness venues.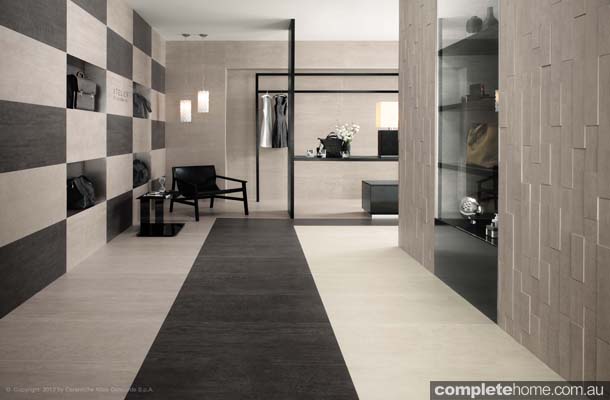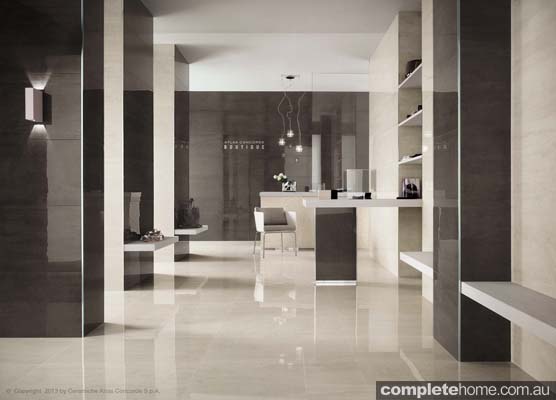 The Mark range blends, into a unique design project, various contemporary materials that combine elegance and expressive flair: cement, resin, stone, marble, oxidised metals and wood. The different surface finishes and available sizes enhance the project's potential to create original venues with a strong metropolitan character.
On the floor, the matt finish, with a post-industrial contemporary charm, reproduces the cement streaks that reveal all the beauty of raw materials. The marked colour shading exalts different graphics inspired by concrete, oxidised metal, stone and wood. The textured finish gives life to a strong material with marked reliefs and guarantees excellent technical performance in outdoor venues and wet areas for safe anti-slip flooring.
Lastra, in 60x60mm in 20mm thickness, completes the project and features the same graphics of the textured surface, allowing for perfect outdoor installation. Thanks to the honing process, surprising reflections and light effects become the protagonists of a modern, glossy and mirrored finish that interprets, in an original and contemporary way, the luxury of marble in sought-after design projects.
On the walls, a brilliant white-body cladding with marked reflections and soft graphics inspired by brush-applied resins creates a surface rich in evanescent shades that stand out on walls with an ethereal and contemporary look. The 40x80mm size is characterised by delicate, natural-looking bumps, while the 30.5x56mm size is completely smooth.
FOR MORE INFORMATION
Volaré Concepts
Website volare.com.au
Phone 03 5278 7988
Originally from Kitchens and Bathrooms Quarterly magazine, Volume 21.1