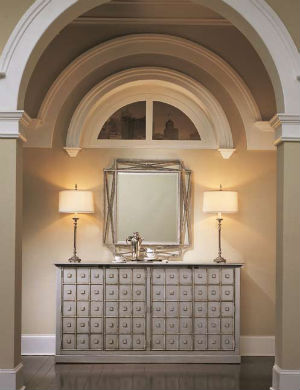 International luxury brand company, Style Factory International, has created a world of sumptuous furnishings bringing only the most exclusive collections to Australia. One such brand is Visionnaire, designed by internationally acclaimed designers Samuele Mazza and Alessandro la Spada. The Italian brand has been leading international trends for several years and is sold in more than 60 countries. The brand is regarded as a benchmark in international interior design for innovative, stylish and glamorous collections.
Shelving in 2010 is mastered with the Cattelan Italia Fifty wall shelving unit. The unique perpendicular structure makes Fifty a stunning addition to any room. White lacquered embossed wood with modular units results in a striking contrast of eye-catching yet subtle interiors. Available from Ultimo Interiors. Sovereign Interiors is proud to introduce the Luna Collection. This collection expresses the finesse of true Italian design.
Distinguished by accentuated curves, along with the use of precious veneers such as Makassar ebony and English caramel curly sycamore, the Luna Collection exudes the ultimate in class and luxury. These rare and exotic veneers are emphasised by a rich high-gloss polyester finish, enhancing the depth and natural beauty of the wood. Complemented by accents of polished and brushed fusions of chrome and stainless steel, The Luna Collection is for only those true and unique connoisseurs. Designers House on the Gold Coast is a veritable treasure trove of beautiful, international fine furniture. The company specialises in commercial, residential and marine interior design including customised upholstery and window furnishings. Here's just a taste to whet your appetite.
CARPETS AND RUGS:
Quality hand-crafted carpets and rugs are art for your floor. Rugs come in all shapes and sizes and many materials, including silk, wool, cotton and hemp. A hand-woven rug is a unique piece of art, which can enhance your room while also keeping it warm. When choosing a rug, your décor will dictate what style to choose: formal, informal, traditional or modern. Traditional designs look wonderful no matter what style your furniture, but it pays to "try before you buy", which good rug suppliers will let you do to ensure you make the right choice When it comes to buying new rugs — both designer and mass market — it's important to know what you're really buying into. Many rugs from Nepal and India are made by primary school-aged children who are forced to work on looms for 12-hour shifts, seven days a week, in congested, noisy conditions, with insufficient food. They suffer bronchial illnesses, cuts and bruises and live in basic factory lodgings; many girls are vulnerable to sex trafficking.
An ethical-rug-labelling scheme that protects children as young as six from exploitative child labour in Nepal and India is being launched in Australia. Three of Australia's leading rug retailers — Cadry's, Robyn Cosgrove Rugs and Hiphome Luxury Rugs — have signed on to Goodweave as founding participants. This means customers who buy rugs from these outlets can be sure they are not supporting rugs made by child labour. Having seen these factories, GoodWeave director Samantha Towles said, "Forced to work because of crippling poverty, such children live a miserable life and with no education their future is bleak. We're asking Australians to buy GoodWeave-accredited rugs that help us care for these children and end child labour. It's simple. If you're considering buying a rug for your home or office, ask, 'Is it GoodWeaveaccredited?'," emphasises Samantha.
GoodWeave currently works with producers, importers and designers to eradicate child labour in Nepal and India, and provides education and support to rescued children, giving them back their childhood. "If you're looking to buy a new rug, the only way you can ensure that no child labour is used is to ask your retailer if it's a GoodWeave rug. It's only through caring consumption that we can stop exploitative child labour and ensure fair working conditions for weavers," said Mark Cadry from Cadrys. "Having travelled extensively through Nepal and having seen these conditions myself, it breaks my heart to think that while kids here are at school and have a roof over their heads, other children are working looms so we can have rugs — that alone is reason enough to support GoodWeave," stresses Robyn Cosgrove from Cosgrove Rugs. Jenny Jones Rugs has close strategic alliances with its producers in both India and Nepal, jointly undertaking socially responsible weaving practice and undertaking empowerment programs to lift standards of living. "Before developing a relationship with our selected producers, we audit the weaving conditions and weaving environment," said Dennis Jones. "Once we are satisfied that the producer is on the same wavelength in relation to social responsibility towards the weavers, we undertake joint projects.
In Rajasthan, weavers have dedicated village areas in which to weave, which provide a social meeting point. Weavers are also provided cheap loans in order to buy their own looms and thus cut out middlemen who extort very high returns. "We are currently engaged in a joint funding venture, educating 1000 girls between eight and 14 years in Rajasthan who have, through circumstance, no access to education. They are the daughters of weavers and others who live in rural India.
The project is able to leverage off our producers' extensive rural network of 40,000 weavers spread throughout the states of northern India. "Basic rudimentary education will then lead on to vocational education or normal schooling (there are some 350 million in India who are illiterate) which, in turn, will greatly enhance the girls' ability for marriage and work. In addition, we are evaluating a mobile eye clinic that will visit weavers. "In Nepal our producers (jointly with us) are members of RUGMARK. This organisation monitors child exploitation in the rug industry and issues labelling to those companies who abide by their inspection regime and who also undertake socially responsible programs. Any child under 15 years found in a weaving factory is put into a home where they receive schooling, warmth and a caring environment. Any company found employing underage children has its accreditation cancelled. "We initially sponsored a primary school for weavers' children plus a daycare centre and health clinic until last year. However, due to political instability, we have been unable to continue and instead sponsor individual children to attend school. "So if you are in the process of purchasing a hand-woven rug, you should put the hard questions pertaining to ethical practices and labelling to the retailer. It is only through this pressure that the industry will address those issues. We have always believed that the basic right of a child is to enjoy and experience their childhood free from exploitation."