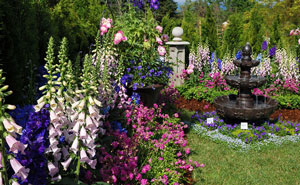 Growing trains in your garden? Now there's a novel idea
Looking for something different? Gnomes and statues are great, but they don't move. You can add real life, movement and colour to your backyard in a way that will give you, your friends and your family lots of fun and enjoyment for many years.
A garden railway gives you the opportunity to let your imagination run wild. Everyone needs a diversion from the pressures of work and there's no better way to unwind than spending a few relaxing hours running trains in your garden. The whole family can join in the fun.
Planning, building and operating your garden railway is something you have complete control over. You can do it at your leisure and you can get started quickly and easily, without breaking the bank.
When two of the world's greatest hobbies are combined, gardening and model trains, the result is a perfect mix that keeps both sides of the household happy.
It doesn't matter whether you're a lawyer or a labourer, a surgeon or a shop assistant. People from all walks of life find enjoyment and relaxation in this unique hobby.
Garden Railway products are designed and built especially for outdoor use and you don't have to be a rocket scientist to build and operate it.
The Gauge One Gallery supplies everything you need to build and keep your railway growing. Locomotives, track, freight cars, passenger carriages, control gear, buildings and accessories are all available from the showroom in Balmain, Sydney, or by mail order.
You will be amazed at what you can do for a surprisingly small investment. For more information, check out the website or speak directly to the friendly staff at The Gauge One Gallery by calling its toll-free number.
THE GAUGE ONE GALLERY
Toll-free: 1800 657 579
Website: www.gaugeonegallery.com