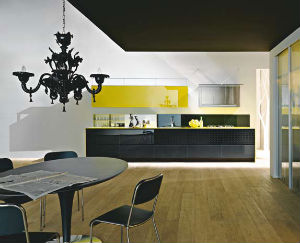 Find out about all the new changes taking place in the industry and government that allows for more eco-friendly living
By Steve Freeth
The changing landscape
When the Shanghai World Expo opened in May this year, it not only came with the "Better Cities, Better Life" tagline; most of the international pavilions were packed with eco-friendly ways to live. Sure, the green walls, LED lights and solar panels were in plentiful supply, but more radical ideas such as transparent concrete, tiles made from landfill, cladding from recycled plastic — and the spectacular "Seed Cathedral" with its 60,000 optic-fibre rods — also got their moment in the sun. No matter how it's done, making our homes greener is the message and it's a market that's getting bigger and much more interesting. Recent figures suggest the energy-smart home improvement market will soon be worth more than $50 billion as we chip away at the 13 per cent in greenhouse emissions our houses add each year.
Governments and corporations have been a major force behind the green home drive, but consumers have been signing up as well. As we spend more effort on our homes, there's a growing expectation that they — and the things we put in them — should not only look good, but do some good, too. "The green story is here to stay and increasingly it's a part of how we consume, especially with luxury and high-end purchases," said Pam Danzinger from Unity Marketing in the United States, an expert on the global luxury market. "Consumers appear to be more concerned about the environmental credentials of products and our research shows that women in particular are being proactive about the issue when it comes to spending for the home. Companies and retailers really need to get ahead of this trend and create green strategies and great products that engage with this growing market."
The new foot print
That's already happening at a rapid pace when it comes to designing and building a home these days. While some of the imperative is being imposed on us through tougher government regulations, that's really just the start. Even a quick glance at Australia's first zeroemissions house — the AusZEH — suggests what's quickly becoming quite mainstream: double glazing, wall and roof insulation, water tanks and recycling, solar panels for energy, and optimum site orientation. But while obviously beneficial, this sort of conscientious hardware only hints at what's possible, which is why more and more architects and their clients have been stretching the concept of green living through a blend of environmental responsibility and inventive design. According to Anthony Nolan from Kennedy Associates Architects in Sydney, it's now about going beyond mere compliance with the rules. "Talk about just creating savings or doing less harm is limited when it comes to inspiring people with home design," Anthony said. "We've come a long way from when we had to add green features by stealth or do a lot of convincing with clients that this is worth doing. But by putting in the design effort and creating great-looking houses that are also good for the environment, you get added value and that gives it a lot more worth for clients and the community," he said. Building from scratch has its own challenges, of course, and so for a glimpse of just how luxurious the eco-friendly house is becoming, take another look at the prefab — also called modular, prebuilt or prepackaged — home. The poster child for the green home movement because of their recyclability, rapid construction, and generally lower carbon and energy profile, these homes couldn't be hotter at the moment. That's all been helped by a bunch of generally younger architects and designers celebrating their cool quotient. The iconic Fincube from Berlin-based Studio Aisslinger, for instance, was an instant hit with its airy, space-age looks and green agenda. Australian architects have also been active and Melbourne's Carr Design Group has proven just how sophisticated the options have become with its modular home design for Intermode.
Urban jungle
For the ultimate in domestic green bling, you can't go past the move to embrace nature a little more closely. This started with the green wall phenomenon — still no easy call at home even though some companies are now selling kits — but has been broadening out to include green roofs and built-in gardens throughout the house, particularly in or near kitchens and bathrooms. Green roofs have had a slow build over the past decade, but stunning examples on top of public buildings such as the California Academy of Sciences, the Getty Centre and even Sydney's Conservatorium of Music have helped spread the word to a wider audience. Like green walls, green roofs should not be approached lightly and they can be expensive to do well, particularly if you want a long and problem-free life out of them. They also need to be thought about from day one in the design of a home as they can incur added structural solutions, environmental considerations and require the right planting regime. However, the benefits can be enormous. Not only do they insulate a building to handle heat and cold better, they can help improve air quality, filter storm water and do their bit to reduce carbon emissions. It also helps that they also look pretty incredible. "Everyone wants one these days, but we need to make sure we keep a design and sustainability focus, not just do them as a matter of course," Sidonie Carpenter from Green Roofs Australia said. "There are no regulations or official standards in place here yet, but we hope they'll come as I think it will encourage much wider adoption and better designs in the residential market." And once that happens, the sky could be the limit. Already there's a movement in the US to create much more productive roof spaces — they're calling them urban farms — so that some of the food we eat couldn't get any more local if we tried.
The green zone
Thankfully the companies who make the devices and appliances we're using at home have heard the sustainable message too and are making efforts to help. Not always easy, of course, given that many high-tech gadgets gobble up energy being made, shipped and when they are on — or even off. But it's definitely changing and home entertainment is a great place to start. Not only are television manufacturers being told that greed is not good — Australia currently has a voluntary energy star ratings approach — but they'll ultimately follow California's lead by making the rules progressively much, much tougher. Many of the newer television technologies such as LED backlighting and organic LED screens are already better on power even if they are still quite pricey. Companies such as Sharp — whose elegant, if ungainly named, LC52LE700X, just earned Australia's first 7 Star rating — Sony, LG and Samsung are all leading by example. More intuitive technologies are also creeping in, such as Sony's 2009 eco-model, the Bravia KDL40WE5, which features a "presence sensor" to switch itself off if no one's in the room. Hollywood is joining the trend, too. The studios diverted more than 20 million kilograms of potential waste from landfills last year — a 23 per cent rise over the previous decade — by using less plastic and "virgin" paper in home entertainment products. And in a sign of the times, 20th Century Fox Home Entertainment pledged to help plant one million trees across the world when it released the Avatar DVD this year. Other home media components are also going on an energy diet, but finding the best can often require a bit of searching. Bose has certainly been playing up the energy options with its audio components and here in Australia, Wedderspoon has always looked for environmental value by importing speakers from companies such as Germany's T+A. Kitchen and laundry appliances have been on energy alert for a while, but some companies are trying to stay ahead of the pack. Whirlpool, for instance, has made a commitment to make all of its products smart-grid ready by 2015, meaning the appliances will be online with the rest of the household, and able to be managed, serviced and programmed to really hit energy targets. GE has also signed on to this approach and you can expect all companies to be on board within 10 years. But it's the kitchen that's seeing some of the most creative green strategies unfolding at home as companies such as Electrolux, Whirlpool, Philips, MK, Valcucine and Faltazi push the design and green technology envelope. Whirlpool, for one, showed off its Eco-Kitchen concept at this year's Milan Design Week, a sleek, interconnected vision that the company says re-uses 60 per cent of the water, and redirects heat generated by appliances such as the fridge toward making hot water and electricity.
Gadget wise
These are all big ticket items of course, but sometimes it's the little things that really add up — and that's what appears to be happening with the army of gadgets littering our homes nowadays. You know it's a trend that's made it when companies such as Amazon and Wal Mart begin adding details on high-tech purchases so you can track just what the additional environmental cost might be. And we're ready for the change, it seems. According to CEA, 74 per cent of consumers say environmental issues will be an important factor in their next technology purchase — even if finding products that match style with green cred has not always been that easy to date. Laptops and netbooks are generally big on looks, but thankfully we're now also seeing efforts to improve their carbon and energy footprint through smaller devices, simpler manufacture, improved packaging and better energy performance. Lenovo is already on message, Sony's W series "eco-friendly" Mini has a LED-based screen and a case made out of 23 per cent recycled CDs — and yes, it's tinted green, too — and Chinese company ASUS won a lot of applause for its stylish U6V Bamboo series with casing made out of, you guessed it, bamboo, one of the world's most sustainable materials. Even the most common of all gadgets — the mobile phone — isn't missing out. Samsung's "Blue Earth", for instance, is made from PCM recycled plastic drink bottles, has a solar pad on the back, a five-star energy charger and can keep track of your CO² offsets. And you don't always have to upgrade to get the latest and best: the Solar Surge, from Novothink, for example, uses the sun to charge an external battery enclosed in a case that surrounds the iPhone. In fact, you can expect solar panels — as they shrink in size and price but go up in charge — to soon come with nearly everything, from lamps to lawnmowers (Husqvarna has one in fact). One company that is redefining our gadgets in just this way is Regen, producing beautiful hybrid objects such as a lamp, speaker and iPod dock that work from a modular solar tablet or from a wall socket. One company, Intelligent Forms Design, is taking this even further with its elegant, stainless-steel SOLo Lounge Table that comes equipped with a silicone glass top for 17Kw of solar-charged, clean electrical energy. And just to make sure it's a table for all seasons, it has in-built batteries for storage, can run or re-charge a number of gadgets, contains UBS ports, is Bluetoothfriendly and has, of course, an iPod dock. For sheer sustainable visual joy, however, take a look at the wooden radios by designer Singgih Kartono, under the brand Magno. Each radio takes 16 hours to make by hand in a village in Indonesia from sustainably harvested wood — but still includes FM, AM and an iPod dock — and couldn't express the zeitgeist any better if it tried.
Smart on the inside
But this being the 21st century after all, a lot of the green home impact is being given more oomph with embedded house intelligence. Even the zero emissions AusZEH only gets over the line with an implanted CSIRO nervous system to help the house hum. Actually, getting a little help to save power and water at home is no longer rocket science. By wiring your home as you build or renovate, you get the backbone to digitally link nearly everything in it. And while wireless can do a fair bit of this, too, the hard-wired solution still just does it more reliably these days. With the addition of home control systems from people such as Control4, Crestron or AMX, plus some well-placed high-tech knowhow from accredited installers, and you'll be able to network — some call it automate — your home, which means control over the basics of lighting, heating, airconditioning and home entertainment. This is easily stretched to appliances, windows, curtains and even garden watering — pretty much anything really. And that delivers unlimited power to your fingertips, from the "goodnight" button by your bed that turns off lights and wasteful standby energy through to pre-programmed shower and bathroom temperatures when you wake in the morning. The advent of smart phones such as the iPhone or Google's Android — and the more recent tablets such as Apple's iPad or Fusion Garage's Crunch Pad — are also putting multifunctional home environmental control directly in to your hands. While some are predicting they could even kill off the remote or wall touchscreen, they certainly have a lot of convenience and flexibility going for them. Central to all this will be information so that we can understand and manage just what electricity, gas and water we use day to day. Smart energy displays are one way this will happen and while the early models were distinctly unlovely, that's been turned on its head as design-savvy companies around the world realise how big a market this is becoming. Some of the best and most recent are by Onz, Honeywell and, my favourite, the JustDrawIt! from Pegatron.
Green by design
While buying green when it comes to gadgets, appliances and even houses is getting more straightforward, that's not looking quite so easy when it comes to filling our homes with sustainable furniture. While the options for earth-friendly tables, chairs and lounges that also look great have seen a huge explosion in the past decade, getting a straight answer on just how truly green many of these products are can be confusing, complicated by calculations over the materials used, recyclability, the manufacturing process and transport, to name just a few of the issues on the table. The deluge of green labels over the past 20 years that were designed to help us navigate the shopping quandaries have in a lot of cases only helped to complicate the process even further. According to a recent survey by the World Resources Institute, there are now something like 600 labels for product eco-benchmarks worldwide, from food to furniture and everything else in between. According to Mark Swanton from upmarket Sydney retailer KE-ZU — a company representing a number of sustainable home furnishing companies such as Kenneth Cobonpue, Andreu World and Nani Marquina —getting a clear picture of what's truly green and what isn't remains hazy. "It's definitely not easy for the public to make a clear or quick decision when it comes to home furnishings and it's a grey area still," Mark said. "And particularly as it's a market that's only just evolving. While we're seeing government and corporate offices investing in greener products, the residential demand is still lagging," Mark added. That may change as the benefits of going green hit home, and one of the most compelling for many people may be its impact on the bottom line. A new American survey recently found that eco-friendly homes were outselling the rest of the real estate market in some parts of the country — not only selling faster and for higher prices per square metre, but the most environmentally responsible were going for as much as 25 per cent higher!