Built on time and on budget, Grand Designs Australia's Kyneton Flat Pack house blurs the line between indoors and out and pays homage to the local environment.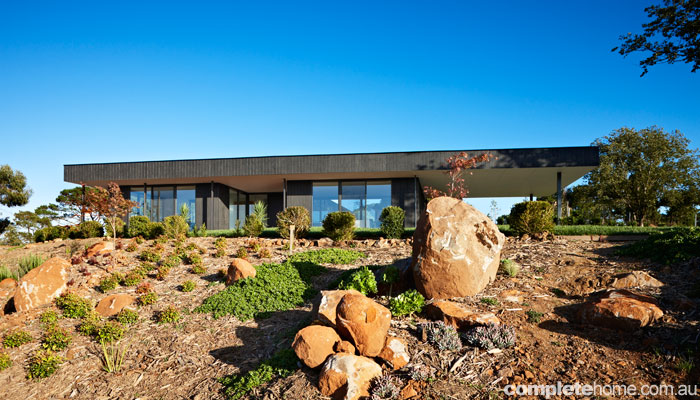 It was as if serendipity knocked twice for Di Foggo and Rod Moore when the idea of the Kyneton Flat Pack house was first born. First on their discovery of Kyneton in 2006, a gourmet village in Victoria's Macedon Ranges district, that was on the cusp of its own renaissance, having been a thriving commercial centre during the Gold Rush days of the 1850s. The second occasion resulted from a cheeky telephone call made by Di to the prominent architect of a local property after the style of home caught her eye – and led to the suggestion that Intermode, an architect-designed prefabricated homes solution, was potentially the right fit for their aspirations.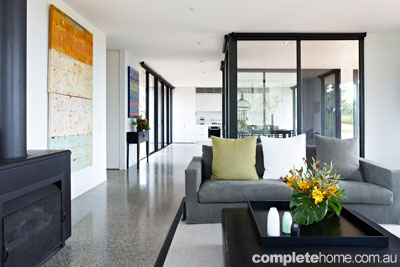 Ironically, Di and Rod didn't set out in search of a factory-built modular home. It was a juncture they arrived at after working through their requirements. In particular, they were motivated not to repeat their experience of extensive time and budget overruns from a previous Victorian timber property renovation in bayside Melbourne. A taste of the convenience of inner-city living in an apartment at Docklands had followed, inspiring Di and Rod's purchase of a warehouse in the heart of the CBD. A few blocks away was Di's workplace, where she held the position of Commissioner at Fair Work Australia, while Rod's work in education at Victoria University was also in close proximity. For their next endeavour — originally conceived as "a weekender experience" — they decided to head for the hills, just over an hour north of Melbourne. It was Kyneton's sense of community, culinary provisions, top-class restaurants and a Federation home "that needed little refurbishment and had a garden with great potential," says Di, that soon won them over.
The decision prompted the couple to gradually wind-up their Melbourne commitments and transition to a country lifestyle on a permanent basis. They both relished the opportunity to restore the period home, and for Di, a green thumb extraordinaire, this was the 29th garden that she had brought to life. With that completed and being accustomed to a very busy lifestyle, Di and Rod mutually agreed that they "needed a new project". They were particularly interested in building a new home that would explore the idea of connecting indoors with the outdoors and vice versa, more fully than historic dwellings allow.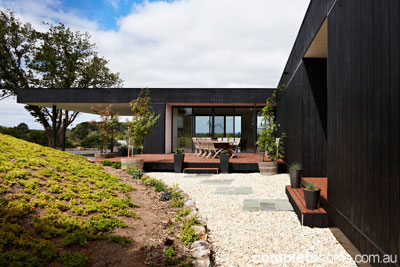 As if destined, a two-acre block on Scotsman's Hill, the site of a former bluestone quarry overlooking the delightful Kyneton racecourse, the township and Mount Macedon beyond, presented itself. A memorable moment for all concerned was Di and Rod's arrival Rod at Intermode's office in mid-2010, co-located with Melbourne-based Carr Design Group, an eminent architecture and interiors firm. Their dream clients had just rocked up. "We asked if we could speak to someone about building us a house," laughs Di.
After a preliminary discussion with Nick Carr, Intermode director, and the subsequent opportunity to visit an Intermode property, the couple's reservation that this might be an off-the-shelf kit home was "instantly" put to rest. "We knew we wanted modern, minimalist architect design, and while being able to have a fixed price was critical, the known 20-week time frame was also important to us," says Rodney.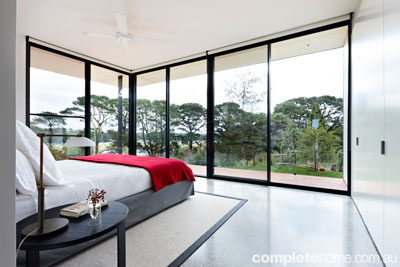 Discovering "there was a lot of flexibility" within Intermode's room modules, Rod, who is a keen cook, asked for the kitchen to be shifted to another wall to ensure views through to the racecourse, more drawers rather than cupboards, an extra oven and a clutter-free island bench. A clearly defined entrance to welcome visitors into to their home was another priority.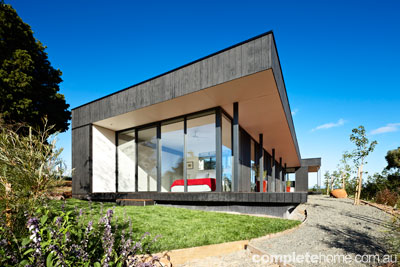 Their new Intermode-designed Kyneton flat pack house is a simple T-shape configuration that offers the choice on entry of heading to the kitchen/dining area to the right, a cosy courtyard enclave to the rear or the lounge to the left.
Separating the living spaces with glazed internal walls was a layout consideration that Di and Rodney felt created more useable spaces without impeding the views.
Two bedrooms, a bathroom, a study, en-suite and master bedroom unfold logically from the hallway. To one side of the corridor space, a wall of slick cabinetry conceals infrastructure, a European laundry and storage. Everything is still in easy reach. "It all just works," says Di, who was at first hesitant about the idea of not having a separate laundry.
Sustainability was another big part of the design dialogue. "Intermode's credo [is] all about simplicity, modernity, environmentally sustainable design and materials — simple process and a quick build," says Di.
The couple's desire for "excellent climate control" has been achieved in combination of ways. Their choice of an in-floor hydronic heating system runs off gas, one of the most efficient non-renewable energy sources. The polished concrete waffle pod slab floor, which also provides the benefit of thermal mass (capturing warmth from winter sun), has polystyrene insulation as part of its formwork, so less of the concrete surface area actually needs to be heated. An ultra-efficient Apricus evacuated tube solar hot-water heating system heats hot water, while the gas boiler efficiently doubles as a booster for the water in the event of a shortfall in sunlight.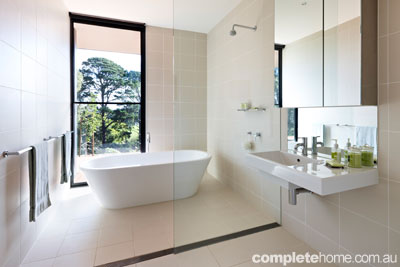 An inherent feature of the Kyneton Flat Pack House's design is the use of full-height doors and toughened 5mm double glazin. While the height adds to the serene feel, it functionally promotes cross-ventilation. In summer, cool air flows in with ease and hot air out void of traps. Another nifty feature is the placement of adjoining timber decks wherever there are door openings. On summer days slightly cooled air can be drawn in, like a natural air-conditioning effect. Shugg windows in the master bedroom and bathroom reduce the need for artificial cooling, which has only been turned on twice since moving in last September.
Little was left to chance courtesy of Intermode's five-step process. Di and Rodney were provided with a manual that mapped out "in extraordinary detail" exactly what was meant to happen and when, from the start of construction in March 2011 through to the arrival of the cleaner in mid-September the same year.
The extent of excavation of rock on-site was always going to be a conundrum, and it was the subsequent amount of fill that changed the perspective of the landscape from a gentle slope to a more dramatic drop-off. Shocked but undeterred, Di and Rod smoothed off the incline by hand so that their vision of being able to enjoy a garden outlook from every room remained intact.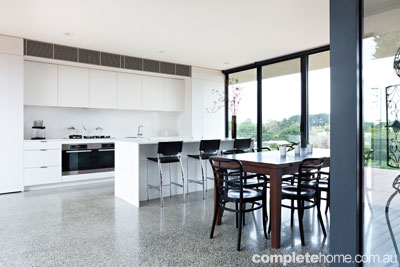 Site preparation — excavation and backfill — cost $15,000 to $20,000 more than the couple's estimate. "It's hardly surprising when we look back, given the site was a quarry," reflects Rod.
As part of the ability to input into the design, Di and Rod chose to upgrade several appliances, adding $11,000 to the price tag. Early indications suggested that conventional architect design and build for the same requirements would be in the vicinity of $1.5m. "Instead we've finished up with what we wanted; it's architect-designed, it was finished on budget and just eight hours over the promised 20 weeks," Rod proudly declares. Three days of wet weather and extra site works made little impact on getting the job done.
Having all fixtures, fittings, joinery, blinds, fly-screens, refrigerator, double-glazing and Miele kitchen appliances included as part of the package was another feature that resonated for the couple, who knew from past experience that researching and choosing products not only consumes vast amounts of time; "It can also do your head in," recalls Di. The fact that product choice had been narrowed down and screened by Intermode's association with Carr's architecture and interior design practice added significantly to the
overall consistent aesthetic and high quality finishes of the Kyneton Flat Pack House, she says.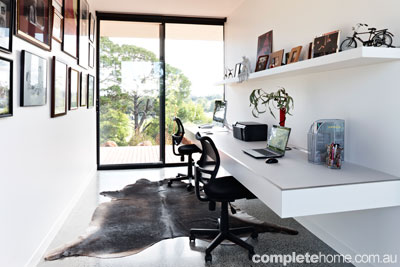 The application of stain to the locally sourced and grown timber cladding on site was a stage that Di and Rod recollect as enabling them to visualise their home, to see the sum of many parts "come together". Externally, the clean lines, flat roof, seamless integrated services and charcoal linear form of the Kyneton Flat Pack House makes a bold addition to the contrasting rocky landscape, yet has imposed a respectfully light environmental footprint.
For both Di and Rod the finished home and the location have "exceeded" their expectations. "I knew it was going to be pretty special living in the landscape," says Di, adding that her positive experience was reinforced by having a good relationship with all of the people involved along the journey — Vcon builders, the local tradespeople, Intermode — and of always being kept in the loop.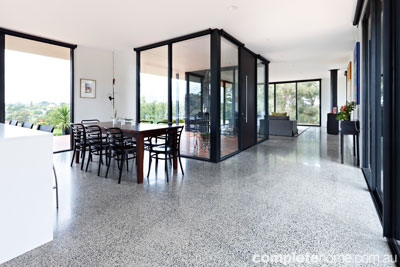 The expansive garden enveloping the home has helped the structure to "settle in and blend in more with the landscape," Di points out. A quirky "remember the five-year plan" sign in the garden — a tongue-in-cheek gift from Rod to Di — serves as a subtle reminder that not everything needs to be done immediately. "It's been a project that became part of us moving to the next stage of our lives," said Rod of their new home.
 Kyneton Flat Pack house was built by…
HEAD CONTRACTOR/BUILDERVCON Pty Ltd (vcon.com.au)
STRUCTURAL AND CIVIL ENGINEER Don Moore & Associates (03 9853 2323)
CONCRETER Paul Nancarrow (0413 335 982)
PLASTERER Craig Finger (0412 910 026)
PAINTER Adam Evagora (0410 460 337) 
STRUCTURE
Architecture and Construction Intermode (03 9665 2333 or 02 8060 7984 intermode.com.au) Carpentry MD'S Woodworks (mdswoodworks.com.au ) Excavation Sievers Earthmoving (0428 509 767) Concrete Hanson Concrete (hanson.com.au) Floor grinding/finish Ground Control (ground-control.com.au) Window Systems AWS (awsaustralia.com.au) Joinery BGE Joinery (bgejoinery.com) 
FIXTURES AND FITTINGS
Bathroom Fixtures & Fittings Rogerseller (rogerseller.com.au) Blinds D&C Design (03 9826 5133) Windows A1 Windows Kyneton (03 5422 6639) Prefabricated Framing Systems Bowens (bowens.com.au) Plumbing and Hydronics Macedon Ranges Plumbing (0409 030 983) 
FURNITURE AND FURNISHINGS
Television BOSE (bose.com.au) LG Washer/Dryer Harvey Norman (harveynorman.com.au) Beds and Sofas Jardan Australia (jardan.com.au) Flowers Prunella (prunella.com.au) Iron Sculptures Tait Decorative Iron (decorativeiron.com.au) Kitchen Appliances Miele (miele.com.au)
SERVICES
Electrical MHTecs (0418 214 046) Plumbing Reece Plumbing (reece.com.au)
Written by Marg Hearn
Photography by Rhiannon Slatter
From Grand Designs Australia magazine Volume 1 Issue 3
For more Grand Designs homes like the Kyneton Flat Pack house by Intermode, explore our Grand Designs Australia archives.