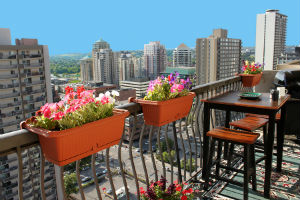 Luxury roof terrace or humble garage rooftop … heading skywards can make good sense
Story: Catherine Stewart, FAILDM FAIH
Photos: Tim Turner
Once considered a slightly eccentric place to make a garden, rooftops are greening up all over the world as a way of garden-making where space for a conventional ground-level garden is limited. Adding beauty, thermal insulation and habitat to the roofs of apartment blocks, homes, garages, car ports and sheds, a rooftop garden can turn a concrete wasteland into a plant-filled retreat.
The design considerations
New houses can be designed to be an integral part of the landscape, especially when nestled into a hillside where the garden carries on right over the top of the house, providing immense thermal insulation benefits for heating and cooling. Any roof onto which you have access has the potential to be transformed, provided it has the structural integrity to take the extra weight of soil mixes, plants and water. Roof gardens are usually built onto concrete roofs because they offer the necessary structural soundness. Here are some key design factors to take into consideration:
Rooftop recreation: First decide if you will really go out and use your rooftop garden or if you will only access it for maintenance. If it's the latter, you'll still need to incorporate open areas as well as taller plant pictures but you may choose groundcovers rather than a hard surface seating area. 
Access: If everything needs to be taken up through the house, you'll need to use more expensive bagged products and protect the indoor floor surfaces.
Microclimate: Rooftops are very sunny and extremely windy. Pale hardscape elements (which include paving and walling) will be glary and avoid tall, top-heavy plants and planters that might blow over. A few windbreak screens or plantings will make your roof a much nicer place to be and nicely frame the views while also giving you more privacy. Some shade and sense of overhead coverage from a small gazebo or tree will make your rooftop feel more comfortable.
Hardscape: Avoid heavy pavers and planters. Timber decking tiles are lighter but need higher maintenance. Fibreglass and plastic planters can be painted to look like all sorts of materials with a fraction of the weight. Steer clear of elements that are too light or they will blow over, or off the roof, creating a major safety issue. Avoid very fine gravels and mulches, small pots, shade sails, umbrellas and aluminium and plastic furniture. Secure lightweight screens in a strong frame and bolt down any structures (taking care of the waterproof membrane — see below).
Construction of the garden
Essentials to remember are weight and drainage. Even a very solid-looking roof is not necessarily designed to take any extra weight. Consult a structural engineer for advice, especially if you want to emulate some of the world's classiest hotels and include a pool or built-in spa. Roof stormwater must also still drain freely to downpipes or you'll soon have water seeping through your roof. The main issues you need to consider are:
Garden beds: Build garden beds of at least 250mm depth for grasses and 500mm for shrubs. Try lightweight aerated concrete blocks (such as Hebel) or timber or fibre cement board.
Waterproof membrane: This goes down on the roof first (use a professional) after erecting any permanent structures, so the membrane can be sealed around them. Some membranes contain a root-inhibiting chemical, which is necessary if you plan to use a gravel drainage layer.
Drainage layer: While you can use gravels, much better alternatives are plastic manufactured interlocking drainage cells (about $16/m2), which are lighter (only a few kilos per square metre), can't clog up, can withstand heavy loads (including laden wheelbarrows) and make an air barrier to prevent roots growing through to the roof surface. Elmich Australia, for example, makes a special drainage cell that holds small amounts of water (a bit like an open egg-carton structure) that plants can use between waterings. There are also small, plastic paver supports, so they can drain underneath and there is no need for bedding sand, which is a boon.
Geotextile: A geotextile fabric layer (about $3.50/m2) stops soil fines being washed down into the drainage layer and stormwater.
Sand: A thin layer (about 25mm) of coarse sand ($1.75/m2) sits over the geotextile.
Growing media: Ordinary garden soil is too heavy. Lightweight soil mixes suitable for roof gardens (up to $90/m3) usually contain about 25 per cent organic matter as well as lightweight expanded clays or other minerals, fertilisers and water-holding crystals or foams.
Mulch: Inorganic pebbles, tumbled crushed glass and scoria mulches will protect the soil but not blow away.
Plants: Use drought-tolerant plants with a twiggy branch structure and small leaves, which provide less wind load while still giving good screening, such as containerised bamboo. Plants for coastal conditions are well-adapted to strong winds and high light conditions, including grasses, succulents and many native plants.
Maintaining a roof garden
Avoiding extra irrigation is ideal but not always possible, so installing some drip irrigation is advisable. Choosing slow-growing plants means reduced pruning. Soil mixes will need annual topping up and extra slow-release fertiliser. Watch for any signs of water penetration below that might indicate failure of the waterproof membrane.
The growth of green roofs
In many parts of the world, green roofs and walls are helping to reduce heating and cooling costs in buildings as well as reducing the heat load of urban environments. Germany, Canada, USA and Japan are leading the way in green roof implementation but many are working in Australia to make it an integral part of how we design buildings. 
Extensive green roofs use low-growing grasses and groundcovers to create a green roof 'blanket' on everything from large commercial buildings to domestic carports and rural hen sheds, while intensive green roofs grow mixed gardens with taller plants. Visit http://greenroofs.wordpress.com/ for inspirational photos and detailed information.
The rear garden of this inner-city house was so tiny that even a small plunge pool was out of the question. By utilising the rooftop terrace, however, the owners now have a spacious entertaining area and a spa/plunge pool (built by Aloha Pools, www.alohapools.com.au). One wall of the plunge pool is made of toughened glass to form a distinctive wet edge. The water flows over the side, into a concealed gutter then into a balance tank that is located in the basement — three storeys below.