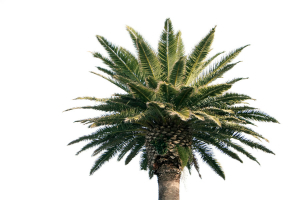 A modern tropical garden offers privacy and respite during the hottest of summer days
Story: Karen Booth
Photos: Peter Brennan
When you step into the backyard of this Sydney home, it's like stepping into the landscaped grounds of a tropical resort. As if by magic, the stresses of the working world seem to ebb away as your eyes drink in the lush green plants, the rich natural palette of colours and the landscaped surrounds of the recently renovated pool.
Designed for a young couple with children, this garden offers a modern take on the traditional approach to tropical gardening — and it is a far cry from the impractical and unappealing space the family had to contend with when they first moved in.
The old backyard was almost too hot to bear in summer, with bright pink walls and an overabundance of stone and paving radiating waves of dissipating heat. The pool was large and overly dominant.
What they wanted was somewhere cool they could entertain during the summer months, a lawn area for the children and a smaller pool that would leave more useable space in the backyard. In short, they wanted to create their own piece of paradise at home. To achieve this, they turned to Secret Gardens of Sydney.
The first priority was reducing the size of the pool. This was accomplished by the construction of a new wall inside the pool and then sealing and filling in one half.
Creating a cool, covered outdoor room for relaxing was equally essential so the area underneath the home's first-floor deck was commandeered for this purpose. A sealed roof was installed and considerable engineering expertise called upon to build the hardwood stairs that lead from the deck, cantilever out over the pool, then deposit you in the ground-floor outdoor room.
Natureed screens with hardwood slatted details were used to mask the old pink walls and contribute to the natural tropical ambience of the garden. The new paving is Eco Outdoor's Cashmere and the design simple and clean.
The planting palette is heady indeed. In the mix you will find the large, black leaves of the giant elephant's ear, the showy fronds of the Bangalow and native fan palm, shell ginger with its clusters of bell-shaped flowers, the broad expanse of the cycad, the bold-blooming bird of paradise and the fragrant frangipani. Add to this climbers such as star jasmine and purple passion vine and the sense of being fully cocooned is complete.
To keep the plants flourishing despite water restrictions, a drip-irrigation system was installed and a bladder rainwater tank placed underneath the deck.
The family now has its own secret sanctuary — a tropical resort-style backyard that is cool, inviting and very private.