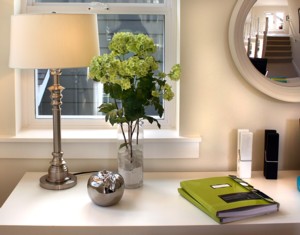 Creating a home office has becoming increasingly popular when renovating, and if you have ever worked from home you'll know how important it is to have a comfortable and practical working environment. Here are some tips to create the perfect home work area
Home offices are becoming a way of life. Recently, it was reported that almost a million Australians were shunning the daily commute to conduct their work from home, the majority of these people being self-employed. With more and more of us searching for a better lifestyle while juggling work and family commitments, these figures are bound to have shot up even more.
Whether you are a full-time home worker or just want freedom from the burden of commuting to the office, it makes sense to pay as much attention to this room's design and layout as you would any other part of your home. Stark, dreary spaces with ugly lighting may still be standard in some company offices, but you have far greater choice when it comes to materials and finishes in your home office.
The type of work you do should be reflected where you work, especially if you work for yourself at home. You can't rely on fellow workers, so your environment should 'get you in the mood' for work. If you work in a creative field like writing, designing or public relations, you might want to go for a more relaxed design. If you are employed in a more traditional profession such as finance, reflect this in your space. You might be lucky enough to have a house with a custom-built office or maybe you want to transform a spare room — or even a vacant corner to house your working life.
Setting up a home office requires making many decisions, from the colour of the walls to the style of furniture, as well as giving thought to safety and ergonomics. Many of these decisions will be based on your personal preferences but some will be based on sound design principles.
If you just have a corner to work in you can make it your own by creating partitions or by using furniture to section off the space. Partitions offer imaginative ways to section off an area and leave your work behind at the end of a day. Furniture can also be used to create a work area. Open-plan spaces are popular in many buildings and you will need to decide how much privacy you need in your office.
WIRED FOR WORK
If you need to be highly computerised in your business, plan for all the technological equipment. This may require installing additional power points as well as telephone and internet connections, so make sure you take all this into consideration when you are planning this renovation or addition. If space is limited, fitting all your electrical gadgets in could be a design nightmare, so plan for enough room to work in comfort with your 'tools'.
Get rid of clutter by loading all your paperwork onto CDs — the aim is to be as paperless as possible. You should be able to store most work digitally these days, freeing up your workspace and making it a more effective environment. Be sure to include an extra phone line in your plans as well as other technology outlets, such as broadband cabling.
An organised office is a happy one, and there are some stunning options available to either show off or hide all your books and files. Don't over-furnish your office — keep it simple. You don't want to be tripping over footstools while rushing to find that file on your best customer.
The most important pieces of furniture will be your desk and your chair. Obviously your chair needs to support you in the most ergonomically best way possible. It also helps if you like the feel and look of the chair. The desk doesn't have to be traditional as long as you are comfortable sitting at it and you have enough room to spread out your work. You can use your imagination to fit together the most stylish table to sit at.
Lighting is as important in an office as it is anywhere else. You need to make sure you don't strain your eyes, but unlike in most commercial offices, chic lamps can create an atmosphere to get you in the mood for work — it is not necessary to have harsh florescent lighting. As a guide you need to be able to read without straining.
If you plan on having staff or clients visit your home office, you will need to make space a pleasant experience for them as well, including taking care of their safety and having enough seating. And of course you want to communicate the most positive company image as you can. Once again, it's a balance of professionalism and comfort — on your terms. After all, it is your HOME office.
For your consideration
• Have plans drawn up so you can clearly ascertain what you need and how much space is required.
• Refer to your floorplan before purchasing equipment.
• Consider how your computer will work based on your floorplans (for instance, your computer placed opposite a window can create too much reflection).
• Plan your workspace so you have room to keep items such as the phone within easy reach while still retaining space to work.
• Make sure you allow room for file cabinets to open as they are deeper than a desk drawer.
• Ensure you have all the outlets you require for wiring — offices require a lot of outlets.
• Consider if you need to make room for visitors.
• Consider the style and environment you want to create (for instance, creative versus traditional).