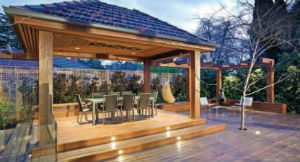 Cabana or cubby, gazebo or garden shed … your outdoor structure can be a design asset
Words: Karen Booth
The built structures in our gardens — the pergolas and gazebos, the sheds and cubby houses — may have a functional role to fulfill but that doesn't mean that they don't have an aesthetic role to play, too. Any built structure, whether its a simple walkway connecting garden zones or a fully equipped cabana by a swimming pool, needs to be well designed, not just properly sited and solidly constructed.
Outdoor structures tend to be in full view from most spots in a garden as well as from some inside rooms, so they need to look good and complement the overall landscape design and the architectural style of your home. With a good eye for design, even a humble garden shed can be turned into a focal point.
For many, the outdoor structures they build will be used for entertaining. This might take the form of a thatched Bali-style hut, a gazebo with a tiled or shingle roof, a pergola (either attached to the house or freestanding), a pool cabana, a rotunda that takes you back to Victorian times, a Japanese tea house-inspired pavilion, an English-style summer house … basically, if you can imagine it you can create it.
As these are permanent structures, going for quality and doing your planning are essential. Use the best-quality materials you can afford, have the structure professionally built, consider the structure's maintenance requirements, ensure it is sited in the right location and is of the right scale (it should be big enough to meet your needs but not overpower the landscape) and consider how you intend to use the structure, now and in a few years' time, before committing to a particular design.
With more people working from home, the backyard home office is also making an appearance in more and more gardens. An off-the-shelf cabin or a large shed, if well designed, can do the trick very nicely, or you can have something custom-designed and built to match your exact requirements. Structures of this size can also be used as a studio for those with an artistic bent or as a workshop for craft lovers and hobbyists.
If you're not sure about the outdoor building that best suits your needs, it makes sense to consult your landscape contractor or landscape designer if the structure is part of a broader landscaping project. If it's just the structure you're after, consult a company that specialises in the area and offers a broad range of product choices. Classic Cabins, for example, is a company which, among other things, manufactures rotundas, single-room cedar-clad buildings that can be used as a studio, workshop or sleep-out, cabins, cottages and a structure they call The Entertainer. This is a modern structure with wide opening, glass sliding doors; a solid timber floor; a verandah; and walls that integrate traditional cedar cladding with modern-look Colorbond panels.
Most of the product range is delivered on-site in kit form, after which you can erect the structure yourself or the company can arrange delivery. If you are the handy type, buying a kit-form structure, be it a gazebo, shed or cabin, and assembling it yourself is a way to save some money, but arranging installation is the hassle-free and sometimes faster way to go.
One of the most popular — and practical — forms of outdoor structure is the garden shed. It's the place to which our fathers retreated on the weekend and the holder of gardening equipment, tools and all manner of mysterious objects in jars and containers. Once a rather unprepossessing proposition, sheds are now available in a plethora of materials, designs and sizes. For a low-maintenance option, there are metal sheds constructed of Colorbond or Zincalume. The colour range is quite wide today, and the choice of styles has grown over the years and they are available from specialist suppliers as well as national chains such as Mitre 10 and Bunnings Warehouse, all of which can arrange installation if you're not the do-it-yourself type.
A more decorative and some might say more traditional choice is the timber shed. For the broadest range of choices and to ensure expert advice, seek out a company such as Cedar Shed that manufactures and installs garden sheds on a daily basis. As the company name suggests, its sheds are made of cedar. Cedar Shed offers a wide array of sheds ranging in size from the 2.5-metre-wide Belgrave, which has a skillion (flat) roof, to the 3.8-metre-wide Macedon Deluxe, which has a gable roof pitch and can also be used as workshop.
Cedar is considered a good choice for outdoor structures, as it is naturally resistant to insect attack and rotting. Another option is treated pine or, for a rustic look, you could design and build your own shed using weather-hardened recycled timber.
If your little ones want a home away from home, a cubby is the way to go. Placed in a shady corner of the garden, a cubby provides years of enjoyment for young children and their friends. As with cabins and sheds, cubbies can be as simple or as elaborate as taste, space and budget permits. At the more elaborate end of the spectrum are cubbies with verandahs, sliding windows and a design that replicates the look of an actual house. Colonial and ranch-style designs are popular and you have the choice of having a cubby that is constructed at ground level or elevated.
You can also find cubbies that have optional extras, such as play equipment that can be attached to the building. You could, for example, get an elevated cubby with a sandpit underneath, a slide coming down from the verandah and a swing set or climbing frame to one side. For a cubby of this height and size, however, you might need council permission.
Some local councils will allow you to build a cubby without a building permit if it conforms to certain guidelines. Such guidelines might include a maximum size and height, a prescribed distance from a title boundary, the exclusion of reflective building materials and the proviso that the cubby has no openings that overlook a neighbouring property. If the structure doesn't meet your council's particular guidelines, you will need to apply for a permit — or modify the structure.
When contemplating any outdoor structure, a good starting point is to contact your local council and see whether planning permission will be required. Regulations vary from council to council, so while permission probably won't be needed for something small and discreet, it probably will be for a gazebo, pergola, cabana, workshop and larger sheds and cubby houses.
It pays to check this out before committing yourself to anything, as an outdoor structure is a significant investment and you don't want to find that you have to pull it down or make expensive modifications if you've breached council regulations. Information will be readily available by calling your council or visiting its website.
Something else to consider, especially for outdoor structures that will be used for entertaining or as workshops or studios, is the provision of services. You will require lighting and, depending on your needs, power points, taps and the like. Making provision for electrical cabling and plumbing is something that needs to be planned for at the earliest stage. Again, seek professional advice to ensure you get these important elements right and everything is up to code.