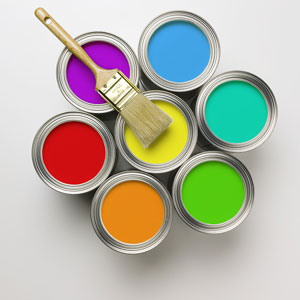 Outdoor Rooms chats to top Australian landscape designer, Jim Fogarty about natural colour palettes and what hues to look out for this autumn.
Words: Kate McKee

Jim Fogarty, one of Australia's top landscape designers, has collaborated with Dulux to develop a colour palette inspired by nature.
The limited-edition Dulux Jim Fogarty Colour Palette features foundation colours such as neutrals and earthy shades and a selection of noteworthy pop colours. The colour selections are based on simple features Jim was drawn to in the natural Australian environment and aim to integrate areas inside and outside the home.
"The best colour inspiration for me is found in nature. Sometimes you have to look a bit closer to notice the vibrant colour of a fungus on a rock or on the bark of a tree," says Jim, who believes in creating landscapes with the harmonious balance of functionality and plant life. "Plants not only provide colour, but seasonal influences on foliage tones draw out the best of any colour scheme."
The Dulux Jim Fogarty range provides a collection of colours for use both inside and outside the home. The range encourages a sense of natural flow in any space by seamlessly blending the best of indoor and outdoor living, making it a perfect choice for your outdoor space.
What was the concept behind your partnership with Dulux for the Jim Fogarty Colour Palette?
I was approached by Dulux to help develop a colour palette as part of a designer series. They started with fashion designer, Kirrily Johnston, and a landscape designer was naturally the next choice. The concept is to let designers choose a colour range which they currently use or would envisage using in the next few years. This is a great way for homeowners to stay up to date with some of the latest colour trends.
How important is colour choice in regards to the outdoor room? Can colour choice help to harmonise both indoor and outdoor elements in the one space?
I think one element of gardens people tend to forget about is that they are seasonal and we should be open-minded about tangible gardens. For instance, a feature wall can be painted a different colour in autumn from the winter months, and then in spring you might change the colour for a totally different look. Colour, when used correctly, forms a harmony between the interior and exterior of a house. Colour can add excitement to a garden or it may be used to create a cool, calm feeling. Colour can also be used to make small gardens feel bigger and large spaces feel more personal.
How can using nature for colour inspiration help to transform or improve an outdoor room or living environment?
Colours found in nature are colours we know have a natural harmony. They may be colours in a similar spectrum or they might be contrasting colours, like the rich outback reds and clear blue skies. Observing colours in nature is a great way to look for inspiration. For instance, you might live on the coast you might scour sand dunes and look at vegetation colours and background colours of the ocean, even on a stormy day.
What colours in nature do you find you are most inspired by in regards to landscape design?
It really depends on the project I am working on at the time and where the project is located. One key thing to consider is to always look for colours in the environment you are working in; for example, using tropical colours in the outback will look very out of place.
What autumn colours would you recommend for an outdoor room colour scheme this season?
A blend of four colours will pick up on autumn tones, such as Dulux's Design Stone 'Charcoal Wash', 'Murray Red', Dulux Design Stone 'Oyster Farm' and Dulux 'Deep Reed'.
To find out more about Jim's beautiful colour range, visit www.dulux.com.au