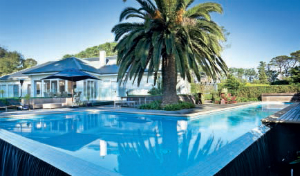 Designed around an impressive palm tree, this pool is truly one of a kind
Wrapping around two sides of the one-storey home, this three-in-one swimming pool is designed for maximum enjoyment. Built by Aquarius Pools, this inviting pool provides for the family's every recreational need, be it pool games or exercise. It has also been built to take best advantage of the existing garden features, such as the statuesque palm.
The large, fully tiled pool features a lap pool for exercise and a widened area at one end for family fun. Completing the design and offering a quiet spot to unwind after a long day is a cosy spa. The pool, designed by Robert Boden Design in conjunction with Chris Jackson of Aquarius Swimming Pools, features a programmable in-house control system and in-floor cleaning system, meaning eager swimmers can come straight from the home to the pool without any interruptions — no need to plan ahead or do any cleaning first.
Even better, the pool is guaranteed to stay clean when not in use with an environmentally friendly pool cover placed over it. The cover slips away and hides within the construction of the pool area when swimmers are on their way and rolls out again with ease when the day's swimming is at an end.
The timber decking around the pool provides ample space for gathering with friends or sun bathing while the lush, well-established garden beds and perimeter plantings give the feeling of being in a resort location. Accentuating this is the date palm, which the pool was designed around; the pool builders took great care to preserve this plant during the pool's construction.