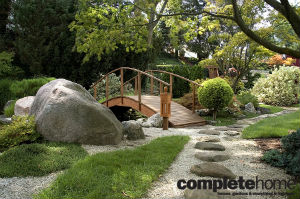 Based on a traditional Japanese waiting garden, this design is a gold-award winner
Story: Natalie Raad
Photos: Patrick Redmond
A traditional Japanese garden was the recipient of three awards at this year's Melbourne International Flower & Garden Show (MIFGS).
Designed by renowned Japanese garden designer Koji Ninomiya, the Sei Sei Tei garden won a Gold Medal, The City of Melbourne Award for Excellence for Best in Show, with Koji also awarded the Comeadow Award for Best Design.
Exhibiting the intrinsic principles needed to capture the true essence of an oriental garden, Koji's authentic Japanese design truly lives up to its name.
Sei Sei means once you have enlightened yourself, you feel completely free from anything disturbing your mind, such as time, money and work. You are elevated to a new level in your life and you feel a sense of nothing, "Mu". Tei means small house like a cottage or a cabin.
Koji's garden embodies this sense of being completely free, of losing yourself to nothingness. It is a garden of enlightenment and calmness that opens the door to nature.
Koji worked in conjunction with Semken Landscaping and Lotus Watergardens to create the authentic Japanese garden, using traditional techniques.
According to Mark Bence from Semken Landscaping, "Our aim was to create a garden that was authentic and not just our Australian interpretation of what a Japanese garden is, and hopefully a very different garden from anything that had been built at MIFGS before."
The Sei Sei Tei is a Japanese waiting garden and is based on Japanese philosophy — simple is beautiful. The design brief included creating a garden that was the entrance to nature and the Cosmos (universe). Koji's aim was to reproduce the entrance to the next world after enlightenment.
The waiting garden is important in Japanese culture. It is part of the Tea Ceremony and, upon entering the garden, regardless of a person's class — peasant or Samurai — everyone is equal.
There's something peaceful and comfortable about stepping into this garden. Created to suit Australia's dry climate, Koji and his team managed to produce a fresh and calm space with maximum effect and minimum water use.
Water is an important element in every Japanese garden. In this garden, the water feature represents a mountain stream and brings water to the granite bowl for the washing of hands before the Tea Ceremony. The stream of water is a symbol of our life. Its sight and sound is there to remind us of the relentless passage of time.
The granite stepping stones and bridge across the pond lead to the plants on the other side of the water feature — that is the door to nature. The raked gravel represents the sea and clouds. All the granite, gravels and plant material used in the garden have been sourced locally.
Taking into consideration Australia's dry conditions, Koji incorporated water-wise features in his garden design. All rainwater that falls on the garden is collected by the polythene layer under the granite sand and from the roof into the water tank behind the wooden fence. It is kept for use in the pond and for irrigation of the garden.
Many of the plants used in the garden are originally from Japan and China, with all varieties available in Australia. Given that Japanese culture is now mixed in with Western civilisation, Koji also used some Western plants in the garden. Planting was kept relatively small, with gravel areas made a little larger so as to minimise water use.
In the past, Japanese gardens used very few flowering plants, as this would create excitement and therefore disturb the mind. However, in recent times, there has been a shift towards flowering plants as a result of the Japanese lifestyle changing with the mixing of eastern and western cultures. Koji believes his Sei Sei Tei design is an indication of the future direction of Japanese gardens.
Another concept inherent in every Japanese garden is enclosure. Hence, to ensure oriental gardens are true retreats they must be sealed away from the outside world. This is usually done with the use of a fence or gate. In Koji's design, the shelter and fences are all constructed from recycled timber with a bamboo front fence constructed in the traditional style.
Japanese gardens are simply gardens with a purpose. Like Koji's, they are filled with symbolism and create a peaceful ambience, often through their simplicity of design. The timeless nature of these designs, and the balance and tranquil harmony emanating form them, is what makes the Japanese garden a garden for all seasons and a place to lose oneself to nature.