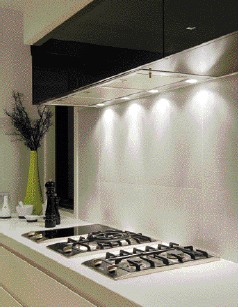 A family home ought to be a haven to inspire lasting memories and none is better suited to this assignment than the latest display home from Modina Homes, the Disegno. Architecturally inspired and featuring inclusions from San Marco Ceramics, it is for those who take pride in their home and appreciate the benefits a designer residence can offer a modern lifestyle. Moving through the open-plan Disegno is an awe-inspiring experience as your eyes dance from one feature to the next, but always return to settle on the kitchen and bathrooms.
The interiors are a careful balance of clean, open space and functional room sizes to produce a practical yet fashionable residence made for contemporary living. Key to the Disegno's success is its meticulous design and structured composition, which have been enhanced by San Marco Ceramics finishes and materials used in key areas. Fittings, fixtures and materials have been skilfully selected to match the precision layout of the kitchen, bathrooms and laundry.
The sprawling kitchen and meals area is ripe for entertaining, with bi-fold windows and doors accommodating effortless integration of indoor and outdoor living. Contrasting textures and tones have been used in the kitchen, along with soft-closing drawers and doors and undermounted sinks to set the minimalist tone of the house. The CaesarStone benchtops in Snow are the ultimate luxury, combining durability with a refined appearance, an aesthetic matched by the San Marco Ceramics Diamond Lappato 500x500mm tile splashback. The kitchen's location at the hub of the home guarantees the chef will always be a part of the action and never isolated, while the ergonomic layout of work zones and Miele appliances allow efficient meal preparation. Best of all, the glamorous bi-fold windows offer easy access to the outdoor servery. This high standard of design is maintained throughout the Disegno as all rooms have been treated with the same attention to detail.
The main bathroom is a prime example. The deluxe space is a sanctuary with a freestanding bathtub as its centrepiece. This is offset by floorto- ceiling matte chrome feature tiles with a crater-like texture — from San Marco Ceramics — that are a luxury simply out of this world. Polished white tiles line the shower enclosure to complete the indulgent pamper room. Not to be outdone, the ensuite in the master bedroom is striking, with Black Onyx feature San Marco Ceramics tiles, which are classically pared back with polished white 300x600mm floor and wall tiles. From each space to the next, the Disegno impresses as Modina Homes has prudently crafted a continuous and even flow of features throughout the kitchen and wet areas. The meticulous design and selection of materials ensures the home is a masterpiece, certain to enhance the lifestyle of your family for countless years to come.