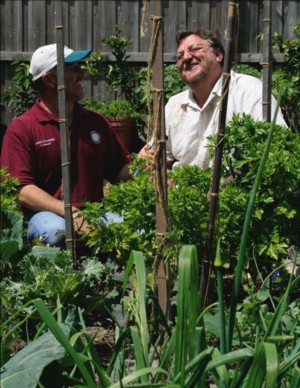 In the garden with Simon Dixon
Simon Dixon hails from Cootamundra, NSW. His parents were farmers, raising mainly sheep and cattle, but they also enjoyed growing fruit and vegies to feed the family — and the cows. As with many families, Mum was at home cooking and caring for the household while Dad did the farming, though he also had a full-time on Hume Highway road repair. If that wasn't enough, he was also a farrier, or specialist in equine hoof care, which included trimming and balancing horses' hoofs and shoeing them.
Simon remembers living off what they grew on the farm and around the house. He later met and married Sue, a Western Australian girl, and today they are the proud parents of Seth, 7, and Cyrus, 4. They live in the suburb of Preston on a property that backs onto the Upfield train line, with trains passing every 15 minutes. When I visited the Dixons, my first thought was that they must be Greek. Why? Because everything was growing in the front garden! There were fruit trees and vegies in abundance and there was even an old laundry trough that's used to wash the freshly picked produce while the grey water flows back into the garden.
Simon didn't try to hide the trough but installed it right on the front boundary. He loves talking to anybody who walks by when he's out there rinsing his produce. No doubt he enjoys the envious looks from passers-by, too. Simon is not Greek but a typical Aussie whose love of the organic and sustainable approach fuels his passion for gardening. Has doesn't have a huge parcel of land, but what he produces from it is amazing, to say the least. He's overlooked nothing when it comes to practising sustainable gardening.
Simon has a worm farm, two compost tumblers, lots of chickens and four water tanks around the house, with a dripper line set up in all the front garden beds and gravity-fed irrigation in the rear garden. Not much waste goes to landfill from the Dixon household, everything but plastic and bones being food for the chooks and worms. The family has been in Preston for more than 10 years, though Simon, a professional cleaner, has been living this way of life for more than 20 years. Apart from the knowledge he picked up while growing up on the farm, there wasn't much information around to help guide him towards better organic practices. "I have always been interested in gardening and I have also watched a number of gardening shows over the years," says Simon, "but when I first started planting/growing vegies there was not so much media coverage on the organic side. Now I try to be as organic as possible and not be tempted to the dark side."
One of his many great ideas is using plastic storage containers as mini hothouses to propagate cuttings and germinate seeds; they look like they were made for the purpose and the seedlings thrive in them. But just remember, if you decide to do the same, remove the lid if the weather exceeds 25 degrees or you'll cook your plants. "We have always been passionate about edible plant growth right from the start but we do have some flowers in the garden as well," says Simon. "They help to bring in the bees, which pollinate the productive plants. Also, the trial method has been a great way to learn. We plant something new, see if it works and, if not, try again using different methods or just plant something else."
Everyone in the Dixon household has their daily chores: the kids feed the chickens kitchen scraps then collect the eggs, Sue prepares the next lot of preserves or jams, depending on what's in season, and Simon is out there in the garden, pruning, planting and composting. When they first took ownership of the property, the garden was completely overgrown with weeds and dead trees. The rear of the property had over 10m3 of rock that had been excavated by the builder, stockpiled and left to become an unsightly feature of the rear garden.
There was simply no way you could imagine the garden could become the lush oasis it is today. There was no front fence, the land sloped and the soil was infertile. "We have tried to produce as much food as we can in the space we have for vegies and we always end up with an oversupply of produce, so we try to preserve as much as we can to use later in the year," Simon says. "But when we do run out, which is quite rare, we will only buy what is in season from the stores." If you have problems growing strawberries because of pests, try Simon's method. Find an old stool or small coffee table and lay a full bag of good-quality potting mix flat on it. Cut open the top of the bag and plant four strawberry plants straight into the soil.
There's no need to make any holes at the bottom of the bag as this will only cause it to dry out faster, but if you are not sure how often to water your plants, use the old finger test. Stick your finger in the soil to feel whether it's wet or dry and water accordingly. When the strawberry plants come to the end of their season, the potting mix is sure to be depleted of all its nutrients, so remember to add some worm juice to help rejuvenate it for another season. That's just one example Simon's clever practices in the garden, which have come about through simple trial and error without the use of harsh chemicals to control problems. Simon and his family are firm believers that we should all be looking after our world by saving water, avoiding nasty chemicals, practising organic methods and recycling as much as possible.
As Simon says, "It's important that we try to give our kids the same world that our parents gave us before all these chemicals were invented and I must say that, even after so many years of growing my own produce, I'm still impressed with the difference in quality of produce grown at home compared with items on display in the supermarket."
Simon's gardening tips
If planting a vegie patch to be used by the family, it's important to stagger the planting times of the seedlings. That way, you get produce all through the growing season.

Compost as much as your space allows and don't worry about a little mess in the garden — it all turns into compost eventually.

Get kids planting/picking/eating from an early age. Before you know it, they will be gardening without having to ask you what to do.

Try to use as many reclaimed/recycled materials as possible.

Do as much or as little as your lifestyle allows.