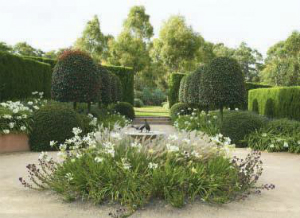 If you enjoy a sense of order but have artistic leanings, then topiary might just be for you
What is topiary?
Topiary plant cultivation could be considered the epitome of ornamental gardening. Lying within the smooth form of a tightly clipped hedge or a perfectly rounded standard there resides a meshing of ideas that speaks of more than just a well manicured garden. In topiary, man's innate desire to 'tame the wild beast' exists in perfect harmony with his desire for symmetry and flow of form.
In the symmetry of topiary, or a neatly clipped hedge, we find a sense or order through the repetition of shapes. This balance represents a key design element in many of the most renowned gardens of our times. Topiary cultivation is said to have taken root well before the end of the first century. Ancient Roman and Egyptian garden schemes saw this stylised form of cultivation play a dominant role. From here the humble topiary plant rose to take Europe by storm, its influence manifesting itself throughout Italy, France and England and in world-famous gardens such as that of Versailles.
Cultivation requirements are most definitely in the higher maintenance for high reward category. What you put in is without doubt what you get out of this type of gardening but the effort is well worth it as you watch your magnificent topiary garden mature and grow.
Choosing the right plants
Most commonly, evergreen plants with dense growth and a compact form are used for topiary. Selecting a genus and species to use for topiary is a relatively straight forward process as there is a range of familiar varieties commonly used for hedging that also tend to feature as the star players within topiary cultivation. These include:
Buxus microphylla var. Japonica (Japanese Box)

Buxus sempervirens (English Box)

Ficus benjamina (Fig)

Syzygium australe (Lilly Pilly)

Laurus nobilis (Bay Tree)

Juniperus chinensis 'Spartan' (Pencil pine)
But there are some less common choices that lend themselves just as well to topiary and can add an individual (and in some cases aromatic) touch to a garden. These include:
Rosmarinus officinalis (Rosemary)

Lavandula dentata (French Lavender)

Solanum rantonnetii (Blue Potato Bush)

Abutilon (Chinese Lantern)

Trachelospermum jasminoides (Chinese Star Jasmine)
These plants can be placed in garden beds or pots, provided the preferred soil and climatic conditions for each species are met. For most, this will mean a sunny spot and soil that has been enriched with organic matter and topped with a layer of mulched. Regular watering and fertilising will be necessary to ensure continued lush green growth. Just check the growing and watering guidelines for each plant and if you're not sure, ask at your local plant nursery or garden centre.
Pruning topiarised plants
Unless you have a remarkably steady hand and an exceptionally good eye, using a frame as a shaping guide is recommended is you want to get the pruning detail and geometric shape right. Whether a cone, heart, star, animal, rectangle, cube or ball shape, there should be a galvanised frame available at your local nursery to suit your preferences.
Standardised topiaries (or 'balls on sticks') usually require only a measured eye to simply snip and balance out the new foliage as it grows. Similarly, a triple planted twisted stem standard would not usually require a frame but can be slowly and simply done with the right growing conditions and attentive care.
Heavy pruning is usually best done in the winter months when growth of foliage slows down and the temperature drops. Light pruning can be done as needed throughout the growing seasons to keep the overall shape right. In fact, topiary, just like manicured hedges, needs to be trimmed several times a year.
Standing the test of time
Creating topiary can be a rewarding garden project for the committed novice or an intriguing road to the ultimate specimen or feature plant for the experts in the field. Topiarised plants can be used in many different styles of garden and, once mature, are quite valuable, due to the time and energy taken to produce their specialised form.
If you want instant impact or you don't have the time or patience to topiaries plants from scratch, you can of course buy them ready-shaped. Some of the larger garden centres will have them as well as specialist suppliers. Of course you will need to keep them in shape, so whatever way you approach it, topiary will take some of your time.
Changes in the popularity of certain types of garden design have tended to parallel the rise and fall of certain architectural trends throughout the ages. Like the formal style of garden, however, topiary cultivation has withstood this test of time. It may be more in vogue one year than the next, but its appeal never diminishes with fledgling enthusiasts, landscapers and high end users searching to bring a sense of order, a certain artistry and that all important planting wow factor to their garden designs.