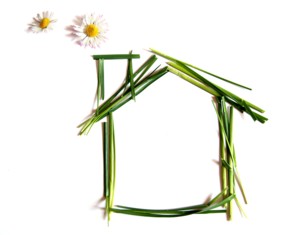 Renovating is not only a chance to rework your living space, it's also a time to update your home to make it sustainable. We discovered some new additions that not only make life easier, but greener as well.
Electrolux has developed a washer that uses water heated by solar energy. When choosing your washing program, you can select to use water from the hot-water circuit, so the heating element need not be used. Named Sunny, it can also be heated by boilers fuelled by methane gas or pellets or any other source of heating, as long as a second hot-water tap is available. Unfortunately, Sunny is only currently available in Italy, but it's definitely a sign of what's to come.
Rather than sucking the life out of your sub-station by using a dryer on wet days, use the Kambrook heated clothes rack. The rack is rated at 300W and quickly dries your clothes. It's also a great alternative for a compact place to dry things while you're renovating the laundry.
If you don't have one of these, your lawn is definitely not green enough! SolarBrick from Hotbeam is a self-contained alternative that captures rays during the day, converting it to electricity and storing it in Ultracapacitors, then lighting up pathways and patios at night. It only takes one hour in full daylight for the lights to recharge and will light up for more than 12 hours. The waterproof bricks come in six different colours and can even be driven over.
Remind everyone in the family to smarten up when doing everyday tasks. Enviro-Tips from Ripple Products is a set of four removable and reusable labels with environmental messages. The labels themselves are made from a non-toxic, biodegradable material requiring no adhesive and will stick to any glossy surface such as mirrors, fridges and mirrors.
GreenPan™ introduces eco-friendly non-stick cookware, utilising a ceramic-based non-stick technology named Thermolon™. Thermolon™ is a patented non-stick technology that is free of PFOA (Perfluorooctanoic acid) and PTFE (Polytetrafluoroethylene) chemicals, which could have carcinogenic properties. The coating is scratch-resistant and does not emit fumes at high temperatures. In production, it creates 60 per cent less CO2 emissions than other non-stick cookware, and even the packaging is made from recycled materials.
While you're waiting for the shower to heat up, all that precious water is going down the drain. The Pop Up Bucket from Ripple Products can be easily folded away under the bathroom sink when not in use and can also be used to recycle shower water, bathwater or even for general use around the home.
The Zaishu Stool from Todae is a bright multi-purpose item to have around the home. It's made from plantation-grown veneer and decorated with water-based inks and varnish. It is just one of the many eco products available at Todae.
The Hemp Gallery harnesses the power of fantastic fibre to create beautiful fabrics for window treatments, accessories and upholstery. The fabrics are soft and made from organic cottons, hemp/yak hair and organic naturals, and come in a variety of patterns, including Jacquard-embossed stripes and plain-weave canvases.
If you've got a huge pile of recycling sitting in a dark corner of the home, only to be thrown out with the regular rubbish, this is for you. The Rubbermaid two-part pedal bin is a bin that has two compartments — one for rubbish and one for recycling. It's a simple concept but extremely effective.
When choosing new fabric to furnish your house, you may as well make it as environmentally friendly as possible. Marco has introduced Eco Linen, which is made with flax, a plant that needs few chemicals and no irrigation to grow. Processing the fibre requires little energy and is 100 per cent biodegradable. Bi-products are also used, such as the seeds for a fine flour used in a myriad of products.
By using plywood from plantation forests, Keryn Hughes, creator of furniture company In Your Room, can have the material pressed to take the form of organic shapes. It is also an environmentally sensitive medium to work with, and when designing each piece, the company is extremely mindful of minimising waste. Moulds are used several times and each piece is extremely multifunctional for adult and children's applications as the years go by. Each piece is designed and manufactured in Australia, and even the In Your Room studio is built with recycled blue gum and uses cross ventilation and natural light to minimise the need for energy.
Shopping Details
Electrolux
1300 363 640
www.electrolux.com.au
Green Pan
www.green-pan.com
Hemp Gallery
02 8901 0375
www.hempgallery.com.au
Hotbeam
03 9899 9411
www.hotbeam.com
In Your Room
02 9386 9513
www.inyourroom.com.au
Kambrook
1300 139 798
www.kambrook.com.au
Marco
1800 627 992
www.marcofabrics.com.au
Ripple Products
03 9329 1665
www.rippleproducts.com
Rubbermaid
1800 003 178
www.rubbermaid.com
Todae
1300 138 483
www.todae.com.au