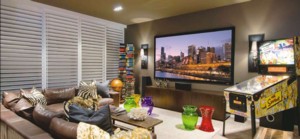 Nowadays, many home owners are looking for a good home cinema setup. Until recently, the usefulness of these was quite limited because DVDs, as much of an improvement as they were over videotapes, simply didn't look good on a very big screen. That has changed with Blu-ray. Offering five times the resolution of DVD, a good home theatre setup based around Blu-ray discs is actually better than most commercial cinemas. You get the film without the scratches. You get the big screen experience without the crowds.
All you need is the equipment and the room. As far as the first goes, a basic system with a good high-definition projection can start at under $10,000 — and can go as high as you are prepared to spend. But most systems still lack one element of the real cinema: a very wide screen. Widescreen or wider Almost all movies made since the early 1950s have a "widescreen" look. Before that, the screens were squarer: roughly four units wide to three tall. That was known as 4:3, or 1.33:1. Modern widescreen TVs and most home theatre projectors have an "aspect ratio" of 16:9, or 1.78:1, so they are more like a rectangle on its side. But most movies are even wider than that. The two most common aspect ratios for movies are 1.85:1 and 2.35:1 (sometimes 2.40:1). In the latter case, the picture is more than twice as wide as it is tall. If you watch one of these movies on a widescreen TV, it is fitted onto the screen by leaving black bars with no real picture content at the top and bottom. These days, most modern TV shows are produced with a 1.78:1 aspect ratio to fit a modern TV without any black bars. And most movies which appear on TV are also chopped at the edges to fit those screens as well. But if you watch on Blu-ray (or DVD), the movie will be presented the same way as it was originally released at the cinema. You will get black bars. In other words, the picture is not as tall as regular TV programs.
But at the cinema … Things are quite different at the cinema, however. When a widescreen movie comes on, motorised curtains to the left and right of the screen are pulled back. The movie retains the same height as other programs but becomes wider. The advertising program runs at a regular widescreen 1.85:1, and perhaps some of the programs do as a wider aspect ratio of 2.35:1, then the motors for the curtains will whir and they will open up wider. Most home theatre systems just don't do that, but it is possible. The equipment What you need is a 2.35:1 projection screen (they are normally 1.78:1), a projector that supports this type of projection, and an anamorphic lens. This is a lens that is carefully designed to distort the image in a particular way, by stretching it horizontally while leaving it unchanged vertically. This distortion is what the word "anamorphic" refers to. It was a technique that first came into widespread use in cinemas in the 1950s as a way of maximising the quality of the picture. Except for a few unusual projectors that cost at least tens of thousands of dollars, you need an external lens for this. It sits in front of the projector's own lens. What happens is that if a regular widescreen program (1.78:1 or 1.85:1) is showing, the projector operates normally and the anamorphic lens is left to one side. But if a 2.35:1 film is showing, the lens is slid into place and a special display format is selected for the projector. This stretches the picture vertically so that the film content fills the whole height of the frame (the black bars are pushed off the top and bottom edges).
This would leave the contents of the frame looking tall and skinny, but the anamorphic lens stretches the picture sideways to restore everything to its correct proportions. The anamorphic lens has a lot of responsibility. Because it is making the picture bigger, it could potentially also make it less sharp or distort it in inappropriate ways, so it has to be of very high quality. Fine lenses aren't cheap. Melbourne company Herma Technologies distributes one of the bestknown international brands: Panamorph. This company's lens and slide mounts start at $6699 (for the UH480). A motorised version, in which the lens is automatically moved to the correct position, costs $8999. Herma's house brand, LP Morgan, has its own manual lens costing just under $2500. I put this through its paces, using the Epson EH-TW5500 as a projector, which features a suitable output format, and an LP Morgan Galleria projection screen. The lens is like a wedge of glass contained in a sturdy metal box. It bolts into a frame, which in turn is attached to a slide, allowing it to be slipped easily into place, or away again, depending on what you're watching. When it was in place it was necessary to refocus the projector, but once that was done the image looked beautifully sharp. I tried out the lens with some test patterns first, which demonstrated that the picture geometry was first class. Then I tried some real movie material from Blu-ray, specifically The Curious Case of Benjamin Button, and 2001: A Space Odyssey. In both cases the wide spread of the picture somehow made the movies more engaging, which is presumably what their makers had in mind when choosing the extreme widescreen format in the first place.
The real thing Using an anamorphic lens such as this can be easy if you throw lots of money at it, but you do need to plan ahead a little. You will need to decide in advance if you want to watch a super-widescreen movie because you will need to slide the lens into place, set the appropriate output format from the projector, and then refocus the projector. The payoff is an image designed to stretch across the extremes of your peripheral vision, drawing you more deeply into the movie. If you have more money to throw at it and you really want to replicate the genuine movie experience, you would move up to the motorised Panamorph lens, use a projector with a motorised focus function, and have the lens and projector (and automatic curtains for the screen) wired into a control system. One press on the remote control and the whole system changes itself from 1.78:1 regular widescreen to 2.35:1 super widescreen, which then allows you to see these movies exactly as their directors intended.