No design challenge is too big or small for the team at Grantleigh Homes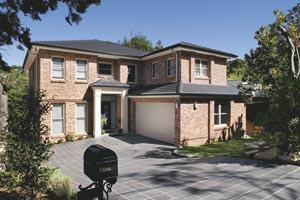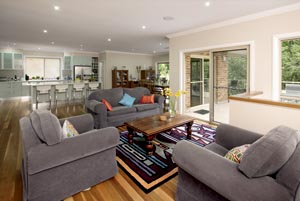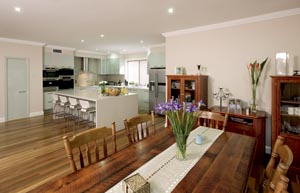 With an image of the perfect home already formed in their minds, the owners of this stunning abode had one last thing to do before making their dream a reality: finding a builder who was up to the challenge of building on their narrow and steeply sloped block of land.
With more than 30 years building experience and expertise in building custom-designed homes on difficult sites, the Grantleigh Homes team was an obvious choice for the owners, who now have a spacious family home that is everything they wanted and more.
To overcome the many obstacles presented by the difficult terrain, the Grantleigh Homes team carried out significant earthworks and landscaping to maximise the available area they had to work with and came up with a split-level design to further accommodate the steep incline of the site. Another benefit of the home's clever layout is that it provides ample space on all three levels for both parents and children to move.
With such a beautiful backdrop to their new home, it's no surprise the owners were adamant that their home maximise their property's leafy outlook. To achieve this, an abundance of windows offering glimpses of the gorgeous scenery are found throughout the home and also provide a wonderful airy ambience. Spectacular views of the area can also be seen from the spacious and strategically positioned outdoor entertaining space, which is virtually set amongst the trees of the lush bushland behind the property.
Featuring quality face bricks and render in contemporary colours, the exterior of the home boasts loads of street appeal and is the perfect match for its lush setting. Likewise, the dwelling's interior is just as inspiring, with its ultra-sleek fittings, soothing neutral colour scheme, modern gadgets galore and timeless polished spotted gum strip flooring.
With a sparkling pendant light and elegant stairway greeting them at the front entrance, guests who visit the abode will be impressed when entering the home. An ultra-modern kitchen can also be found just off the spacious and inviting open-plan entertaining area. With stunning CaesarStone benchtops, slick stainless-steel appliances and polyurethane cabinets, the space is truly the perfect spot to put one's culinary skills to the test.
The lush, light-filled bathroom is yet another area in the home where no expense has been spared. Featuring a luxurious bathtub, a sparkling frameless shower screen and plenty of room to move, the bathroom is a stylish sanctuary where you can relax and be rejuvenated.
Regardless of whether your land offers obstacles to overcome or the promise of a problem-free building project, Grantleigh Homes is the key to helping your dream home become a reality.