Built with a young family in mind, Grantleigh Homes' standard plan was modified to give the owners more room to move.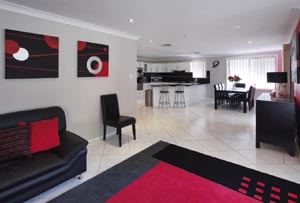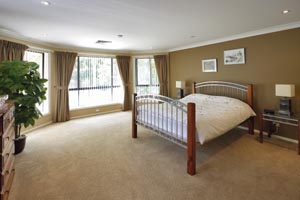 The spectacular interior features two main living areas which can be closed off for ultimate privacy. The sensible separation of the living areas provides a comfortable environment for the whole family to utilise, whether they're busy or not.
Complete with a pool table, bar and home theatre and other facilities including loads of space for memorabilia around the walls, the main living space is perfect for entertaining family and friends, while the other sitting area provides a peaceful retreat ideal for reading or just relaxing on a lazy Sunday afternoon.
The rear family and meals area opens up onto a large outdoor deck, creating a lovely flow throughout the space and making entertaining an absolute breeze — literally!
An oversized open-plan kitchen, designed to accommodate multiple chefs, has been thoughtfully positioned for easy access to the entertainment areas. Built to last, the well-equipped space also comes with stylish granite benchtops and durable polyurethane.
This attention to detail exemplifies Grantleigh Homes' outstanding quality workmanship. Only the finest materials and fittings have been used, including the lovely tiled floors and efficient halogen downlights which are dotted throughout the home.
An attractive timber staircase leads up to the sleeping quarters, which includes four spacious bedrooms and a rumpus/play room for the couple's young toddler to enjoy. Occupiers of the master bedroom are in for a real treat, with a roomy walk-in room and a luxurious ensuite at their disposal.
Grantleigh Homes has created a stylish two-storey home that's not only impressive from the street, but is also incredibly liveable.