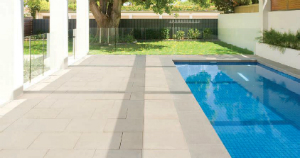 Concrete pavers, coping and walling provide the perfect finishing touch
When landscaping a garden or around a pool, good design is only part of the success equation. You need premium-quality paving and walling products that offer strength, durability and aesthetic appeal.
Customstone SA , a company based in South Australia, produces a high-quality range of contemporary concrete paving, coping and walling products that tick all of the requisite boxes. They are hard-wearing, of consistent size, thickness and finish, and they come in an array of colours and finishes.
For safety in the garden or around pools,spas and water features, the pavers have slip-resistant surfaces and if you live in a coastal area or have a saltwater pool, you can take comfort in knowing that the pavers are salt-resistant too.
For design flexibility, Customstone SA's large-format pavers are available in five sizes (400mm × 400mm, 450mm × 450mm, 500mm × 500mm, 600mm x 300mm and 600mm × 600mm). These can be teamed with the driveway pavers (300mm × 300mm and 400mm × 400mm), coping (400mm × 400mm, 500mm × 500mm, 500mm × 350mm with corners to match) and the mortared walling (500mm × 250mm × 200mm). Straight pool coping (800mm × 400mm) and some radius coping is also available.
By using Customstone SASA's large-format pavers, you can make a small outdoor space (be it an entertaining area, courtyard or pool surround) appear larger. This is because of the reduced number of join lines which ensures an uncluttered look. Replacing sections of lawn with easy-care paving can also help to reduce your water use and the amount of time you need to spend on garden maintenance.
Whether you are planning a contemporary or classic outdoor project, there are several colours and finishes to choose between so you can be assured of finding something of a complementary tone and texture. For the paving and coping, various custom and honed finishes (where the aggregate shows through) are available. While the exposed aggregate finishes are particularly popular at the moment, the smoother finishes continue to find favour. The garden shown on these pages was designed and developed by Abode Construct and features Mocha coloured pavers in Classic and Traditional finishes.
To ensure a fully co-ordinated look throughout your outdoor areas, from the paving to the steps to the garden walls, most Customstone SA products are available in the complete range of colours and finishes. You can also rest assured that the stock you receive is new and in pristine condition as all products are made to order.