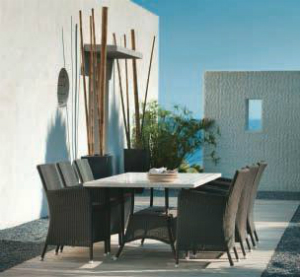 A new outdoor setting can be rather pricey, so updating your existing furniture is a great way to give your outdoor room a makeover without spending a fortune. And, best of all, you can do it in one day.
By Sunny de Bruyn
Transforming timber

Left outdoors, all timber will naturally weather to a silvery-grey colour. To give it a lift and restore it to its original beauty, the timber should be coated with a layer of outdoor furniture oil on a regular basis (at least once every six months). Before oiling, wash with water and lightly sand the surface to reveal the original timber colour. Once dry, apply a layer of outdoor furniture oil.
Painted furniture is a little trickier and, if paint or varnish is peeling or flaking, it will need to be removed. This can be done with a chemical remover, heat gun or abrasive. In many cases, all three will be required. A lot of elbow grease and patience are necessary, too, when removing paint and often there are multiple layers to be removed. Once the paint is stripped off, wash with water, allow to dry and sand for a smooth surface. The furniture can then be painted or a clear finish applied.
Making over metal

Transforming your metal outdoor furniture is a process beginning with cleaning, followed by the application of primer and finishing with one or two coats of paint and polyurethane.
To clean, remove any rust, peeling paint or debris with a wire brush. After sanding and spraying with water (to get rid of any loose particles) it should be left to dry. Before applying a primer, wipe with a cloth soaked in vinegar to get rid of any traces of grease and grime. Next comes the final coat of paint, which you can spray, roll or brush on. It's a good idea to finish with an exterior-grade polyurethane top coat to protect the paint from the elements.
Refresh woven fibres

Furniture made from woven fibres such as rattan and wicker can deteriorate and date quickly. Because they are natural fibres, the combination of sun and rain means they can show signs of wear and damage quickly. Many durable and weatherproof weaves are now available and these synthetic versions of rattan are just as attractive. Always ask your manufacturer if you can leave your woven furniture outside in the elements or whether it needs to be protected by a balcony or pergola — some won't survive much water or sun.
Restoring woven fibres to their original state is usually just a case of giving them a good clean with a soft bristle brush or vacuum cleaner and then wiping them down with soapy water. If really dirty, try using a pressure hose. Never use harsh chemicals or solvents to clean the wicker furniture, as it may cause discolouration.
Prevention not cure

Prevention is always better than cure, as they say, so to ensure your furniture lasts longer and looks better for longer, keep it protected from the elements. Sun and rain cause paint to fade and flake and can cause wooden furniture such as pine or teak to peel and crack. In addition, settings with canvas or fabric inserts are susceptible to mould and mildew. The solution? Cover them! Buy a cover for your furniture or simply stack it under a verandah or awning when not in use. It will prolong the life of your furniture by many years.