A modern design with open-plan indoor-outdoor living ensures this home works as a contemporary beachfront residence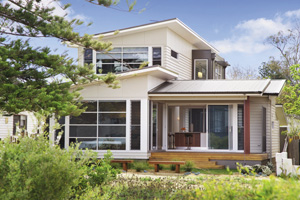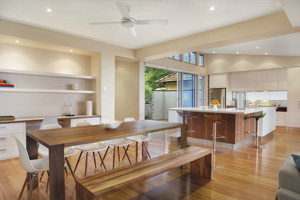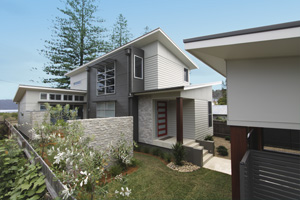 When the owners of this beachfront property in Patonga, on NSW's Central Coast, engaged The Pole Home Centre to design their new residence, they were investing in a practice they trusted. They knew would share an emotional investment in the project based on previous partnerships.
When you first approach this property, you are drawn towards the entry by the elegant ironbark posts featured in the carport and walkway, which mimic the majestic Norfolk pines standing guard along the coast.
The design of this home is in perfect keeping with its surroundings. An open-plan kitchen area melds seamlessly into an open living and dining space, which opens onto two deck areas — one of them covered in the event of bad weather.
A collaboration of modern clean lines, an abundance of glass and composite external materials create a home with visual impact that is synonymous with the character of its beachfront locality and a world away from the average suburban mediocrity.
In its design, The Pole Home Centre has optimised the building's sustainability via the use of energy-efficient glazing, full insulation, and high northern glazing to create a comfortable, ambient warmth during winter. External sun hoods, louvre windows and stacking doors open up the house to capture breeze paths and provide natural cooling in the summer.
The Pole Home Centre has shown its versatility and once again consolidated its reputation as the benchmark in the building design industry, with a contemporary response to the owners' brief for their beachfront property. Working in close conjunction with Dufton Building, from Matcham on the Central Coast, a residence was created which embraces visual appeal from all aspects while being sympathetic to its location.
Dufton Building has captured The Pole Home Centre's vision in built form, with exceptionally high-quality workmanship and attention to detail throughout the residence.
Quality products have been used, such as blackbutt flooring, CaesarStone benchtops, Olivari door hardware, Broadview aluminium doors and windows, powder-coated steel for the feature staircase, and Sareen Stone tiles throughout all wet areas.
Size: 304 square metres (living area 210 square metres, deck area 40 square metres, carport and walkway 54 square metres).
Accommodation: Four bedrooms, open-plan living, dining and kitchen area, two deck areas, two single car spaces.
Construction: Scyon Matrix, Lineaboard and Colorbond, Blackbutt decking.
Special features: Very good thermal qualities, louvre windows, stackable sliding doors, custom-designed open tread stairs, raked ceilings.
Details
Building Designer:
THE POLE HOME CENTRE
PO Box 4175, East Gosford NSW 2250
Phone: (02) 4363 2666
Builder:
DUFTON BUILDING
Matcham NSW 2250
Phone: (02) 4365 0399
Email: nigel@duftonbuilding.com.au
Website: www.duftonbuilding.com.au