A tired and dated home of the 1970s is now defined by proportion, volume and shape.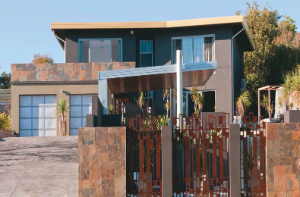 While the main structure of this building has remained entirely intact in this renovation, the dwelling's character has been totally transformed. A once-tired 1970s brick home is now a bold and unique structure integrating indoor and outdoor living.
The original building was architecturally designed and had very good bones, explains designer Adrian Fratelle. A good layout and quality glazing meant that the design could be centred predominantly on its aesthetic transformation. The project encompassed a full internal transformation complete with interior design and the removal of the existing staircase. In its place, a new custom-made staircase was installed. Outside, new decking, pool and a cabana were worked into the design, along with feature fencing, landscaping and rendering to the exterior.
The client brief centred on linking internal and external entertaining areas. For Adrian, it was important to create a flowing and usable outdoor entertaining space. At the front of the house the steep slope demanded careful design consideration that would maximise space. In a bold move, Adrian chose to utilise the unused space to create an outdoor entertainment area. "The internals linked better with the front yard, so we decided to create an entertainment area out the front, with vistas to the nearby park," he says.
While adding to the curbside impact of the project, the new outdoor area remains private, with feature fencing and landscaping obscuring the pool area from street view. The client's favourite feature of the project is the cabana, which inspires luxury and resort-style living, and provides the perfect platform to watch the kids swim and play cricket in the park. A mix of materials was used for the exterior such as slate, cement render and laser-cut steel screens. This balance of materials sets this home's façade apart, adding a modern twist to the retro design of the building.
Inside, the relocation and construction of a custom-made staircase was one of the project's most costly but effective features. Custom-designed by Kasher Designs and built of American oak, the staircase forms a graceful transition between the home's two levels.
The new kitchen features a natural colour palette. An Organic White CaesarStone benchtop fuses with a polished sandstone splashback to create a clean, contemporary finish. Striped porcelain flooring runs the length of the room, mirroring the colour palette and creating the illusion of space. In contrast, the bathroom features black gloss cabinetry and an original mosaic tile throughout. This design feature was chosen for its retro finish that connects the nowmodern home with its 1970s roots.
"Walking into the house today, it feels like a modern design. The beauty of this project is that we didn't need to alter the existing building," says Adrian. This home beautifully fuses modern with retro and the result is an award-winning project that is a one of a kind.
Fratelle Group,
Suite 11, 99-101 Francis St Northbridge 6003, Western Australia.
08 9328 6655
enquire@fratellegroup.com.au