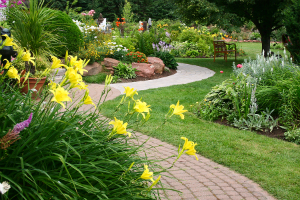 Quirky design features and the clever use of colour set this garden apart 
Story: Karen Booth
Photos: Glenn Weiss
Clad in a colourful medley of mosaic tiles, the water feature is the undeniable focal point in this crisply contemporary Brisbane garden. Striking a cheery tone, the same mosaic mix has been used to highlight a section of the modern pool. 
Landscape designer, Wayne Giebel, who describes the garden as "low-maintenance and of modern style", chose the garden's colour scheme — green, yellow, purple and white — to coordinate with the external colours of the house and to blend with the home's interior décor.
This attention to detail is particularly evident in the plant selection. Gardenias (Gardenia augusta 'Florida') were chosen for their creamy white flowers; day lilies  (Hemerocallis 'Stella Bella') for their beautiful yellow blooms, Plectranthus 'Mona Lavender' for its spikes of  purple flowers and lily turf (Liriope muscari 'Sunproof') for its subtle mauve flowers and variegated yellow foliage.
It is also apparent in the ivory-coloured, limestone-finished Chelmstone pavers, pool coping and wall capping.
"The garden invites relaxation and helps the owners unwind after the rigours of their demanding jobs," says Wayne. "They can lounge around, enjoy a cool drink while they sit in the wet bar at the end of the pool, have a meal and relax with the sounds of running water from the spectacular water feature or simply enjoy the view out to the pool from the large, covered eating area"
To ensure a coordinated look, the existing sleeper walls and timber fence had to be hidden. "The timber fence along the left-hand side boundary wall was warped and twisted (even though it was only 18 months old) so new timber posts and rails were positioned to correct the uneven finish. We then placed Natureed® along the fence line and fastened the screening to the new timber rails," explains Wayne, whose company, Wayne Giebel Landscapes, also constructed the garden.
Picking up on the Natureed® screening, a natural reed screening material was also fixed to the roof of the triangular poolside pergola.
Perhaps the greatest challenge, he says, was to incorporate all the features the client wanted without making the space seem overcrowded or too busy. To do this, the main section of the rendered and painted concrete block retaining wall is positioned on top of the pool shell. This created more room for the pool and the paved areas around it.
"At night, 12-volt lighting adds a dramatic touch to this space with uplighting on the Natureed® fence, underwater lighting in the pool and water feature, as well as strategically placed path lights and downlights," adds Wayne.