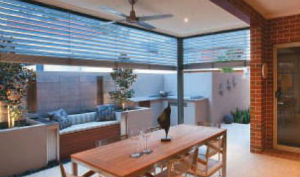 When the weather warms up, an outdoor ceiling fan is an eco- friendly way to cool down
Words: Rachel Falzon
With outdoor rooms being used all year round and becoming the social hub of the home come the summer months, a ceiling fan in a covered outdoor area could be just the special addition you need to keep you cool and increase your comfort levels.
As well as providing a gentle breeze to cool you down on those hot summer days, a ceiling fan can also make a fashion statement and help to set the tone for your decorating theme. However, as with all electrical items installed in your outdoor room, there are several things you need to consider to ensure your fan is safe to use.
To ensure you make the right choice, familiarise yourself with the terminology used to explain a fan's suitability for use in an outdoor setting. To begin with, there are damp- and wet-rated ceiling fans, each suited to a different type of outdoor situation.
Damp-rated ceiling fans can be used in a location that will periodically be exposed to some condensation or moisture. The fan itself will need to be protected from the elements with a sealed roof over an area such as a porch, verandah, gazebo or cabana.
Wet-rated fans are fans that can tolerate being positioned where water may be dripped or splashed on the fan's body — some can even handle being exposed to rain. Note that the rod and lighting kit also need to be wet-rated for the whole unit to be ideal for this situation.
For optimum safety and longevity, all fans should have sufficient protection from the wind — being ensconced within three walls is ideal.
"Fans with a warranty for outdoor use are made of materials that are weather-resistant, such as resin motor bodies, UV-treated composite plastic blades or 316-marine-grade stainless steel," explains Doug Morris of Fan Galleries. "Fans rated for wet locations have additional design features, such as waterproof gaskets between the motor body and down-rod to further protect the fan and ensure a long and carefree life.
"Look for fans that are 'wet location rated' or have an IP rating," advises Doug. "This IP, or ingress protection, refers to the fan's protection level against dust and water. Also, if the fan is being installed in a salt-affected location such as a beachfront patio, ask about its salt-resistance because not all outdoor fans are suitable for coastal environments."
The wiring used to connect the fan to the source of electricity must be weather-resistant, just as the fan-mounting bracket which attaches to the overhead structure that will support the ceiling fan must be waterproof. Indoor fan-mounting assemblies have wire holes that would allow rainwater to drop straight onto the fan's motor (so are not suitable for exterior applications) whereas the housing for outdoor fans has been designed to be completely sealed to deny access to any water.
"Outdoor ceiling fans must have a roof over them to prevent water from entering the motor and electrical connections via the top ceiling mount and hanging rod," says Doug. "An unroofed pergola area is not considered suitable for most outdoor fans. For these types of applications, you may want to consider a decorative outdoor pedestal fan that can be moved to or stored in a covered area when not needed."
Of course, ensuring the wiring is correctly installed is of paramount importance, so call on the services of a licensed electrician to do the job.
Fans come in a variety of styles and sizes. However, just because a fan comes in a large size doesn't mean you have to buy it. Choose a fan that's proportional to the space you have, otherwise the amount of wind created by the fan could become tiresome even in the warmest of areas. And remember that in the cooler months you may still want the breeze a fan produces, but on a lower setting.
As most outdoor rooms are an extension of our interior living spaces, match your fan to the look of your outdoor setting and your home's interior décor to ensure a fully co-ordinated look.
For Victorian-style settings, choose something with a little cast-iron decoration to include a touch of charm or, if your setting is inspired by the tropics, you might want to opt for a fan with large, wide blades shaped like leaves and made from bamboo or wicker. Or you could choose blades with a wooden look to tie in with a period, rustic, tropical or natural decorating theme. And if you have a modern setting, there's no shortage of fans boasting blades of clean-edged, contemporary design.
Of course, you can opt to have lighting incorporated into your fan fixture, just as you can with indoor fans. In fact, most outdoor fans can also be used for indoor applications so are often referred to as indoor-outdoor fans. Light fittings come in many different styles and colours — from clear or frosted glass to pretty glass mosaics — but ensure that your light fitting is also wet location rated if your fan is going to be installed a wet location.
Most contemporary outdoor fans can be operated by remote control, which means you don't need to leave the comfort of your chair to change the fan's setting to the one you want. If, however, you want to have a rotary dial to install on a wall in your outdoor room — it's not such a bad idea; how often do we hunt around for the television remote? — these are also readily available.
As you can see, a ceiling-mounted fan — or a series of fans — is a great idea, and with so many fan styles to choose between, you're sure to find something to suit your outdoor room.