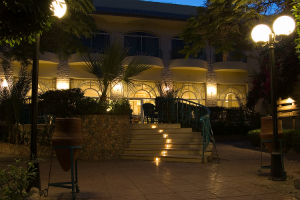 You can extend your enjoyment of any outdoor space with the right task and accent lighting
Story: Rebecca Calvert
Most of us spend our days at work and it's a shame to miss so much of the daylight hours when we can fully appreciate the work we have put into our gardens. Installing outdoor lighting is a great way to extend the hours of enjoyment of your garden, provide safety for family and visitors and highlight or hide features in the landscape.
Outdoor lighting can be installed for various purposes, which are categorised into two main types. First, there's task lighting, which covers the practical reasons for installing outdoor lighting such as being able to move through your yard safely at night, to deter intruders, to light pathways and driveways and for outdoor food preparation. The second type is accent lighting. Accent lighting draws attention to specific places within your landscape, such as a particular tree, water feature or sculpture and away from other areas that are not so aesthetically pleasing.
Whatever your main lighting requirement may be, there is a way to incorporate both task and accent lighting in the one project for maximum effect.
Importance of planning 
When deciding to add outdoor lighting to a landscape, it's best to create your design before construction begins so you can easily install cables and general-purpose outlets (GPOs) without having to interfere with existing turf etc. If you are adding lighting to your current landscape, it's best to spend some time in your yard creating your desired lighting scheme with candles and torches. This will give you some idea of what the finished design will look like.
Regardless of whether you are installing outdoor lighting into an existing or new landscape, it's vital to consult a lighting professional, as they will be able to provide you with tips that you may not have already considered. Joseph Norster of JSB Lighting says: "The hardest thing is to visualise lighting in three dimensions. What starts as lines on paper becomes a garden that you live with, walk through and sit in. Seek professional help, read a few good outdoor design magazines and think outside the box. You don't have to spend a fortune to get the best results — a candle in a paper lantern can work wonderfully and cost $10."
What lights are available?
There are two main types of lights currently used in outdoor lighting: LED and halogen. Halogen lights have been the most popular type in the past, but due to concerns over energy efficiency the government has decided to phase them out by 2010. Halogen lights are also very expensive to run, create a lot of heat, causing the bulbs to blow and emit UV rays, which attract bugs. 
LED (which stands for light-emitting diode) lights have a lifespan of 15 years, saving time and effort on replacing globes, are very inexpensive to run and don't emit heat or UV rays. In addition, LED lighting will emit the same amount of light as halogen but also has the ability to emit light in different colours.
To power your lights, you can choose from either solar power or electricity. Loretta Maitland of ME Lighting suggests: "Ensure that you run your outdoor lights on separate switches. This will enable you to select which lights you have on and when. This will save you money and allow you to create different lighting designs for different occasions."
What lights to use where?
Task lighting: If your main objective for outdoor lighting is security, flood lighting is a great option. Flood lighting blankets your landscape with light to imitate daylight. It's also good for lighting large areas such as tennis courts. You can attach floodlights to sensors that pick up movement within your backyard, which will also help to deter intruders.
For safety when moving through your landscape at night, path lighting is a visually effective way to achieve both safety and a romantic ambience. Lights can be mounted on posts or directly in the ground along the edges of the pathway (known as well lights). Well Lights are fabulous for pathways as they're buried at ground level so don't obstruct lawnmowers or people passing by. Mounting lights on posts is a great option if you also want to rope off the pathway, as it provides posts for connecting the barrier.
Accent lighting: If the main function of outdoor lighting is to accentuate a particular feature within your landscape, the two most popular types of architectural lighting are uplighting and silhouetting.
Uplights are placed in the ground in front of a feature and angled up towards it to illuminate it against the darkness. This works particularly well for majestic trees, sculptures
and water features and has become a recent trend in outdoor lighting.
Silhouetting is where a light is placed behind a feature to cast a silhouette. This also works well with trees and sculptures, especially if there is a rendered wall behind the feature that has been lit. These lighting effects are easily achieved, inexpensive and will add a dramatic, shadowy effect to your landscape after dark.
If you want to light pools or water features, there are many types of underwater lights on the market. Loretta Maitland says: "The use of colour looks great in water features. Don't use a lot, but a little splash of colour can really go a long way when it comes to lighting water."
Relatively new on the lighting market, but proving extremely popular, are spherical floating lights that sit on the top of pools or ponds. Available in several sizes, these lights are a great conversation piece when entertaining.
Ambient lighting: If your goal is to provide subtle, gentle light around an alfresco area to create a romantic atmosphere, then candles, torches, tea-lights in votive holders, fairy lights and paper lanterns are all quite effective.
Regardless of your aims with outdoor lighting, there's a wide range of types and styles to create your desired effect.
Feature lighting

Lighting works of art, water features or container plants requires a special touch, says Richard Rose of Gardens at Night.
"Lighting design is as much about shadows as it is about light," he explains. "The shadows are often the background upon which the light is painted to make the feature come alive. If the light is too bright or the shadows too dark, there is a harsh effect which detracts from, rather than enhances the subject."
The choice of lamp colour is an important factor. Even different whites can be used to create quite different effects.
"Water features require special attention," advises Rose. "Usually, the lights are placed under the water and shine upwards towards the feature. This adds an additional benefit as the shadows shimmer when the water ripples.
"The best advice is to use a professional landscape lighting designer who understands these principles when considering how to accent your features. It will be effort well rewarded."
Read all about it!
If you're looking for a little inspiration, these lavishly illustrated books will light your way. Lighting Gardens by Michele Osborne (published by Mitchell Beazley, distributed by Bookwise International, rrp $49.95) shares some simple design ideas and advice to help you choose a lighting scheme that will complement your garden. It shows you how to take your garden from day into evening, how to "stage" an outdoor scene and how to work with colour and special effects. Garden Lighting: Design, Inspiration, Techniques by John Raine (published by Hamlyn, rrp $24.95) is another useful publication containing more than 100 illustrated lighting solutions, each demonstrating a different way to illuminate your garden, patio or roof terrace all year round. It discusses how to complement garden features such as trees, statues and ponds using different lighting effects, and gives practical advice on things like safety and wiring