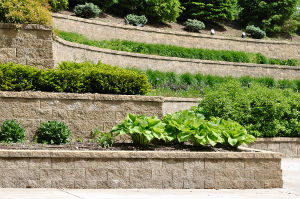 Got a tricky sloping site? Well, take heart because things are looking up
Story: Dave Garrett, MAILDM
Tired of looking over that towering, overgrown bank at the back door? Do you close the rear blinds when guests call? Don't despair – sloping sites can offer advantages that flat sites simply can't deliver.
Of course, designing a garden on a sloping site will present different challenges to landscaping a flat site, but the exciting possibilities that a sloping site has can often far outweigh the negatives. You can integrate the same features as you would with a flat site, but you have the added benefits of level variety and views.
As most sloping sites are not very functional in terms of usable space, the building of retaining walls to even out the levels is almost mandatory.
The use of walls 600mm high or less with a wide capping can double as additional seating and not be too imposing on the space. For the majority of houses, the most useful area to create a flat space would be close to the rear doors so a comfortable indoor-outdoor connection can be made. However, retreat areas elsewhere in the garden, such as a level pad with a bench under a tree, can promote interest and encourage you to use the rest of the garden.
The 'invitation' the garden offers to move between the various levels is crucial to the success of the design. Steps will be required and the secret here is to make them as wide as possible while keeping them in proportion to the other elements.
The use of timber decking is a very popular way of addressing level changes and creating useful space in a cost-effective way. A variety of hardwoods is available and can add warmth and texture to an entertaining area. This approach can work well if the slope runs downward from the house where a seat-style retaining wall would be lost. Suspended concrete slabs can also be employed if retaining walls are to be avoided but this option can get complicated in terms of the engineering requirements.
Trees, running water, rock outcrops and other natural features can be part of a sloping site's appeal.  These can be incorporated into the design and enhanced by the use of other natural products for any terracing or paving. Sandstone blocks of varying shapes and sizes can be used to create fantastic dry-stone retaining walls providing flat areas through terracing. Stacked recycled wooden sleepers can also be used if a more rustic feel to the garden is desired.
For a more modern approach, a geometric layout can be used combined with rendered or textured walls, large-format pavers and some 'funky' planting. These design choices will ultimately revolve around the style of the house, the topography of the site and the budget.
Changes in levels can be incorporated into different spaces within the garden, each integrated in the overall design but with their own identity. By providing platforms on level changes up and down a slope, a variety of angles and vistas can be enjoyed as each section reveals a different part of the garden.
Level changes in upward sloping sites can be utilised to create water features that meander naturally down the contours of the slope or fall down structured weirs aided by gravity. Plants can also be displayed in different and interesting ways as the slope ascends, allowing a visual tiering effect while using similar heights of foliage.
Groundcover plants also have a role to play in stabilising a sloping section of the site and can be used to add interest to hard-to-reach areas.
To create these level spaces and tiers, excavation and/or filling will be required (except, possibly, in the case of timber decking or suspended slabs). Be careful as this is a minefield without the correct advice. Tree root zones need to be protected, soil structure can be destroyed, drainage may need to be redesigned for the site and compaction of fill areas must be precise. These are but a few of the issues you need to deal with. Without good site preparation all the other work will be put in jeopardy.
Council regulations may apply to new work and, if so, detailed landscape plans accompanied by engineering details and other documentation will be required. This process may take some months, so planning well ahead is important.
Sloping sites can offer uninterrupted views, better privacy from neighbours and greater design potential than flat sites. So, if you have a steep site, consider it a bonus and start using it!
Dave Garret is a Sydney-based landscape designer and director of Art In Green.
1. To create a nicer outlook and improve access, Accent Landscapes transformed this steep site with retaining walls, a multi-level deck, steps and a tiered water feature.
2. Steps can do more than allow you to move between levels in the garden. They provide a great opportunity to create a focal point and engender a sense of invitation. 
3. Turn an uneven area into a focal point by planting some groundcover, hedging the area and adding a feature such as a fountain. Garden design by Secret Gardens of Sydney.
4. Something functional such as a set of natural stone steps can become a design feature if flanked by complementary planting. Stone supplied by Urban Garden Enrichment.