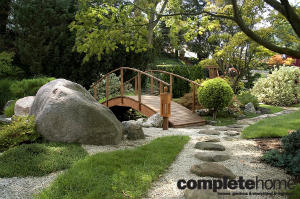 This terrific rooftop terrace has been designed for entertaining
Offering a near panoramic view of Sydney's Middle Harbour, this recently renovated rooftop terrace has delivered exactly what the owner craved — a low-maintenance
entertaining space with just the right mix of modern styling and natural charm.
Designed and built by Balcony Gardens Australia, this contemporary Australian native garden fuses natural-looking materials, such as the bush-rock style wall cladding and the imitation sandstone paving, with straight lines for a modern architectural sensibility.
Hebel block was used to construct the planter box walls. A lightweight masonry product that is glued together, it is ideal for balconies and rooftops. For a warm look, and to tie in with the existing brick walls, Stackstone Flinders cladding was fixed to the face of each planter box.
To help the plants flourish, an automatic drip irrigation system was installed but this was only after a new waterproof membrane was laid to prevent water from seeping into the apartment below. Also in deference to its rooftop location, the pavers were laid on purpose-manufactured paving pads, which allow water to drain from underneath them.
The plants were chosen for their textural and colour contrasts. They include several succulents such as agave (Agave attenuate) and kalanchoe quicksilver (Kalanchoe pumila); a native grass, lomandra tanika (Lomandra longifolia 'Tanika'); a hardy New Zealand flax (Phormium 'Surfer Boy'); and a flowering dwarf gum tree (Eucalyptus 'Summer Red'). While the eucalypts will need pruning from time to time, the plants are all drought-tolerant and low-maintenance.