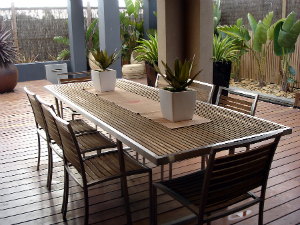 Dining table or daybed, sofa or footstool — today's outdoor furniture combines style with durability
Story: Carrol Baker
Contemporary home and garden design is all about creating a seamless blend of interior and exterior rooms. One of the simplest ways to ensure a cohesive look between indoor and outdoor living spaces is to use outdoor furniture and accessories that match or complement your interior furnishings.
This is incredibly easy to do these days. Outdoor furniture has come a long, long way since the time of the humble banana lounge and those rigid plastic picnic tables and chairs. Contemporary outdoor styles provide stylish, well-designed options for every budget and an almost bewildering array of furniture that would look just as good inside the house as it does outside.
There are diverse ranges of tables and chairs, coffee tables, occasional tables, recliners, bar stools, ottomans and armchairs. Then there are the sumptuous outdoor sofas and stylish daybeds (for one or two) that seem to be taking centre stage in many outdoor living areas — and taking outdoor relaxation to a new level of decadent luxury. And we mustn't forget the durable designer outdoor beanbags and floor cushions for when you just want to just curl up and chill out.
One of the latest trends is outdoor furniture made from woven synthetic fibre and fashioned into curved, moulded forms designed to fit comfortably to your body. Giving a modern spin to the traditional woven wicker furniture that our parents favoured, modern woven furniture comes in myriad forms including daybeds, sofa settings and sun loungers, and in many colours.
Another trend in outdoor furniture is a reflection of the quintessentially minimalist style and uses metal of various kinds and with various finishes to great effect. Sleek metal-framed timber furniture is popular, especially when used for tables and teamed with bench-style seating. Other types of metal furniture are more sculptural in form and matched with colourful seating and back cushions. Yet others use laser-cutting techniques to create interesting patterns.
With style, form and comfort in mind, architecturally designed pieces are taking pride of place in more and more outdoor living rooms — and this extends to furniture made from plastic and injected-moulded synthetic materials. Some pieces are funky and chunky, others sleek and modernistic. Some are just plain fun but they're all durable, which is important in furniture that needs to withstand the rigours of outdoor entertaining.
Of course, timber never goes out of fashion. Designs range from the rustic charm of an Adirondack chair to the streamlined look of a contemporary timber slat bench.
With space often a consideration in outdoor living areas, some outdoor pieces are innovatively dual-purpose. You can find illuminated stools that double as a lighting source or daybeds with storage. The modular approach to furniture has also taken off with people demanding more flexible, space-saving options. This might mean a sofa that can be reconfigured into a daybed or a table designed to conceal matching chairs when they're not needed or in the way.
While you can find furniture in every colour conceivable — from vibrant red to vivid lime green and burnt orange — the general trend at the moment is for colour palettes featuring black, white, charcoal, grey and neutrals. And while there is no shortage of inventive designs, comfort is the goal with outdoor or indoor furniture so choose with care.
To complete the look in your outdoor living area, add a signature piece, perhaps a sculpture or some wall art, a striking range of pots or a water feature. Having designed your living space, accessorise and individualise the area with designer décor. Cushions, throwovers, rugs and candles — there is no shortage of ways to express your unique style. That done, it is time to relax, fire up the barbie, grab a chilled glass of wine and enjoy a leisurely get-together with those you love.