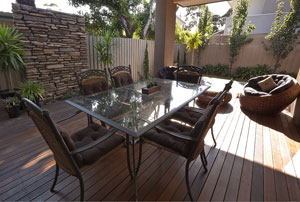 "A perfect summer day is when the sun is shining, the breeze is blowing, the birds are singing, and the lawn mower is broken." (James Dent)
Summer is all about the outdoors. We are forever out in the garden fussing over our flowers, watering our herbs, weeding the garden beds or catching some sunshine. But do we ever really make use of our verandahs, the seemingly inconsequential link between indoors and out? We often consider the verandah simply as a thoroughfare, a place to keep our soil-covered gardening shoes or somewhere to dump the old worn couch that's no longer good enough for the sun room.
Those of us who are houseproud are increasingly embracing the outdoors as an extension of the indoors and turning these spaces into outdoor rooms to be decorated as one indoors would be. Wouldn't it be great to turn this unused area in your home into an inviting outdoor space to entertain guests? Perhaps it is time to breathe new life into the verandah and make it a real feature of your modern country home.
Properly used, the verandah makes a cheap expansion of your house and living space. It can easily be used to add valuable living space for the family. Take a look at it — does it face the rising or setting sun, or the north or south? Is it wide enough to take significant outdoor furniture? If it is not shady enough, can a canvas blind or shade cloth address this issue?
You don't need to have an extensive verandah wrapped around a sprawling country homestead to make it into the ultimate outdoor room. All you need is a dash of creativity to make best use of what you have and a touch of decorative intuition.
The first thing to do is to assess your verandah and its current inhabitants and ask yourself if they really need to be there. Clear out anything that doesn't pass the test. For instance, should the old garden gnome be relocated back into the garden, or gifted to an enthusiastic collector? Perhaps the existing furniture can be replaced by something more attractive and durable without necessarily being expensive, or at least be smartened up. A fresh coat of paint, a covering of new fabric, or even some new cushions could give old furnishings the spruce up they need and save you purchasing replacements.
Once the verandah is cleared of any clutter, it's time to rejuvenate the basics. The floor could simply need a good sweep or a scrub, or perhaps the railings could use a fresh coat of paint or any wooden decking another coat of sealer. This will give the area a fresh new look and provide the blank canvas for you to create your perfect outdoor retreat.
If your budget does not allow for new purchases, take a good look inside your home for any unused coffee tables or chairs that might have the dual effect of de-cluttering your indoors whilst decorating your outdoors. Again, remember that repainting or re-upholstering certain items could make them perfect additions to your new-look verandah.
Cane furniture lends itself naturally to outdoor undercover areas and gives the space a light, summery feel. Alternatively, sanding back an old wooden coffee table and whitewashing it can also help you to achieve that vintage country style.
If you don't have any cane furniture already, you can pick up some stunning Australian federation pieces from most antique stores or inexpensive reproductions from outdoor furniture stores. Federation cane furniture can be recognised by its hardwood frame and large cane panels. Having a federation-style cane chair in the corner of your verandah would be an attractive and distinguishing feature.
If you'd like to make your verandah a private oasis where you can snuggle up on a chair and read a book or have a cup of tea without distractions, you should consider growing a hedge along the perimeter of your porch to act as a screen. This not only inspires a more intimate feel, but also acts as a barrier, blocking out any unwanted views. Lily pillies make great hedges as they are fast growing and require little maintenance. They also bloom lovely white flowers and purple berries, which will add a delicate touch of colour.
An attractive and aromatic alternative would be to put up a wall of lattice panels and grow star jasmine or climbing roses in pots, which can be trained along the lattice to create the perfect privacy wall. This will be an attractive visual feature and also add a lovely sweet fragrance to your secluded refuge. 
To add colour, you could fill terracotta pots with herbs, lavender or vibrant flowers. Some of the best flowering annuals for pots include petunias, pansies and violas, primulas (in cooler areas) and marigolds. These will provide a great burst of colour in the spring and summer months, and will flower in time for your balmy evenings spent in your new outdoor sanctuary. Why not experiment a little and add some rustic charm by rubbing some whitewash over the terracotta pots?
If you have a space large enough, why not invest in a full-sized outdoor table with chairs so that you can enjoy summer afternoon lunches or evening meals with your family or friends? Entertaining outdoors in the warm summer breeze adds a relaxing element to your gatherings and gives you an excuse to light up the barbecue for a casual meal.
Once you have your furniture and flowers sorted, it's time to add some subtle decorative accents to give the space a homely and welcoming feel. These could include adding cushions, statues or decorative ornaments as you would in your lounge room. Don't be afraid to experiment with different colours and textures, but remember to keep within your overall theme.
When your makeover is complete, you will be more likely to spend precious time with your loved ones on your stylish new verandah while enjoying the gentle summer breezes, or to simply take pleasure in some quality alone time.
If you'd like to make your verandah a private oasis where you can snuggle up on a chair and read a book or have a cup of tea without distractions, you should consider growing a hedge along the perimeter of your porch to act as a screen.
There is no finer example of the Aussie verandah than the Queenslander. This style of home originated in Australia in the late 19th century and was built high off the ground with large double doors opening onto wide sweeping verandahs. It was designed primarily to help residents cope with the tropical Queensland weather. Being off the ground meant air was able to flow freely underneath the home (as well as keep the home safe from floods) and meant that the area underneath the house could be used as an original form of refrigeration. People would hang a net under the house, which they kept wet and used to store their meat, cheese and milk, which would remain cool for a couple of days. The shaded verandah also provided a much-needed place to keep cool in the days before air-conditioning. These homes are much loved today for their majestic architectural style.